Muscle Car & Corvette Nationals coming this weekend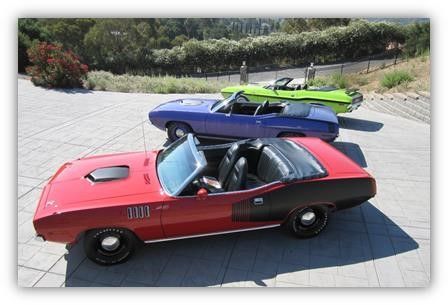 The 7th annual Muscle Car & Corvette Nationals will take over the Donald E. Stephens Convention Center in Rosemont on Saturday and Sunday.
This is an indoor event dedicated to all things involving muscle cars and Corvettes. There will be nearly 600 rare and desirable museum quality cars on display in this interactive exhibit including 26 fully documented 1970-71 Hemi 'Cudas and 1970 Challenger R/T 426 Hemi convertibles.
Christine Mize has owned her 1957 Chevrolet Bel Air since 1977 — she purchased it for $500 w…
"This was a long time dream of mine," said show founder Bob Ashton. "With the support of a group of like minded car collectors, we formed a group to launch the show in 2009. We are now the world's largest all indoor specialty show devoted to muscle cars and high end rare Corvettes."
The event will run from 9 a.m to 9 p.m. on Saturday and 9 a.m. to 5 p.m. on Sunday.
Ashton expects over 20,000 guests from all across the country along with others from Canada, Sweden, Australia, and England to attend the show.
A Modern Muscle Special Collection exhibit will feature three blocks of modern high performance Fords, GMs and Mopars.
"We focus on the absolute rarest of the rare in American muscle with an emphasis on the years 1964-1972," added Ashton. "This year we have close to 600 cars joining us from 31 states, Canada and Sweden."
Notable guests and speakers include Courtney Hansen, Dennis Pittsenbarger, Jim Mattison, members of the Cotton Owens family, Dana Forrester and many others.
I'm always being asked where to take high performance cars to get quality service in Souther…
Bring the kids for the "show within a show" which includes a muscle bike display, model car building and a scavenger hunt for prizes.
"We pride ourselves in being a true family event with all kinds of American muscle cars along with plenty of fun things for the entire family," Ashton said.
If you have a special automotive event you'd like to see featured on Idle Thoughts feel free to send me an email with the details at shawn.anglin@thesouthern.com.