The summer heat is here, and if the air conditioner in your ride isn't working properly, driving can be miserable.
Chris Dillman from Dillman Performance has been working with A/C systems for over 30 years and helps explain how your vehicle keeps you cool and comfortable through the steamy months.
A/C systems consist of numerous components connected by tubing or hoses. The central component in the system is the Compressor. Refrigerant enters the compressor in gaseous form and is "compressed" and pushed under high pressure to the Condenser.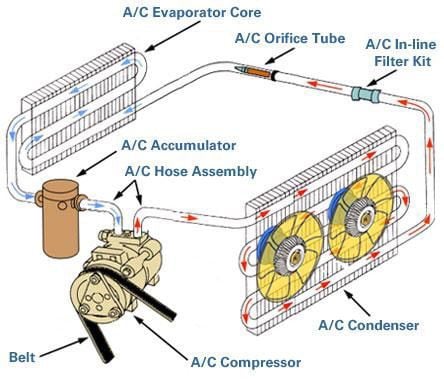 A condenser looks like a radiator and is typically located directly in front of it in the engine compartment. The cooling process turns refrigerant into liquid and is then pushed forward in the system to the next component, the Receiver Dryer. This unit contains desiccant and is used to remove moisture that found its way into the system.
The refrigerant is then pushed to the Thermal Expansion Valve or an Orifice Tube. Though operating in different ways, these components serve the same purpose. They allow refrigerant to expand, reducing pressure and allowing it to move forward into the Evaporator.
The evaporator is located inside the cabin of a vehicle and also looks like a radiator or condenser, only smaller. Liquid refrigerant enters the evaporator where the heat of the vehicle's interior is enough to cause the refrigerant to boil. Like water turning to steam, the refrigerant absorbs heat as it expands into gaseous form moving out of the evaporator and taking heat with it.
A fan blowing over the evaporator coils blows cold air into the cabin while removing moisture at the same time. When your vehicle is parked with the A/C running and you see water dripping underneath this is normal.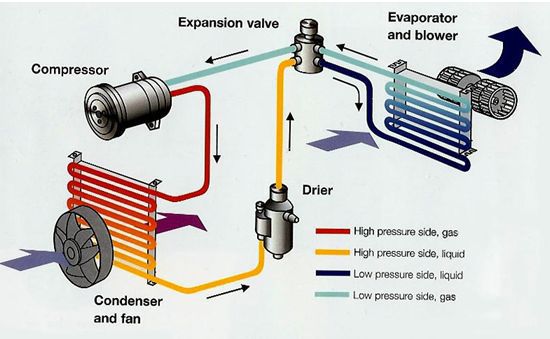 If an orifice tube is used, the refrigerant will then move into an Accumulator. Orifice tubes can allow too much refrigerant into the evaporator where it doesn't all boil. An accumulator traps excess fluid allowing only gaseous refrigerant to move back into the compressor which allows the cycle to begin again.
If you are having problems with your A/C system, I recommend Chris with Dillman Performance. You can contact him at chrisdillman@dillmanperformance.com or at 618-993-1000 to get your system back in working order.
If you have any suggestions or topics you'd like to see covered in my "Tech Savvy" section, you can reach me at shawn.anglin@thesouthern.com.