As a news photographer, I am usually working on deadline and in a hurry to get from one assignment to the next. Time is an integral and important aspect of photography.
Most individual photographs I take are exposed at somewhere between 1/60th of a second to 1/500th of a second — a very short time. In reality, it takes much longer to take a good photo because the opening of the shutter and exposing of the frame is only one aspect of the process.
Before tripping the shutter, there are many things that have to happen. The first step is to get to the location and to look around for things of interest to photograph.
Figuring out the lighting is another aspect to consider. Much has been written about the decisive moment, which according to the famous French photojournalist Henri Cartier-Bresson, is the moment when all the elements (such as composition, light and action) come together to make a perfect frame. Waiting and observing for that moment can take time.
I covered the Huck's Ride for the Fund on Saturday, July 11, which benefited the Coach Kill Cancer Fund, and all of these elements came into play. I made the decision that I wanted to get photographs of motorcycles crossing the causeway on Route 13 over Crab Orchard Lake.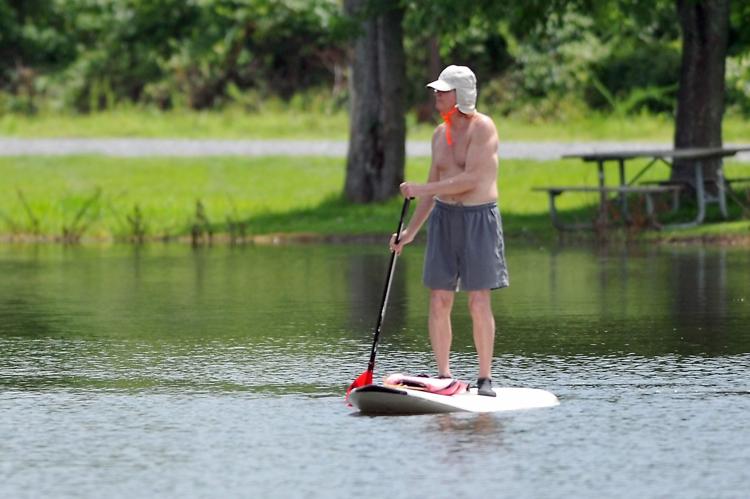 After photographing the motorcyclists at a stop in Murphysboro, I hurried over to Crab Orchard Lake, where I set up in the median and waited. I overestimated the time it would take the riders to get to that point and ended up waiting for quite awhile. I also found out that the riders by that point were spread out and were usually riding in groups of two or three, not a huge line of motorcyclists as I had envisioned.
Although my plan for photographing the cyclists did not work out exactly as I had planned, I still got some good shots of the riders passing by the lake. And as a bonus it caused me to take time as I stood by the road near the lake to just observe, and in doing so I made the photographs included with this blog, photographs I would not have made if I didn't slow down and stand alongside the road waiting for motorcyclists.