MURPHYSBORO — The Jackson County Board could be shaking up what bed-and-breakfast establishments throughout the county are allowed to provide.
According to Jackson County Board Chairman John Rendleman, until recently state law prohibited B&Bs from obtaining liquor licenses, and such language was also written into the county ordinance when it was adopted.
That law has since changed, and those organizations can sell alcohol if they choose.
Rendleman said due to the change, he has been contacted by businesses that would like to be able to offer alcohol as part of their experiences, such as dinner with paired wines or a champagne breakfast.
In order to do so, the county had to create a new liquor license classification.
On Wednesday, the county's legislative and public safety committee, a sub-committee of the Jackson County Board, discussed recommending approval of a Class L liquor license.
The license would authorize the retail sale of alcohol on the premises of any bed-and-breakfast for consumption only on the licensed premises.
The sale of alcohol is only authorized from 8 a.m. to noon, and from 3 p.m. to 11 p.m., the license reads. Alcohol sales are limited to registered guests and their invitees, provided the number of guests and invitees does not exceed 10 persons at one time, or exceed the maximum daily capacity of the establishment.
Rendleman said the county's liquor advisory board recommended the classification of the license.
"You don't want to take anything away from the business, but you don't want to turn it into a tavern," he said.
Board member Steven Bost said when people stay at a B&B, the perception is that they like to buy things and have guests.
"I think it is a fairly reasonable compromise," he said. "If we hear differently, the county has the ability to come back and make changes."
The ordinance has a $350 fee for establishments that wish to sell alcohol.
Malcolm and Loraine Leigh, operators of the Makanda Inn, 855 Lower Cobden Road, said they would be very interested in this ordinance.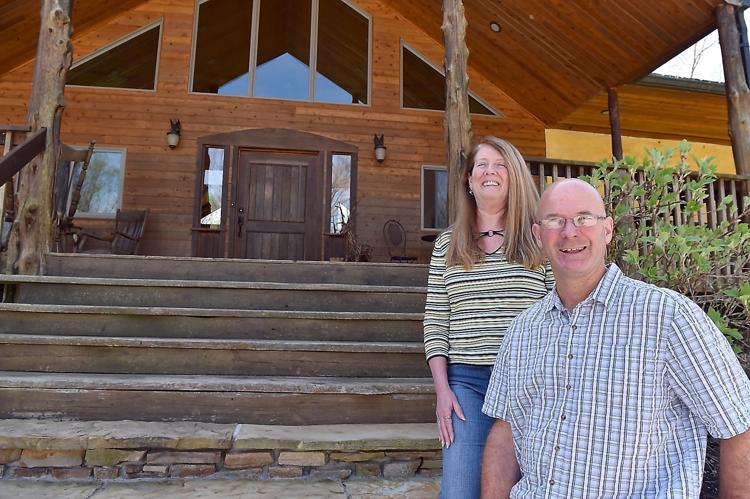 In the beginning, Malcolm Leigh said, the business would probably open up its bar for its guests, but not for the public. He said they would serve spirits, beer and wine. The establishment has a constructed bar on the bottom floor where guests eat breakfast.
"The one that we are concerned about is that if you have a bar, can people still bring their own alcohol," he said. "That would be something we would have to weigh heavily."
However, the couple said it would just be another amenity they would be able to offer guests.