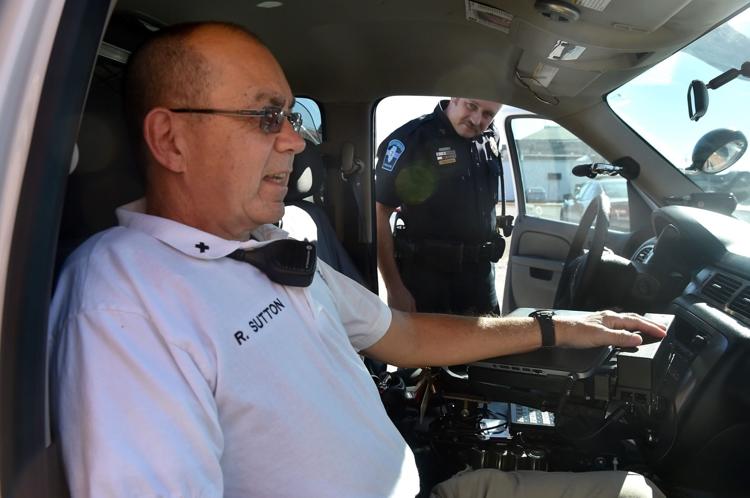 MURPHYSBORO — One of the first times Rick Sutton approached a car that had been stopped by a Murphysboro Police officer, he said he realized he had no idea who was inside the car. He had no idea who they might be, or what their intentions might be.
He said the experience as he rode alongside an officer on Thursday afternoon developed a newfound appreciation, in him, for the work that law-enforcement officers do. 
Sutton is in a unique new role with the Murphysboro Police Department as one of its new chaplains who gets up-close and personal not only with the officers, but with the community, too, through the force's many service calls. He is one of seven faith leaders invited earlier this year to join the newly created Murphysboro Police Department's chaplaincy program, developed to meet the concerns of people in the community that are more social-services or counseling oriented.
The chaplains' work frees up about 40 percent of the calls Murphysboro police officers might normally respond to, Police Chief Chad Roberts told the City Council this past week.
"They do a tremendous amount as both a program to benefit our citizens and put officers back on the street, more by not being tied up with things that typically aren't police function," Roberts said. It's also kind of an employee assistance program for my employees, which we don't really have."
Roberts said he had an idea for the program and after being invited to a meeting of the Murphysboro Ministerial Alliance, began to fine-tune his ideas more. He wanted more than one chaplain and a group who represented and reflected the community: The chaplains, all men, are from mainly Protestant backgrounds, with one from the Catholic background.
The chaplaincy program
Associations like the International Conference of Police Chaplains provide direction and fellowship for those who are police chaplains.
"A law enforcement chaplain is a clergy with special interest and training for providing pastoral care in the high powered and dangerous world of law enforcement," according to the group's website. "This pastoral care is offered to all people, regardless of race, gender, sexual orientation, national origin, creed, or religion. It is offered without cost or the taint of proselytizing."
In Murphysboro, the chaplains, men who are pastors and faith leaders from churches throughout the city, volunteer their time with the chaplaincy program. They each commit to working a week at a time, being on call should the police department need them and sometimes coming into the station to do a ride-along with the officers. They are also part of the department's auxiliary police force.
Sutton estimates that since the program started, he has done a ride-along with all of the patrol officers.
The other chaplains are Rick McNeely of Christ Community Church, Shaker Samuel of First Baptist Church, Lawrence Nolan of Servants for Christ Church, Joe Hoem of Immanuel Lutheran Church, Charlie Allen of Elm Street Baptist Church and Father Gary Gummersheimer of St. Andrew Catholic Church. Sutton is from First Christian Church.
As Sutton spoke about the program at the city's Oct. 24 City Council meeting, he did so with a 9mm Glock 19 holstered to his side. Although not all of the chaplains desire or are licensed to carry firearms, he is one who has been trained and is licensed to carry a weapon.
He told Council members that the chaplains might inform family members of a relative or loved one who has died, can help to prevent suicide, and might also be on-hand to help colleagues deal with officer-involved shootings, and can even help with stress management and other types of crisis intervention.
"We're dong ongoing training to do that," he said.
Murphysboro is not the first or only police department in Southern Illinois to use a chaplain.
For 20 years, the Carbondale Police Department has been served by Robert Gray, the pastor of Immanuel Lutheran Church, as chaplain.
"Carbondale Police Department does have a long standing chaplaincy program," Sgt. Amber Ronketto wrote in an email. "We recognize the need for someone in whom Department personnel can confide and who will listen to their problems with empathy, as well as the need for clergy to assist with providing liaison with various civic, business and religious organizations. Our chaplain assists not only the department but our community as well."
The police chaplain heads Carbondale's program, which can be staffed by as many assistant police chaplains as necessary to accomplish their objectives, Ronketto said.
The chaplain and assistants are appointed by the chief of police with advice from the staff.
One of the newer recruits to this field is Keith Fletcher, pastor of Johnston City Free Will Baptist Church; in mid-October, the Johnston City Police Department swore him in as its new chaplain.
Other departments, like Marion and Du Quoin police, do not have chaplains.
Back in Murphysboro, it's fully supported by the city's mayor.
"Chaplains and their association with police and fire departments, as well as the U.S. military, goes back hundreds of years," Mayor Will Stephens said. "Members of the police and fire department need a counseling presence from time to time; these chaplains can provide that if desired. Also, those who are in custody of the police department, or perhaps victims of a fire, can often use a resource to calm their spirit. For these reasons I think this program will have a positive impact on the community as a whole."