Once-secretive Holy Boulders Competition brings hundreds of climbers to Southern Illinois each November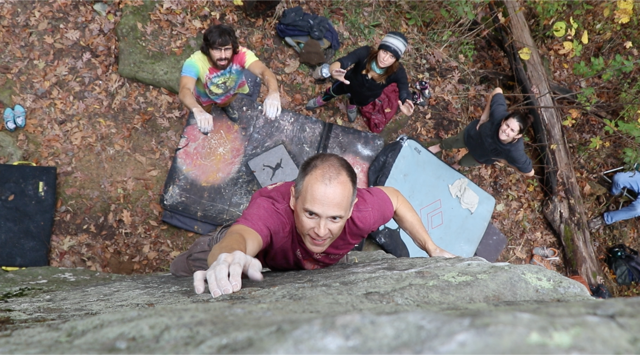 POMONA — A boulder-climbing competition brought more than 300 climbers to Pomona in early November. They call themselves "boulderers," and their bouldering temple they call "Holy Boulders."
They gather annually at the boulders for a fundraising competition. This year, the fog and mist cleared just enough for the region to host The Fifth Testament. For $55 to compete and $15 to spectate, the climbers come for a weekend of camping, climbing and community. They arrive late Friday night and early Saturday morning, get an early camp start, and gather for coffee and breakfast before hiking at 9 a.m. to climb as many routes as they can before scorecards are due at 3:30 pm.
The competition has grown exponentially ever since it began in 2013. In its first year, 110 climbers showed up and they raised about 6 percent of their current fundraising total, almost $55,000.
"In 2012, everybody knew everybody competing. Now, it's a huge hangout," said Dave Hug, a board member of the Illinois Climbers' Association. "The Holy Boulders used to be a big secret. Now we're just trying to share the secret with everybody."
Three hundred people on a small private campground and bouldering area might sound a bit crowded. But with more than 200 bouldering routes open for climbing, it's a functional system of rotating attempts on the punishing sandstone slab in a noncompetitive atmosphere.
"What people really should know is that we do call it the Holy Boulders competition, but it is not a competitive environment. People are pushing themselves, but it is more about bringing the community together to celebrate the Holy Boulders being in climbers' hands," said Kristi Sierzega, an ICA board member since 2013 who's been climbing in the region since 2006.
For years, local climbers had a secret agreement with the Tripps family, the previous private owners of the property on which the boulders sit, to climb, as long as they respected the land. A climber named Aaron Brouwer and a friend "were hiking around Southern Illinois and looking for some boulders to climb and found these. So, they asked the Tripps if they could climb on them and they said yes. They just started calling it the Holy Boulders because … it is. And word of mouth spread," Sierzega said.
"Climbers had a nonwritten, handshake agreement with the owners. And then one time, a climber noticed a for-sale sign and contacted the ICA, which contacted the Access Fund," Hug said.
The competition, hosted by the Illinois Climbers' Association, is a fundraiser to repay a revolving loan given with the Access Fund, a national nonprofit that purchases privately-owned lands in order to secure them for climbers' use. The Access Fund took out a more-than $300,000 loan from the Climbing Conservation Loan Program with the long-term plan in mind to transfer ownership to a local organization such as the ICA or the Beta Fund.
"The Holies are going to be protected forever," Hug said. In 2016, the Access Fund transferred ownership to the ICA.
"I feel like the last three years we've hit a kind of stride," said ICA Board President Phillip Carrier. "On our end, every year we try to do it a little bit better. Every year we knock a couple things off the list of things we want to add — infrastructure of the comp, more things that we can offer. The last two years we've been able to open up new areas for the competition."
Despite having raised a lot of funds, the ICA still owes about $70,000 toward paying back the Access Fund.
"Each year has increased the number of competitors, spectators, and funds raised," Sierzega said. "Our numbers keep going up."
This story has been corrected to clarify current ownership of the Holy Boulders site. A previous version incorrectly said the Access Fund still owned the site. A correction was also made to the amount owned by ICA to the Access Fund. An earlier version stated an incorrect amount.