Substitute teacher shortage hitting Southern Illinois hard; lobbyists working with legislators to change rules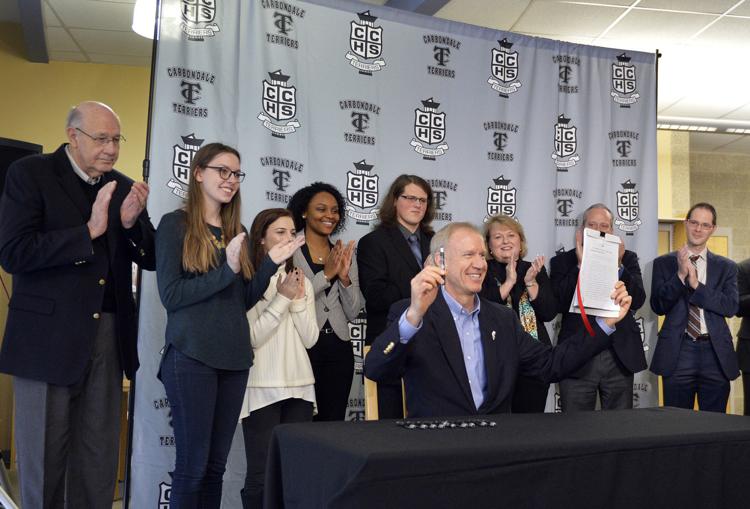 According to a survey by the Illinois Association of Regional Superintendents of Schools, 53 percent of school districts are having issues finding substitute teachers.
It is a particular issue in Southern Illinois.
Carterville Intermediate School is one of the many schools in Southern Illinois that have been affected by the substitute teacher shortages. Since the school year started, there have been more than 55 instances in which the school needed a substitute teacher and was not able to secure one.
"There's been 55 times we had to use internal people to cover classes or we had to cancel classes or make adjustments because we could not secure a substitute teacher," said Principal Thomas Webb.
If the school isn't able to find a substitute teacher, then some classes have to double up, or a school interventionist steps in to teach the class.
Add in the fact that this year's flu season has made it hard for some schools in Southern Illinois to keep up with teacher absences.
"We had more teachers that needed a sick day more than the normal," Webb said. "Some of them were sick themselves, their children were sick … plus when we would call our substitutes, they were unable to come (because) they were not feeling well."
In Belleville School District 118, which has 3,900 students, the problem is particularly acute.
Because of the size of the district, "there are some days that a class won't have a substitute for," said Belleville School District 118 Superintendent Matt Klosterman.
However, if that does happen, the school would take a teacher who has a plan period — an unassigned period where a teacher would utilize that time to write lessons, grade papers or meet with students — and have him/her teach that class.
"The flu has hit our area really bad," Klosterman said. "It has created some challenges that we can't really control."
There are a number of issues that the state is facing in regard to retaining teachers and substitute teachers in school districts, such as reducing the $250 to $300 it costs for a substitute license, reduce the requirements for out-of-state teachers, and increasing the rate of pay for subs.
"The biggest thing is the rate of pay for substitute teachers," said IARSS Association President Mark Jontry. "With the exacerbated shift in the economy, there is a reduced number of applicants because we have a stronger economy. People are now looking for job opportunities outside the state."
To compete with other counties of the state, Klosterman's district had to increase the pay of its substitute teachers to $90 a day. "It was necessary to be competitive and expand the candidate pool for us to make sure that we did everything we could to fill positions as much as possible," he said.
Other methods Klosterman's district implemented were using social media to advertise and speaking with employees, parents, friends, relatives, etc., asking if they knew anyone who would like to be a substitute.
Because the crisis is statewide, Jontry is working with a few advocacy groups, such as Advance Illinois, to ensure that a solution to the problem can be found.
"There's a lot of advocacy that is happening to address the teacher shortage and substitute shortage … definitely will see more pieces of legislation. There will be a lot of bills written this spring to help create a solution for this issue," Jontry said.
The Illinois Education Association, which is composed of elementary and secondary teachers, higher education faculty and staff, educational support professionals, retired educators and college students preparing to become teachers, has been working closely with members of the General Assembly to get bills passed that address the substitute shortages in the state.
The group is currently working on three proposals:
• Bring back retired teachers and have them teach in subject shortage areas;
• allowing retired teachers to come back and teach up to 120 days instead of 100;
• creating a temp agency for substitute teachers, which has been met with some resistance in Chicago.
"We believe that it's a way to maybe address young, college educated students maybe looking do some work or get interested in the profession and from there they decide if they want to go on and pursue it as a full-time career," said Director of Government Relations Jim Reed.
Because of the tax structure in border areas such as the Metro East and the eastern part of the state, teachers there often go to Indiana and Missouri than Illinois.
Officials hope the proposals will help mitigate that problem.
The survey, which was completed by more than 500 superintendents in the state between Sept. 8 and Oct. 12, shows that while more than half of superintendents indicate that they have a "serious problem" with substitute teacher shortages, only 5 percent indicate that they have "no problems." Also, 54 percent think that the availability of substitute teachers is "significantly worse" than it has been in previous years.