First African-American woman elected Cook County State's Attorney says SIU laid the foundation for her success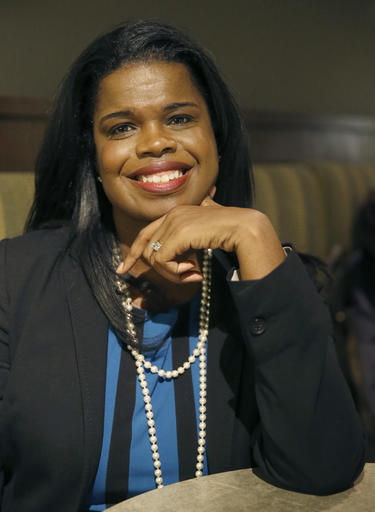 CARBONDALE — Kimberly Foxx, the first African-American woman to lead the Cook County State's Attorney's Office, said Southern Illinois University Carbondale helped lay the foundation for her success.
Growing up in Cabrini-Green Homes in Chicago, raised by a single mother who dropped out of high school three months before she was set to graduate as she brought Foxx into the world, the groundbreaking prosecutor said she arrived 27 years ago in Carbondale "as a young person who was not expected to be much of anything," as she put it.
"And so I got on the 4 o'clock Amtrak and came down here, for the first time in August of 1990, full of hopes and dreams and aspirations of one day becoming a lawyer. It was here, in Carbondale, for the course of the next seven years, that I got the foundation that I needed to stand here today — to come back, ever so grateful, grateful, grateful," Foxx said Sunday afternoon at the Carbondale NAACP 40th annual Freedom Fund Banquet, where she delivered the keynote address.
Foxx said there "is no way in any imagination that I could have had back then" as an undergraduate arriving in Carbondale — the first place she ever lived away from home — for the first semester of classes "that I would be standing before you as the first African-American woman elected to the Cook County State's Attorney's Office."
At that, Foxx received a standing ovation from the crowd that filled the Carbondale Civic Center event hall. "Steadfast and Unmovable" was the theme of this year's event, which raised money for scholarships and other activities of the Carbondale NAACP. 
Foxx said she changed her mind about the speech she wanted to give at the banquet in the 48 hours leading up to it. She returned to Chicago Saturday evening, she said, from a brief trip to Airlie, a hotel and conference center near Warrenton, Virginia, about an hour from Washington, D.C.
The reason for the trip, Foxx said, was a rare invitation for a prosecutor — herself — to address a weekend retreat for civil rights lawyers and activists sponsored by the NAACP Legal Defense Fund. 
Foxx said she came to learn that the NAACP Legal Defense Fund has a 55-year history of meeting at the Airlie convention center, which in the early 1960s was considered the only place south of the Mason-Dixon line that would host an integrated gathering of black and white lawyers. Foxx said that as she walked around the stunningly beautiful 300-acre grounds, she could not help but feel shaken by the fact she was standing here "as a lawyer, as a prosecutor, as an elected official, on land where my ancestors toiled" in an area that was once the site of a large Virginia plantation. 
She said she wondered what her great-great-great-grandmother, who was a slave, would have thought about her great-great-great granddaughter traveling to this location to address a group of civil rights activists as an elected leader of the second largest prosecutor's office in the country.
Foxx took office Dec. 1, 2016. "It's easy for us to think about that accomplishment and say to ourselves, 'We've gotten so far, that if I can be here, that if we could have elected an African-American president, if can we look around us at things that are so much better than they were before,' but I couldn't help but be struck by being in this space," Foxx said.
Foxx said she shared her conflicted feelings over breakfast with a colleague. Just before the event was to begin, Foxx said NAACP Legal Defense Fund President and Director-Counsel Sherrilyn Ifill emerged "and she was shaking."
Foxx said Ifill relayed to her that the evening before, some of the people attending the conference had gathered to socialize in one of the many cottages on the campus. As one of those individuals headed to his room — "a distinguished lawyer from Tulsa" — walking along the edge of the road, a car barreled toward him and he had to jump out of the way, Foxx said. "And the car stopped about 20 yards ahead of him, rolled down the window, and said, 'n----- go home,'" Foxx said that Ifill relayed to her and others. 
"As Sherrilyn was sharing this with me, right before I was going in, at a conference of lawyers, and civil rights activists, part of the NAACP Legal Defense Fund and their leadership, on a plantation, I thought to myself, 'Wow, we've got a lot of work to do.'
"So not for a moment can we allow ourselves the comfort of believing that we have come so far that we cannot acknowledge how far we have to go," she said.
Foxx received her bachelor's degree in political science at SIU Carbondale and her juris doctorate degree from the SIU School of Law. In September, she was named the "Justice Champion of the Month" by the Coalition for Public Safety, a Washington, D.C.-based nonprofit that represents the largest national bipartisan movement to reform the criminal justice system, comprising partner organizations from across the country.
Jasmine Heiss, deputy director of the Coalition for Public Safety, said that the moment is ripe to elevate the work of forward-thinking prosecutors who are working to change the narrative about how to effectively use their particular prosecutorial powers and discretion to reduce prison populations and slow incarceration rates.
"In that vein, Kim Foxx is one of the foremost faces of this new class of reform, who is really thinking about her role not just as an enforcer of laws, but as a minister of justice," Heiss said. Heiss said that Foxx's background growing up in poverty on Chicago's Near North Side in one of the country's most notorious public housing projects also gives her a unique perspective on how to address barriers to creating just and safe neighborhoods.
During her talk in Carbondale, Foxx also addressed growing up at Cabrini-Green Homes, the demolition of which began in 1995, not long after Foxx headed for Carbondale. She said that she can relate to how families feel who are being relocated from two public housing complexes in Cairo because they are no longer considered safe due to years of neglect and their age.  
"I grew up in one of the worst public housing complexes in the country," she said. "And so the work that's being elevated about what's happening in Cairo, I know personally having grown up in Carbrini."
Foxx said it is important that the citizens of Illinois recognize that the state cannot be its best "if a child in Cairo doesn't have the opportunity to live in decent, affordable housing … And collectively, truly, we will do better as a state, and as a nation, when we recognize that for our neighbor." ​