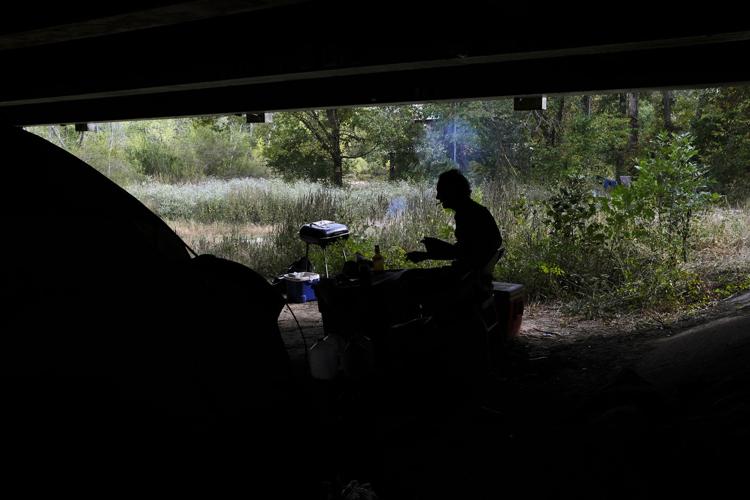 CARBONDALE — Leonard Wilmore passes his days gathering firewood and trying to earn a dollar.
With his golden dog, Lucky, in tow, Wilmore scours the woods in search of dry, dead limbs to drag back to his camp. Without an ax, Wilmore is reduced to carrying the large pieces through the narrow gaps of saplings. He will have to break them down by hand later into manageable sizes for his fire.
Tucked under a bridge in rural Franklin County, Wilmore's tent stands amidst his modest collection of personal effects — his food, an assortment of canned goods, kept safe by storing it on the struts supporting the bridge.
Wilmore has lived outside for several weeks, after became homeless in the summer. He had taken several days off work to deal with a heart condition. He said he has worked for years doing professional cleaning and said he knew there was a cleaning company hiring around Benton, but couldn't remember the name. Though not having a job made his situation worse, Wilmore said he had actually been out of a place to live a few weeks before losing his job.
At least two miles from the nearest town, Wilmore said he has to walk to try and scrounge up work or get any supplies. He said without a car, his brother helps him move place-to-place. He has family, but none that he said he wanted to stay with while he looked for a place of his own.
"I just prefer not to stay with anybody. I like to be by myself, me and my dog," he said.
He said his current spot isn't ideal, but he's stayed in worse — this is not his first time being homeless, the last time being a few years ago. On another occasion, he said he lived in a campsite nearly 10 miles from the nearest town — he said access to food, ice and other people made this a hard place to call home, even for a short time. He said his current location wasn't too bad, but he was hoping to get out before the cold of late autumn arrived.
"When it gets cold, it's time to go," he said.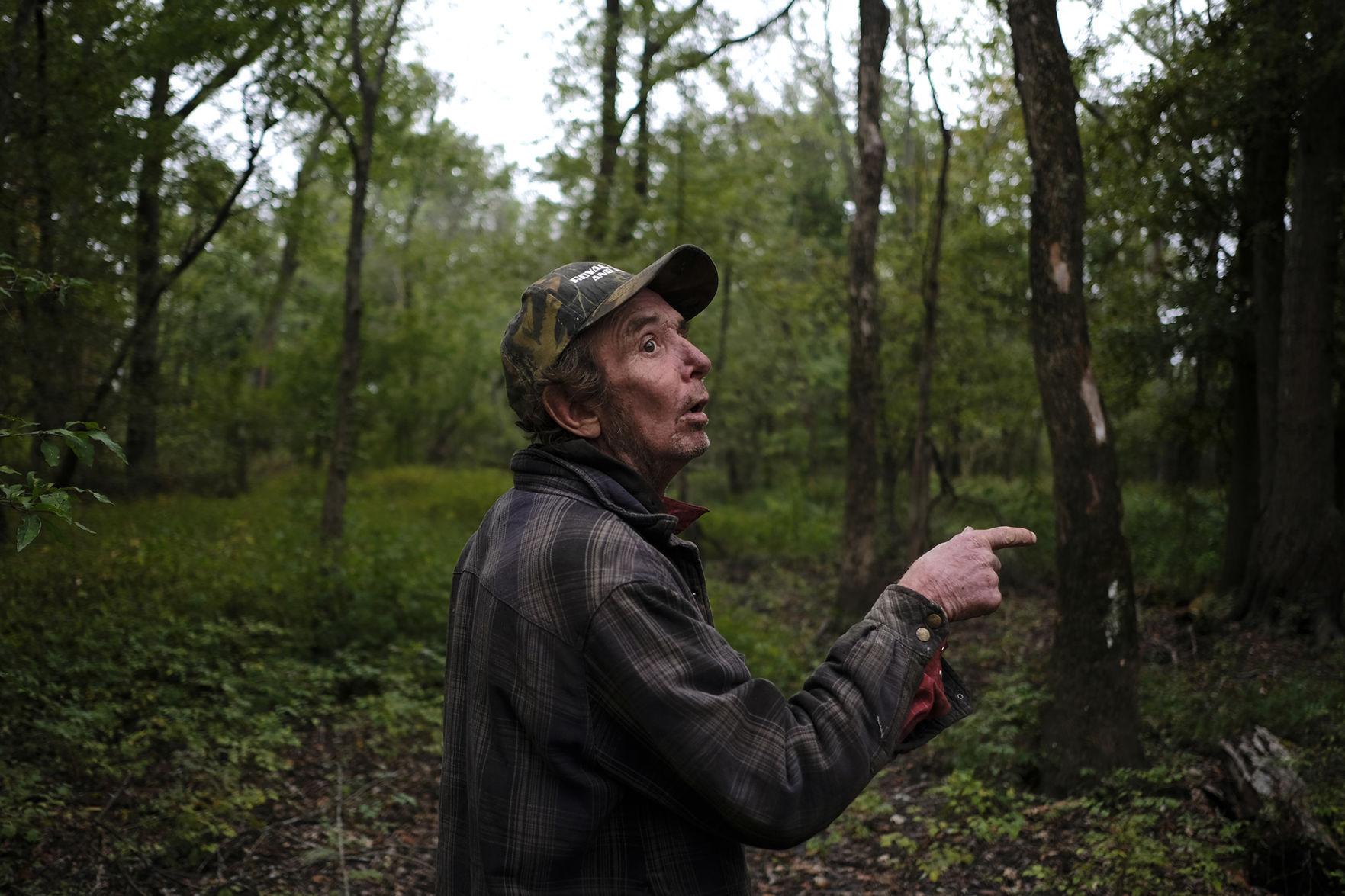 Wilmore's situation is both typical and atypical of the common idea of homelessness, said Marleen Shepherd, founder of Carbondale's Sparrow Coalition, a group working to address poverty and homelessness in Southern Illinois. She said everyone is familiar with the man living under a bridge going through hard time, but Wilmore's visibility and rural location are what sets him apart. In fact, Shepherd said there are more people experiencing homelessness — or as she clarifies, housing insecurity — than the most visible populations in the shelters or out on the streets.
"They are the tip of the iceberg," she said. "Most of our homeless and housing insecure aren't living that way."
Unique challenges
Shepherd said the popular definition of homelessness is too narrow. Speaking during the a public forum titled "State Budget: The Challenges Ahead" on Oct. 26, Shepherd provided a broader view.
"These are not the people you see on the street. They are your servers at restaurants, your grocery baggers, your nursing home aides, your child's aide at school. Many of them will never earn an income large enough to afford housing that is adequate for their family size," she said.
The problem is also not relegated to Carbondale or Marion, but extends into the small burgs and incorporations that dot the rural expanse of Illinois' southern 16 counties. She said the paramount struggle the housing insecure face is transportation, followed closely by healthcare.
"The transportation that we've had over the last 10 years has actually gotten better," Shepherd admits, but said even still the options are not enough. Some public transit does not extend beyond the borders of a particular county — Shepherd said transportation from Carbondale to Marion can be a challenge, which means for Jackson County residents, the job opportunities in Williamson County could be just out of reach.
Shepherd said for this part of the state, Carbondale and Marion are considered the urban hubs, despite being small in comparison with places like Springfield or St. Louis. She said so few population centers in such a large part of the state creates problems going both ways.
"There's more challenges certainly outside of these two towns. However part of that means there's more challenges for those two towns," she said, explaining that because they are the hubs for resources the cities deal not just with their own disenfranchised populations but those of the surrounding 10 to 15 counties as well.
Diana Brawley Sussman, chief librarian at the Carbondale Public Library and co-chair of Sparrow Coalition, said not only is it difficult for the housing insecure to reach services on their own, particularly when they can be so isolated in an area as big as Southern Illinois, but it is also difficult for service providers to reach them.
Katharine Juul, rural health project manager for the Center for Rural Health at SIU's School of Medicine, has worked with homeless populations around the country for a lot of her career. She said in places like eastern Tennessee or in the frontier lands of New Mexico, reaching the far-flung homeless populations took time and dedication.
"Identifying them you mostly went by word of mouth," she said.
Brawley Sussman said the groups she works with do not seek out people living in the woods necessarily — in part she said because some live that far out because they wish to be left alone — but after locating someone in need, the challenge was convincing them to seek help, be that medical help or help with housing.
"First you have to attract them to come into the process, and they've probably already been through the process a few times," she said.
A matter of money
Shepherd and Brawley Sussman both said the services that are available once they convince people to come in have been reduced to a shell by years of budget cuts, most recently during Illinois' budget impasse.
"It's been death by a thousand cuts for a decade," Shepherd said. In her speech Oct. 26, she said it could take a decade to rebuild the network that was deeply impacted by the budget stalemate.
Brawley Sussman said the recently passed state budget does "a little in a literal way." While it does bring funding back to social services, it only keeps them alive in a slightly better state than they were in prior to the more than two-year-long budget impasse, during which Illinois was not making payments to many social service agencies. She said the current state budget does not bring them back to their full strength.
"That's keeping their doors open after they have already been brought to their knees," she said. To her, the fix to the problem cannot come until the problem of housing insecurity is acknowledged by state and federal lawmakers.
"Those in power who are making the budgetary decisions don't seem to have a priority of human life whatsoever," Brawley Sussman said.
For this reason, Shepherd said churches and not-for-profits are on the front lines of helping those in need. She said creating partnerships among private, public and not-for-profit sectors seems to be the way forward, though she does wish there was greater support from government agencies.
"It would be nice if we had a partner in the government rather than an enemy," she said.
A look with open eyes
One big step forward, Shepherd said, would be to take away the stereotypes and understand the reality of the problem. Shepherd provided an example, remembering one woman she helped who was on the verge of being out on the street.
"She had an eviction notice in hand — $268 short — and a doctor's slip in the other," she said. "What had happened is, she contracted pink eye at her fast food job, (and) had to take essentially a week off work that she couldn't afford."
Shepherd said this story isn't uncommon. She said many who live on the streets or are on the verge are not lazy. She said some cobble together a string of part-time jobs just to make ends meet, but in the end, none offer paid time off and none offer health insurance. She said this means when an illness happens, it can be difficult to make it to the doctor or even to take time off to get healthy.
Brawley Sussman said optics are a big problem in generating the kind of groundswell of support needed to help the homelessness issue. She said as human beings, there is an innate sense of empathy programmed into the brain, but it can be easily ignored if someone has other traits that allow someone to write off that person living on the street.
"It also makes it difficult that the visible homeless are the shelter population and they are the chronically homeless. That becomes the face of homelessness and that becomes a problem that causes people to not put a high priority on homeless services because they don't see themselves in the situation," she said.
This is why she, like Shepherd, said it is imperative for people to realize there are far more people living without reliable housing than those on the street corner asking for a meal.
Even still, she and Shepherd said it is on everyone to reach these people and to help provide assistance.
"We need to understand that it's not somebody else's responsibility," Shepherd said.