MURPHYSBORO — On Saturday, the Southern Illinois Beard and Mustache Enthusiasts will host their sixth annual competition. This year they will raise money for St. Francis Animal Shelter in Murphysboro.
Beard contests have become more common in recent years as the fashion of growing one has become a peak trend in the United States. According to Google Trends, queries for "beards" have increased steadily since 2010, as have queries for beard grooming products, suggesting that the trend is here to stay.
D.J. Eaton, SIBME's current president, got involved with the SIBME about six years ago when he heard about it from a friend.
"I have always had a big beard, or a goatee, but I never really knew a lot about there being competitions until I joined the group," he said.
Eaton said it was watching the IFC show "Whisker Wars" that opened his eyes to the fact that there were regional competitions. "They just started popping up everywhere around here, and I started entering them."
Eaton placed first in the 8-inch or under category in the St. Louis Beard and Mustache Club's annual competition this past March. Eaton is a fan of the natural beard, and prefers minimal grooming and sculpting.  
"I will use beard oil to keep it from drying out, but I do not do freestyle," he said.
Freestyle will be one of the categories in this weekend's event — it refers to the way men use waxes and oils to create elaborate arrangements with their beards and mustaches.
According to Don Darnell, 46, of Macedonia, who holds the groups longest-running membership, and is a past president of the organization, the group originated out of Black Diamond Harley-Davidson.
"I took over as club president about five years ago and then we have evolved from there," he said.
Darnell said there will be approximately seven different categories in this weekend's competition.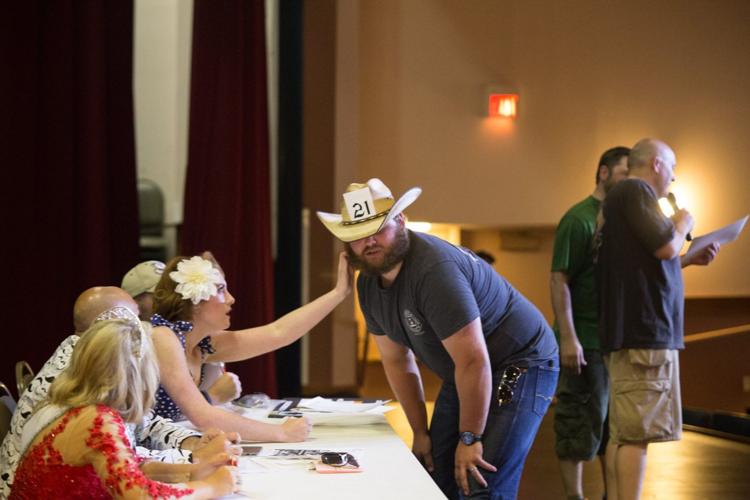 "The competition categories are basically the same as last year: Natural mustache, styled mustache, gentleman's beard, full beard, partial beard, freestyle and a women's competition," Darnell said.
The women's competition involves ladies who don fake facial hair, a category that had two competitors last year.
"We tell people that while the beard is the centerpiece, anything that has to do with stage presence is encouraged," Darnell said. "Sometimes it's the showmanship that takes the day."
Darnell said that beards and mustaches will be judged by length, texture, thickness, and appearance. He said that the competition is geared toward facial hair that is pleasing to the eye, so they are looking for "nice, tidy beards that don't look like they came out of the swamp."
Would-be competitors are encouraged to visit the SIBME Facebook page, which has links to the event page where descriptions of the regulations governing beard and mustache growth and presentation can be found.
Prizes for the winners in each category will be SIBME's fabled golden gnomes. Eaton said in many competitions, the awards are hand-crafted, but SIBME has become known for its aurulent awards.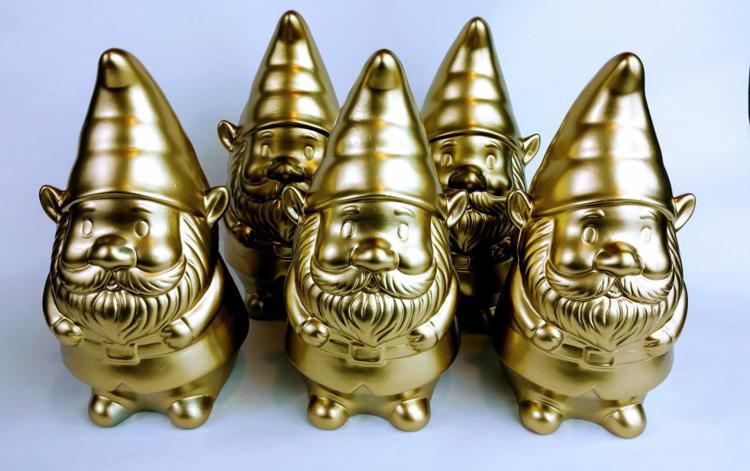 Eric Trout, of Marion, will compete for the second time in this year's competition, in the full beard category, which requires more than 4 inches of growth.
"The beard that will be on display this weekend is a result of two years of growth," he said.
Trout said that he has had different types of facial hair over the years, but got caught up in competing through a contest in his church, Second Baptist Church in Marion, where he is an associate pastor.
"We raised about $600 to go toward camp costs for kids and that seemed like a pretty good return for a few months of grooming," he said.
Trout said growing a beard is a process. "The longer it gets, the more time goes into it. Every couple of weeks I will get a trim. Just like the hair on your head, beards get split ends."
Trout said grooming is an important part of keeping a beard in good shape, and that his wife, Anna, makes a beard oil for him from different types of essential oils.
Crown Alley Brewing and Distillery from Ste. Genevieve, Missouri, will offer tastings at Saturday's event, and the Haute Wheels food truck will be there. The Swamp Tigers will take the stage outside the taproom at 8 p.m. Wes Bennett from WDDD-FM is the event's emcee. 
St. Francis Animal CARE will also be present with animals available for adoption.
"There will also be a raffle. Basically, if anyone who wants to give us money, we are going to take their money," Darnell said.
Registration for the contest will begin at 3 p.m. at Brews Brothers Taproom in Murphysboro. Cost of entering the event is $20, and contestants will get a T-shirt. There is a $5 cover for spectators at the event.