Chicago-based filmmakers Ethan Talley and Zach Xanders returned to their native Southern Illinois to discover the person behind a local legend.
The poignant little film clocks in at just over 15 minutes, following William Reinschmidt, an iconic figure in Franklin County, on his daily adventures through Benton, West Frankfort, Herrin, Sesser and his hometown of Orient.
"Wild Bill" was released last week on Vimeo, an online video streaming platform. It has been accepted to the Shawnee Shorts Midwestern Film Festival, and it will screen April 15 at the Liberty Theater in Murphysboro.
How would you sum up Wild Bill to people who aren't familiar with him?
TALLEY: First of all, he's a very interesting character. But I think above all, he's a very friendly, positive, outgoing kind of person. Nothing bad ever has come out of his mouth about anyone or anything, really.
XANDERS: He's charismatic. He's lively, especially for his age. He's got a kind of spark about him, a kind of kid-like energy that's infectious. I feel like a lot of people just enjoy being around him for that reason.
Ethan, I know you had remembered Bill from your childhood in Benton. What was your impression of him when you were growing up?
TALLEY: My dad used to run the car show in Benton on the square, and I'd always see Bill around and see him walking, and my parents, back in the day, would say, 'Oh, there's Wild Bill' — and you know, I just wouldn't think anything of it, because he was so instrumental in the town and instrumental in the area. That's my first memories of seeing him, and that also sparked the concept of the documentary as well — just telling the story of someone that everyone knows but doesn't really know.
How did you guys first approach him about making the film?
TALLEY: Zach and I, we do a lot of commercial stuff and corporate things in the video realm, and we were looking for a passion project. For some reason, Wild Bill sparked in my head, and then a guy that I went to high school with and who I was in a band with, Jonathan Raby, who's also a Benton native — he owns Burg's Hair Parlour in West Frankfort — was actually in up in Chicago for a hair show. I was telling him how I wanted to make a film about Wild Bill and he said, "He's actually in my barber shop, like, every day. We listen to Elvis records." So we got a chance to talk to Bill on the phone before we actually went down there, it was just a quick chat, just telling him we were interested.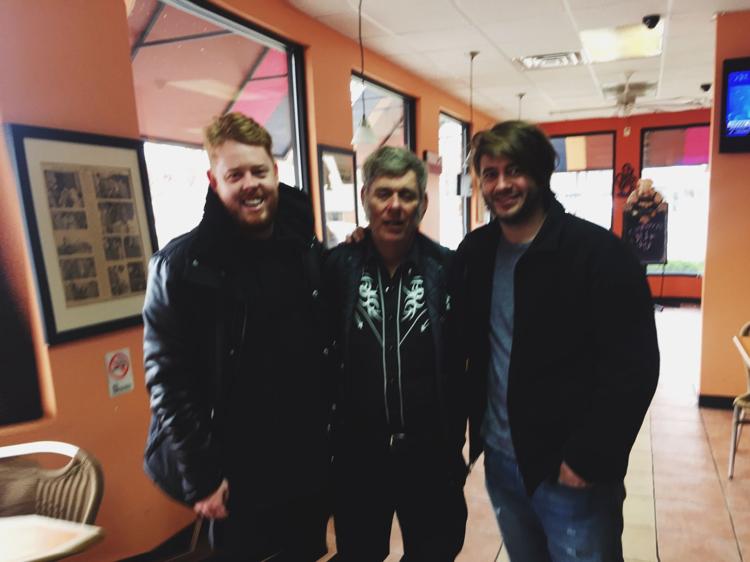 There's one part in the film where Bill is showing you the abandoned, dilapidated home where he grew up in the tiny town of Orient, Illinois. What was going through your minds as you were filming that scene?
XANDERS: We didn't really know much about Orient when we went into the town. It all happened very fast. So whenever we got there, we were stepping into this guy's really personal past. He didn't want to be there long, but he wanted to show us, so you know, we filmed it. But we were really, I think, careful, not to be there too long. We didn't ask him too many questions. It was kind of just like, if he wants to be here and talk about it, we'll film it, but it was sad to be there. It was emotional for all of us.
TALLEY: One thing too, Bill doesn't have a cell phone or any type of GPS, so going to that location was interesting because it's very deep in Orient; however, he knew exactly which left to make, which right to make, up this hill, down this hill. He was leading us to his past, in a way. 
Yeah, it sounds like he covers a lot of ground walking every day, right?
XANDERS: So he has a great sense of direction, yeah.
TALLEY: He probably walks easily 10 to 15 miles a day, and he's 62 years old.
What do you think it is about Bill that makes people in West Frankfort feel so much warmth and affection for him?
TALLEY: Especially in West Frankfort, it's almost like their walking statue — I don't want to use the word "mascot," but Wild Bill is West Frankfort to the people from West Frankfort. Everyone had a similar message to say about Bill, which is, "He's a great guy and he'd do anything for you." Everyone was so happy to talk about Bill.
XANDERS: You see a lot of documentaries about interesting people and a lot of times they're, not to put it archly or anything, but they're outcasts or some kind of subculture. But that's what I thought is interesting about Bill, is he's actually a part of that whole community.
Why do you think Bill is such a happy person? Just watching the film, he seems happier than most people I know. How do you think he manages to have such a positive outlook?
TALLEY: I think the short answer might just be that he's a simple guy. He lives in a small apartment, he doesn't have a lot of money, but that's OK with him. His life is very simple. He likes to go drink his coffee, he likes to listen to Elvis, he likes to dance.
XANDERS: I feel like a lot of us just make really tough goals and are really hard on ourselves to be a certain type of person, but I think Bill has that "don't worry, be happy" kind of attitude and just does what he likes to do.
TALLEY: He's happier than most people I know too. He's doing something right.
This interview has been edited and condensed for clarity.