A small army of volunteers are shaking the dust off items that have been in storage for 50 weeks as sleeping giant HerrinFesta Italiana comes to life this week. After spending nearly a year in hibernation, the activity level around the Herrin Civic Center seems to shift overnight from granny low to overdrive.
HerrinFesta President Chris Trapani says the behind-the-scenes work never stops. As soon as one year is over, planning for the next begins. There is little evidence of the enormous number of human hours spent preparing for the festival by seven sub-committees and 30 event coordinators, except a few news releases and updated billboards.
The annual festival, which started in 1991 as a celebration of the vibrant Italian heritage of the city, officially kicks off on Monday with the Miss HerrinFesta Pageant. However, the backbone of the revelry is an entertainment package filled with big-name acts Gary Allan, Halestorm, Old Dominion, George Thorogood and Hairball.
"Halestorm and Gary Allan have been our biggest sellers so far. We are nearly sold out of pit and reserved seating for both shows, but there are still plenty of general admission tickets available for all shows," Trapani says.
Despite the relentless dedication of nearly 300 volunteer workers, the level of festival success each year is ultimately controlled by one person — Mother Nature. The money pours into the coffers when the conditions are perfect, and washes away with thunderstorms.
"It's pretty simple. We have an outdoor event and are at the mercy of the weather," Trapani says. "Over 50 percent of our business comes from walk-up customers. They don't want to pay the extra fees from online ticket sales and they don't want to come to a show if it is going to be rained out."
Instead of worrying about things he can't control (weather), Trapani focuses on trying to make HerrinFesta better each year. A major upgrade is premium reserved seating, meaning the purchaser will have a chair seat.
In the past, all tickets were festival style. Standing four hours to watch a concert was not appealing to some fans, and physically impossible for others. Premium seating, located between the pit and general admission, is a welcome alternative.
Trapani says another upgrade is "Festa TV," an enormous four-sided video display that will be located on the carnival midway and continually provide up-to-date information about upcoming events associated with HerrinFesta.
Entertainment Chairman Joey Helleny says there is outstanding local talent on display in the Walker's Bluff Giardino Free Entertainment Tent. The lineup includes: Festa Jazz Trio, 1 p.m., Grape Stomp, 3 p.m. and TBA, 4 p.m., May 27; Clayton Gribble, 1 p.m. and Dave Clark and The Deplorables, 4 p.m., May 28; and Swamp Tigers, 1 p.m., May 29.
"We started the free tent last year and the response was positive," Helleny said. "We are always trying to improve the festival."
The lineup for the main piazza stage is as follows: Hairball, with opening act Party Pants, May 25; Gary Allan, with openers Eli Tellor and John Spicer, May 26; Old Dominion, with warm-up bands We Got It Covered and Kali Lynn, May 27; Halestorm, with Four Deep and Four The City, May 28; and George Thorogood & The Destroyers Rock Party with opening acts Road Races and American Lion, May 29.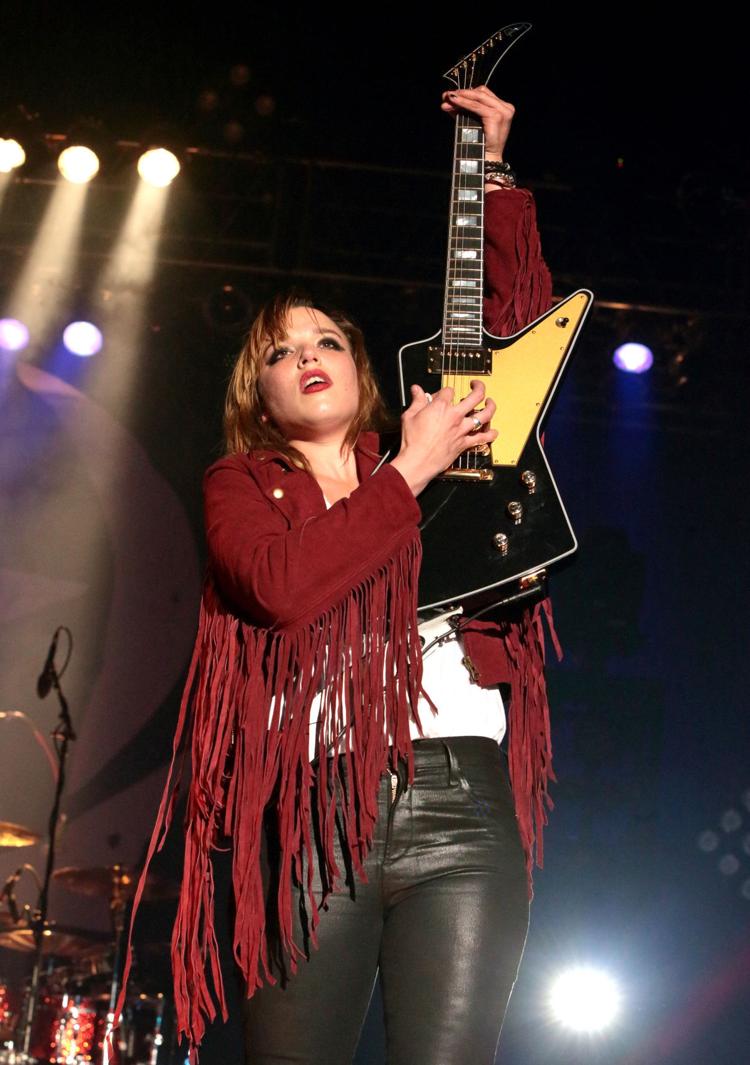 Hairball tickets are $20 for pit and $15 for premium reserved and general admission. All other shows are $45 for pit, $35 for premium reserved seating and $25 for general admission. Tickets purchased online are subject to additional fees.
Gates to the concert piazza open at 6 p.m. each day.
A Delaware native, the 67-year-old Thorogood dominated his local music scene with his high energy, guitar driven style, which earned him a spot opening for the Rolling Stones in 1981. His popularity soared after an appearance on Saturday Night Life.
Thorogood has cranked out hits like "Bad To The Bone," "Move It On Over," "I Drink Alone," "Who Do You Love" and "One Bourbon, One Scotch, One Beer." He has released two platinum and six gold albums.
Explosive hard rock band Halestorm, fronted by lead singer Lzzy Hale, is best known for chart-topping tunes like "Apocalyptic," "Amen" and "Freak Like Me." Hale formed the band when she was 13, with her 10-year-old brother, Arejay, on drums.
Halestorm has released three studio albums for Atlantic Records. The group won a 2013 Grammy Award for Best Hard Rock/Metal Performance for single "Love Bites (So Do I)."
Old Dominion has dominated the mainstream country charts with recent hits like "Snap Back," "Break Up With Him" and "Song For Another Time." Originally formed in 2007 simply to make demos for the band's three songwriters, the group eventually found its groove with Matthew Ramsey on lead vocals. The band's current radio hit is "No Such Thing As A Broken Heart."
Allan broke into the country music industry in 1996 with debut single "Her Man" and has been a consistent hit-maker for two decades. His most popular songs include: "Watching Airplanes," "Tough Little Boys," "Man To Man," "Nothing On But The Radio" and "Right Where I Need To Be," co-written by Thompsonville native Kendell Marvel.
Formed in 2000, Hairball is a constantly evolving tribute band, complete with nonstop costume changes and mind-blowing pyrotechnics. The group's three lead singers perfectly mirror the artists they flawlessly duplicate, including Kiss, Prince and Guns N' Roses.
Besides music, HerrinFesta hosts many other events during the week, like bocce and golf tournaments, a parade, poker run and car show. The event is conducted under the umbrella of the Herrin Chamber of Commerce and all proceeds are given to about a dozen local charities.