Formed to unearth and preserve the illustrious heritage of bluegrass music for fans of the genre in central Illinois, hard working four-piece band Firebox has achieved its goal and is now a one of the most promising acts in the thriving industry.
Concentrating on music from 1940 to 1969, the band has mastered the iconic sound of Lester Flatt & Earl Scruggs and The Foggy Mountain Boys, Jimmy Martin, Bill Monroe and The Blue Grass Boys and The Stanley Brothers. Not only do they strive to replicate the authentic "high lonesome sound," they also copy the classy dress code, taking the stage in dapper suits.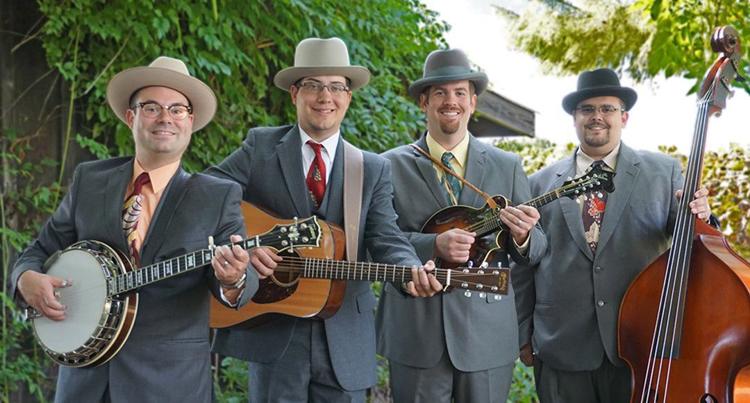 "We wanted it to feel like you are stepping back in time when you come to one of our shows," says Firebox guitarist Nick Poe. "There hadn't been any bluegrass played in our area for a long time. We were afraid it was going to be a lost art, gone forever.
"Our goal was to put together a show that looked exactly the way it did 50 or 60 years ago. We dress the part, slick back our hair and take turns singing through a single condenser microphone."
Formed in 2008 in Effingham, Firebox quickly exceeded expectations and has advanced to the upper echelon of the bluegrass world.
Last year, they played the 51st Bill Monroe Memorial Bean Blossom Bluegrass Festival in Indiana and will played the prestigious Bluegrass & BBQ Festival at Silver Dollar City from May 3 to 4.
Firebox will be the featured attraction at 7:30 p.m. on Jan. 20 at the SI Opry in the Herrin Civic Center. Opry house band Cassie Andrews and Calico Creek will be the opening act. Firebox will play a set of gospel tunes and after intermission will launch into a traditional bluegrass show. There will also be a Minnie Pearl tribute.
Admission is $12 per individual or two for $20. Tickets will be available at the door or can be purchased by calling 618-988-1207.
Poe says the band covers classic bluegrass standards, but has developed a special connection with hard core bluegrass fans by playing seldom heard tunes by Buzz Busby & The Bayou Boys or The Monroe Brothers, before Bill left the band and cemented his Father of Bluegrass legend.
"The newest song we know may be something from the 1970s," Poe says. "We take pride in learning the obscure B-side stuff, then put our own little spin on it by adding a guitar break."
Banjo picker Tyson Tolliver of Effingham founded Firebox in 2008. He is the only remaining original member. He provides lead and tenor vocals. As band leader, he is responsible for creating the play list for each show.
Poe, 24, is from Altamont. He grew up playing rhythm guitar in church. After taking banjo lessons with his grandfather, at local jam sessions he met Tolliver, who convinced him to join Firebox in 2009 as a guitarist. He also sings lead and adds baritone and bass vocals.
Olney native Caleb Gerber came into the fold in 2010. He plays mandolin, sings lead and adds tenor and baritone harmony.
Bill Sanguinetti rounds out the popular quartet. The Missouri native and current Effingham resident brought his upright bass skills into the organization in 2012. A versatile vocalist, he can fill tenor, baritone and bass parts, plus provide lead. He is the band's social media coordinator.
The foursome has closely bonded through the years. They are best friends and tackle major projects, like roofing their houses, as a team.
"Getting together to practice music every Thursday is like poker night for us," Poe says. "It started out just being something fun that we enjoyed doing. Then, we got invited to play somewhere and people liked us, which led to more offers and the thing just snowballed. I never dreamed we would be playing out of state at major bluegrass festivals. This has been such a blessing for us."
All four members of the group work full-time jobs. Tolliver is opening a new barber shop in Effingham next month. Poe is a mechanic, Gerber is an engineer, and Sanguinetti works in education.
The band has a solid series of high-quality videos, the Home Studio Sessions, on YouTube. It was those videos that caught the attention of the Silver Dollor City promoter and led to the booking.
"The show down in Branson definitely has us excited," Poe says. "It has never been about the money for us. We were lucky enough to make a name for ourselves in our area playing bluegrass. It looked like this style of music was dying out. It was important for us to show people the roots of bluegrass, how it all started and preserve the history.
"I guess you could say that we've accomplished our mission. Now, we are just going to keep working hard and see where this leads."