Rock Roulette is a rapid-fire rock 'n' roll fundraiser for Girls Rock Carbondale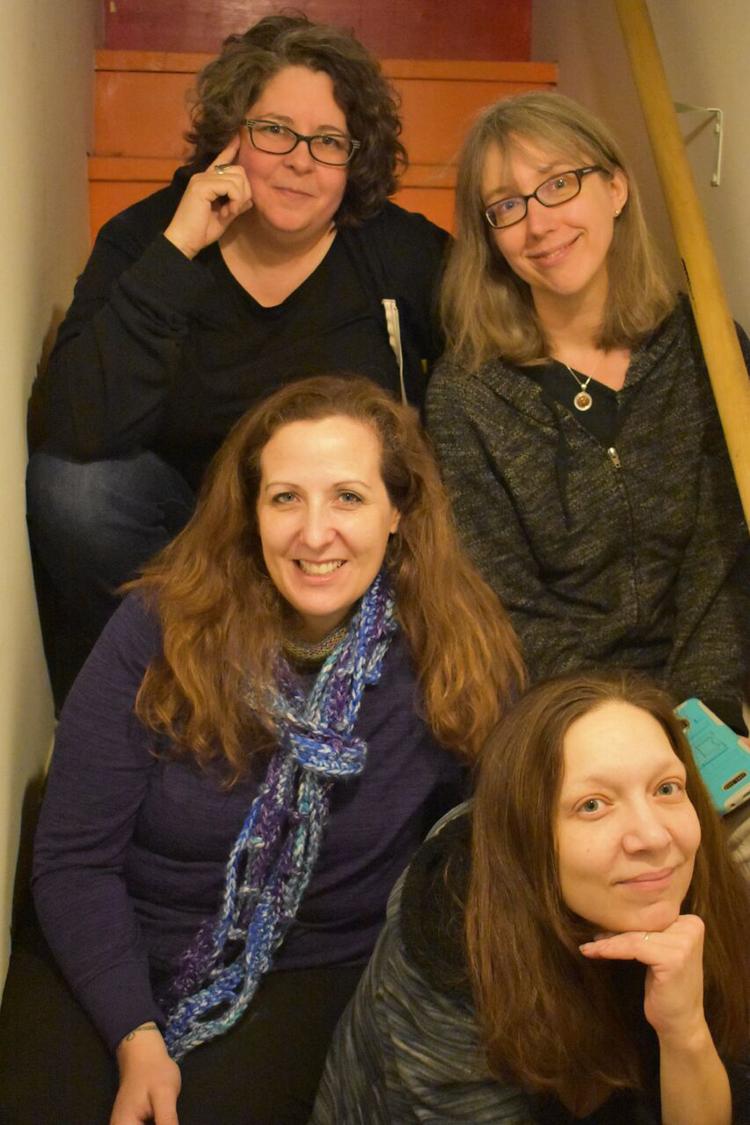 They're a choir director, two health-care administrators and a business owner. They're mothers. They're feminists. And for a few weeks, they're the members of one of Carbondale's newest rock bands.
These are the women who make up Ladybusiness, a band that formed just a month ago for Rock Roulette — a fundraiser for Girls Rock Carbondale that's based on the same principle as the musical summer camp, in which girls and gender-nonconforming youth entering fourth to 12th grades in one week join a band, learn an instrument, write songs, and perform on the Hangar 9 stage.
On Monday evening, I found the four members of Ladybusiness — Marisa Winegar, the choir director at Church of the Good Shepherd; Erika Peterson, an administrator at Shawnee Health Service; Carrie Vine, an HIV caseworker at Jackson County Health Department; and Heather Smith, the owner of screen-printing outfit MerchOp — in Winegar's basement in rural Carbondale, ironing out the arrangement of a cover song less than two weeks before their big debut.
They picked their instruments and formed their band on Jan. 7, and will perform three songs — two originals and one cover — on Feb. 17 at Hangar 9. It's an awfully quick turnaround time, especially considering that they're new to their instruments, and to rock 'n' roll music, teaching themselves by watching YouTube videos and meeting up a couple of times a week for rehearsal, on top of their daily commitments to full-time jobs and child-rearing.
"I feel a little bit like we're on the 'Amazing Race,' like, the rock 'n' roll version," Winegar says, referencing the fast-paced global scavenger hunt reality TV show. "Like, this is not the way normal people do this."
"The Hangar 9 is a pretty big stage," Vine says from behind an electric piano, as the four consider their upcoming premiere in one of downtown Carbondale's biggest music venues.
They've had mere weeks to learn how to play the instruments they chose and write and learn songs. These four professional women are letting go of the idea that they'll be appearing as a polished ensemble when they step onto that big stage next weekend.
"If anyone thinks we really suck, then it's just because there was no Girls Rock Carbondale when we were teenagers," Winegar says, sitting behind her borrowed drum kit. "It's a thing for our girls, our daughters."
Girls Rock Carbondale typically costs $250, but nonprofit organization Libre, which sponsors the camp — and a similar after-school spinoff — offers scholarships and a sliding scale to keep the camp accessible to girls at all income levels. That's where Rock Roulette comes in. Each participating band has a fundraising goal of $250 — Ladybusiness has already exceeded that — and the Feb. 17 showcase is a fundraiser, too, with a $5 cover charge, merchandise sales and a silent auction to benefit the camp.
"I think it's really empowering for young girls to be in the group," Vine says of the Girls Rock experience. Smith — holding an archtop guitar — echoes the sentiment, saying that for her daughter, it was a life-changing experience.
The lyrical themes of the two songs they performed on Monday for their first audience — me — are unapologetically feminist.
"Since the whole point is the fundraiser for Girls Rock, and that it really is about giving young women a voice ... and that's something that's important to us, we're like, let's just go with it," Peterson says, gripping a white and turquoise electric bass.
"We're real feminists anyway," Vine adds. "So it kind of works."
"There needs to be more loud-mouth feminists in the world making a lot of noise," Winegar says.
While the four admit the Rock Roulette experience is a challenge, they are setting an example for the next generation of creative and daring women.
"For me, I'm just old enough at this point to not care about some things that I used to care about," Winegar says. "So, this is a good time to … push yourself and challenge yourself and do things that are outside your comfort zone."
"I think that's a really good lesson for daughters, too," Smith adds. "Like, for my 17-year-old, like, wow, my mom can do that and she's almost 50, and she's going to look ridiculous doing it, but …"
"I want my own daughter to see that … you don't ever have to stop trying to learn new things," Winegar says.
The four have found camaraderie, too. Winegar says being creative and collaborative with other women was something that drew her to participate in the unique fundraiser.
"This is an insane thing to try to do," she says. "I don't know what we were thinking, but I'm really glad that we did it."
Catch Ladybusiness and four other Rock Roulette bands on stage at Hangar 9 in downtown Carbondale next weekend. Doors open at 9 Saturday. In the meantime, you can donate to your band of choice online at razoo.com/organization/libre.
ALEE QUICK is digital editor of The Southern. She can be reached at alee.quick@thesouthern.com or 618-351-5807. Follow her on Twitter: @the_quickness