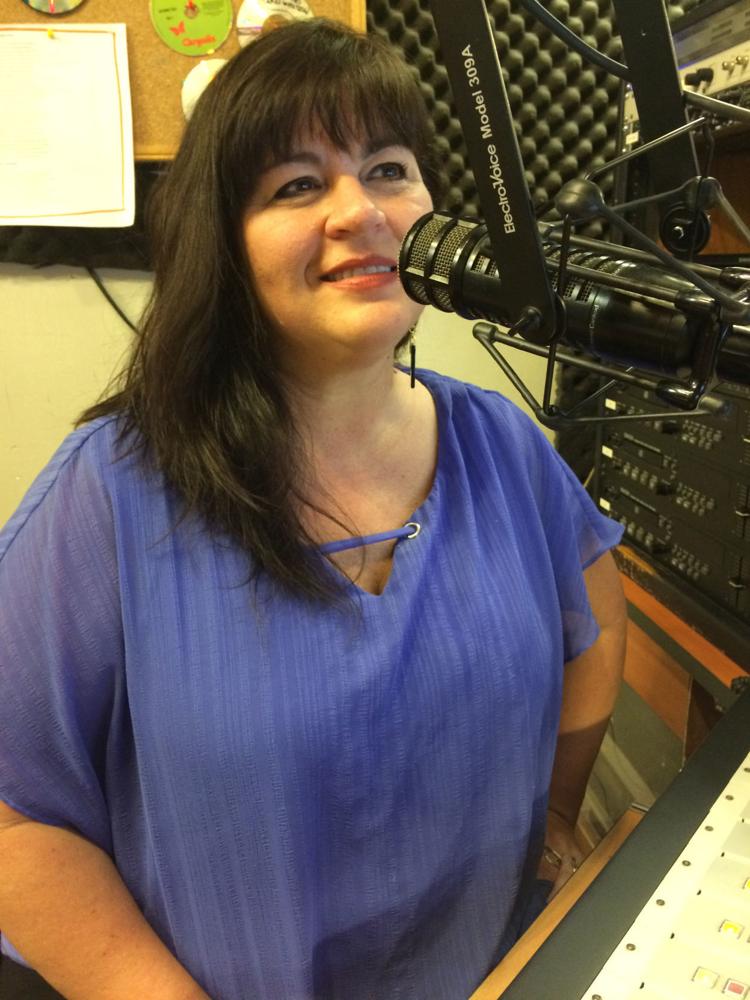 Between 8 and 10 p.m. every Tuesday on WDBX 91.1, it's "Her Turn."
That's because Chris McKinley, or Old Girl, as she calls herself on the air, fills her two-hour show with female-fronted music. On the blustery Tuesday night in February I joined McKinley in the studio, she played downbeat electronica songs with heavy, syncopated bass lines; driving rock 'n' roll tunes overlaid with sultry, smokey voices; bluesy ballads brimming with tinny electric guitar riffs; and toe-tapping, helplessly catchy pop tunes. It was a mismatched playlist that soared through genres and moods, with one thread of commonality: women at center stage.
McKinley has hosted the show — until a couple weeks ago called "Under the Skirt" — for 17 years. When she started the show back in 2001, it was to celebrate female-fronted bands, and especially female vocalists.
It was never meant to be a political statement, she says. McKinley calls herself a "music junkie," and says she's been a singer all her life. Female vocalists inspire her, she says, because it "does take a lot of guts" to perform in what has "historically speaking, been sort of a man's game."
When I went on the air with McKinley last week, she announced she was changing the name of her show to "Her Turn." Of course, it's a block of time set aside specifically for the "hers" of music. And, it's a nod to the turntables historically used by radio DJs.
When she launched the show, she wanted it to be a lighthearted celebration of women in music, not a serious social commentary. So, at Midland Inn one night before she took to the airwaves, she and a group of friends came up with the show's first title — "Under the Skirt."
"It was kitchy and cute, but its day has expired," she said.
"Women in music are a lot more sophisticated (now)," she says, compared to the scene as it was in 2001, on the heels of the Lilith Fair and riot grrrl movements of the '90s.
"It feels more charismatic now … more confident now. It's not about proving you wrong, it's just about doing my thing," she says. Music is permeated in 2018 with women who are just doing what they love.
Plus, a friend's mother called the station a couple of months ago to express her displeasure with the name "Under the Skirt." It was a last straw for McKinley, who says she had been considering a new name for months. After McKinley announced the new title on the air, the same woman called to give her a thumbs-up, as did a former co-host and several other regular listeners.
As McKinley cues up songs, she keeps a running set list to post on the WDBX website, answers texts about the handmade jewelry she's selling online, answers calls from friends and fans, and talks about the evolution of music since 2001.
In 17 years, it hasn't been difficult to come up with playlists for the show.
"Women in music are prolific right now," she says. "So, there's so much to choose from." The problem isn't filling two hours once a week, it's whittling down the mountains of good music to fit into a time block that's tiny compared to the amount of quality content that's out there.
"There's always plenty of fresh, great stuff coming," she says. And in nearly two decades of shows, she hasn't been bored. Part of that is thanks to her home on community radio.
"Most people like to listen to music they're familiar with. I like to be introduced to new stuff all the time," she says. McKinley is always excited to find new talent, she says, and even more excited to share it with other people. On community radio, she's able to mix up her lineup, including female singers an endless collection of genres.
And, true to her community radio home, she leans toward the indie side of a given genre, giving a spotlight to ladies who are just coming onto the scene.
You may recognize McKinley from her perch behind the counter at the recently shuttered Nest Arts, the former downtown Carbondale shop that specialized in local and handmade wares. Since closing the shop, she's focusing on her own art — she makes jewelry, which she sells online and in craft shows.
If you're itching for new music to add to your rotation, tune into WDBX 91.1 from 8 to 10 p.m. every Tuesday and discover some new female musicians with Old Girl.
ALEE QUICK is digital editor of The Southern. She can be reached at alee.quick@thesouthern.com or 618-351-5807. Follow her on Twitter: @the_quickness