PINCKNEYVILLE — Natural light streams through Sandie Roorda's one-level home off a lake in Pinckneyville, a house that is sparse, punctuated by lonely pieces of furniture in each room: dining room table and dresser drawer-turned-china-cabinet in the kitchen; three recliners and a sofa in the family room; another sofa and entertainment stand in the living room; and a bed and dresser in each of the bedrooms.
In two of her three bedrooms, a virtual stranger is taking photographs of some of her husband's collectibles, two possibly antique binoculars and other items — while another woman in a third bedroom-turned-office continues to pull items out of closets.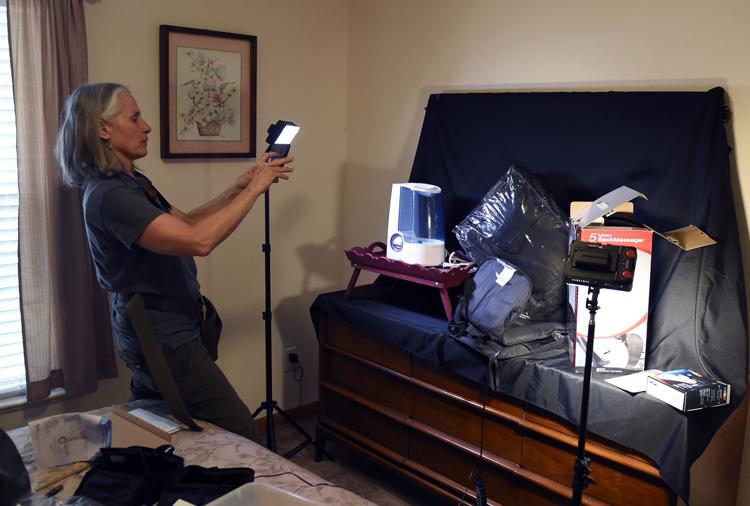 Yet a third woman is in her garage, sorting through old toys — some in a box labeled "vintage toys" — tools and other items.
Roorda has invited in these strangers, workers with the Caring Transitions company that is helping her downsize and sell, give away or keep several decades of belongings before she moves to Missouri, where the youngest of her two sons lives. The love of her life, her husband, John, died March 17 and her family convinced her to give up the light yellow, single-level home off what Roorda calls Walnut Lake in a Pinckneyville subdivision.
She's received tremendous amounts of help with this project, which she describes as overwhelming, but necessary, as she moves on with her family's concerns that she sell her $130,000 home and move closer to her son.
"It's a very interesting organization," Roorda said. "It's hard to put into words what they meant for me personally. There is no way I could have wrapped my head around how to do it, how to organize this."
The owner of that organization, Dawn Crimson, will share what she does, particularly the emotional impact it has, at the next meeting of the New Humanist Forum in Carbondale. Crimson will speak about "Simplifying Life Through Downsizing" at the organization's next meeting at 12:15 p.m. Sunday, May 21, at the Carbondale Unitarian Fellowship, 105 N. Parrish Lane in Carbondale.
Her visit was initiated by Bob De Filippis, a member of the New Humanist Forum who has used Crimson for his own downsizing, a member of the organization said.
"I am hoping to get a clearer philosophical, physical, and emotional perspective on detachment from earthly possessions through this presentation, in addition to tips on how to declutter," group member M.J. Smerken said. "Is my understanding that decluttering your home helps to reduce stress and in a sense, declutters your mind."
Crimson said she bought one of the Caring Transitions franchises after coming into a bit of money and after having worked for 20 years in a very solo job as a software development telecommunicator, a well-paying job that was like "golden handcuffs," she said.
Crimson's job is to help people who are looking to downsize or sell off a parent's property. That need can come about through a desire to downsize, or can be precipitated by death, failing health, divorce or some other impact.
She walks the client through what she calls a "keep and release" process, encouraging them to decide what they want to keep and what needs to be given away or can be sold. The employees working at Roorda's home on Friday are taking pictures of items Roorda plans to sell; these items will be sold on a Caring Transitions website.
Crimson said, on average, clients who sell items from their homes oftentimes break even, some maybe even profiting a little, from some of the items they sell. On average, she said her company deals with clients who have been in their homes 30 years or have, on average, that many years' worth of collected materials; she can help about one client a week downsize.
"It's just easier for us to make a lot of those decisions if they will trust us," Crimson said. "It is overwhelming, and people always say 'where do you start,' and one of the places we start is in the keep and release."
Although she'd been described as one of the more calm clients Caring Transitions had ever worked with, Roorda said she might appear that way "on the surface."
"It's been a little (emotional) watching people going through this stuff," she said.
A few years ago, Roorda said she faced the deaths of her parents and of her husband's mother, and the couple had to handle their homes and the caring for and dispensing of some of their items. Many items from those homes made their way into the couple's Pinckneyville home, she said.
She said she and her husband had talked about using the services of something like Caring Transitions.
Sitting at her dining room table in her sparsely filled home, she remarked that the company's employees had only been there four or five days. They had already carted off bags and bags of items and trash, she said, noting that the file was as high as the 17-plus garbage-sized bags lying outside her garage, where one Caring Transitions employee worked.
The crew had removed "lots, lots, lots" of her belongings from her home, she said. "They have taken, I don't know how many bags they've taken to charitable organizations."
She's planning to take some pieces of furniture, some dishes — like those in her cabinets marked with the green tape — clothing, pictures and a few other items.
"Until you see it in person, it was just mind-boggling," Roorda said. "I have never seen anything like it, to be honest with you."