CARBONDALE — Ask Joyce Hesketh about the dark blue and gold print quilt, with stitches in swirls, and she will quickly tell you that it wasn't all her doing. After all, someone created the digital pattern from which she stitched the quilt together, inspired by Vincent Van Gogh's "Starry Night."
Ditto for all of the other full-size or infant quilts, table runners and other items she's spent the past decade sewing, some of which are hung on the walls or folded on a table in a back room at St. Andrew's Episcopal Church in Carbondale.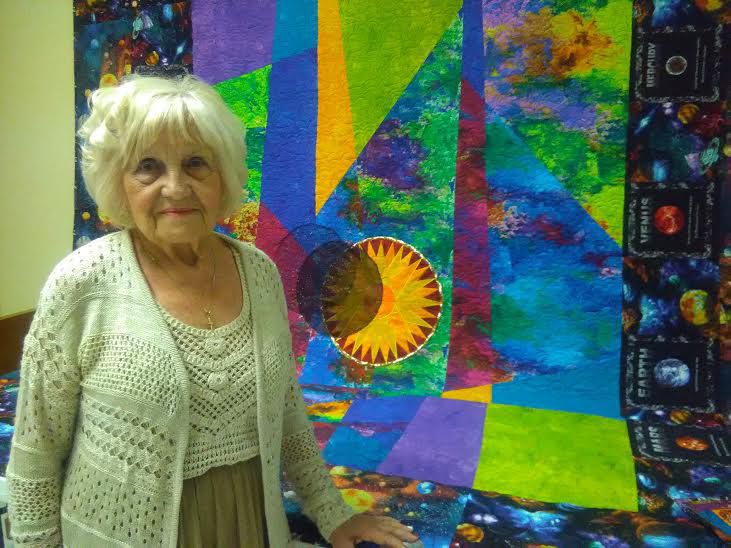 She tries just as much to dismiss her apparent skills jumping out at viewers of the "Eclipse Quilt," a large, multi-print work of art with dark purple tie-dye looking fabric against blocks and triangles of yellow, green, blue, edged with print with images of the planets and other heavenly bodies.
She admits she had no idea what an eclipse would look like and had to do some research of her own.
"I prayed for inspiration," she said. That led her to pick the purple and blue and green tie-dye looking prints for part of the backdrop.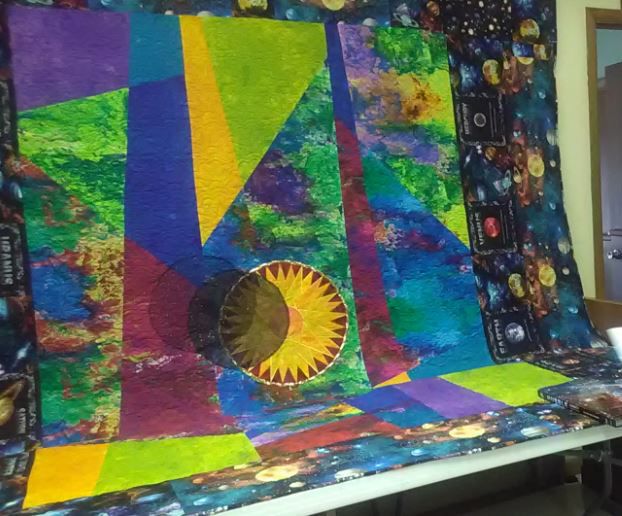 She said her inspiration was confirmed when she found a coffee table book on the Hubble, a book in which some images from the telescope were reprinted. She turned to a page in the book where the Hubble Space Telescope took an image of outer space matter, a motley bed of lavenders, purples, pinks — kind of like what was in her quilt.
She said she went to Carbondale's Eclipse office for inspiration, learning that the eclipse would come in from the east, and so the large yellow orb in the middle of her quilt looks like that.
She showed the outline stitching in the Eclipse quilt that replicates the shape of the sun and its rays and clouds.  She used transparent tulle and organza fabrics to represent the moon's shadow over the sun.
This quilt, and others of Hesketh's, who is choir director at St. Andrew's Episcopal Church, will be exhibited at the church throughout the month of August.
"The Fabric Art of Joyce Hesketh" exhibit runs Aug. 1 to 31 at the church at 402 W. Mill St. in Carbondale. Exhibit hours are 10 a.m. to 3 p.m. Monday through Friday; 10 a.m. to 1 p.m. Saturday; and 9 a.m. to 3 p.m. Sunday.  A grand opening reception is 7 to 9 p.m. Friday, Aug. 11 at St. Andrew's.
The raffle tickets are $10 each or $25 for three. Tickets can be purchased from St. Andrew's members or at the church office from 10 a.m. to 1 p.m. Tuesday through Friday.
A pre-exhibit display of the Solar Eclipse Quilt is set for noon to 6 p.m. Saturday, July 22, at St. James Episcopal Church, 301 E. Thorn St. in Marion; the pre-exhibit occurs during the church's annual peach festival.
Call the church for additional information at 618-529-4316.
The nearly two-and-one-minute eclipse is Aug. 21.
Family ties with sewing
Hesketh, who said she has never sold any of her quilts, started that pursuit after her husband died in 2005, she said. She had gone into Carbondale's Calico Country store to have a serger repaired, when staff started showing her some enhancements in the sewing world, including digitized sewing machines and self-threading sergers. She was simultaneously ensnared by the quilts hanging in the store and the classes offered to teach people how to create them.
Though she's a late-comer to the quilting business, she has deep roots to the sewing and garment-making industry. Her paternal grandfather owned an apron factory, and her aunt, Peg Stern, ran the Stern Garment Factory in York, Pennsylvania, from where she hails.
She said she was excited by her family's businesses and couldn't wait until she was in junior high school and learned to sew. She sewed her prom dresses and won a home economics award for sewing an apron — of course, she went above and beyond the class assignment. In college, at Oberlin College, made several garments for summer and other theatrical productions.
Because of her small size, and before the advent of clothing labeled petite, she also sewed for herself. When she married, she found herself sewing clothes for her husband, who was a broad-shouldered, trim-waisted man who wanted his clothes tailored to fit his physique. She sewed garments for him and their three young sons, then enjoyed the switch to feminine clothes when their two daughters came along years later.
Her one-woman quilting exhibit originated, in part, from a challenge from her church's pastor, Mother Kathryn Jeffrey, who had the idea for an Eclipse Quilt.
The quilt is larger than a queen-sized bed quilt, featuring the side panels with the planets attached. The top of the quilt features what Hesketh calls "solar systems," yellow gold orbs with concentric circles stitched around them, where she jokes that a husband and wife could lay their heads in their own "solar system."
She admits that she finds it hard to put a price tag on her quilts.
As her quilts are prepared for the exhibit, she is being encouraged to put a price tag on each one, something she says is difficult for her.
How much would she sell the Eclipse Quilt for?
"About $1,000," Hesketh said.
"I would say $2,000 if I were putting a price on it," Mother Jeffrey said.
"(It's available) if NASA wants to buy it, and put it in their Space Museum," Hesketh said.