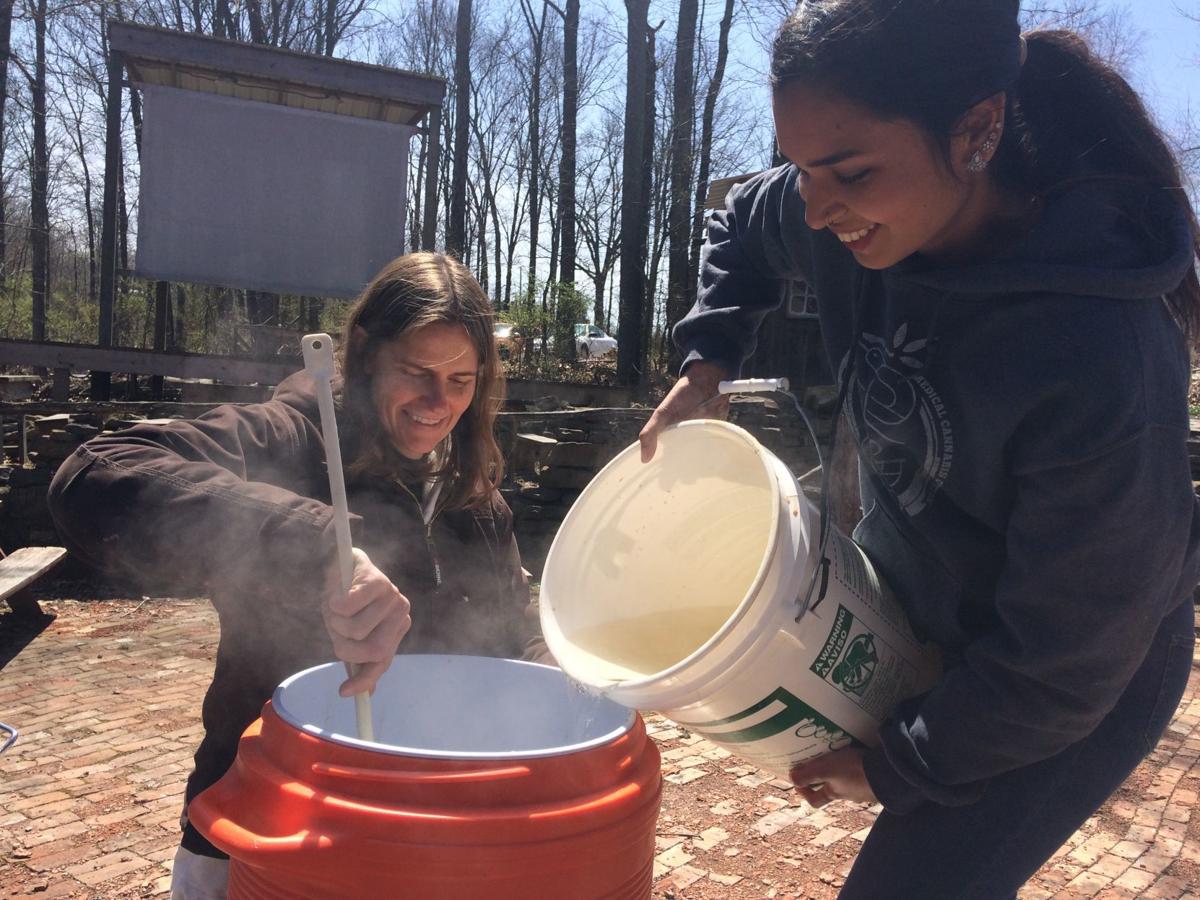 On a sunny Saturday afternoon — an unseasonably chilly one — a small group gathered around the fire on the patio at Scratch Brewing Co. in Ava.
It's a typical scene for a Saturday afternoon at Southern Illinois' most unique craft brewery, but this group is mostly women, and besides the toasty fire, equipment is set up on one of the wooden picnic tables — a mash tun made of a bright orange cooler you'd typically see at the bench at a little league game; a tray of ingredients including hops, grain and bark; and a kettle atop a gas-powered burner. These women — and a few men — have gathered here to brew a batch of beer.
This past Saturday was Women's Homebrew Day — and it just so happened to be National Beer Day, too.
Scratch, along with the Southern Illinois Brewers homebrew club, sponsored the event in an effort to bring more women into the fold of homebrewing.
Kanza Kaleem, a member of SI Brewers and a homebrewer for about two years, co-organized the event with Scratch brewer and co-owner Marika Josephson.
Kaleem says the homebrew club's ratio of women to men is tilted — about four or five women to 30 or 40 men. She says the aim of the event was to attract women to the club.
Despite the club's low female membership, Kaleem says there are more female brewers "than we know about," but she guesses since groups like SI Brewers are primarily male, women are brewing at home, doing their own thing. It's not that the men in the club don't encourage their female colleagues — they certainly do. And, Kaleem's been meeting more and more female head brewers in the craft beer scene these days. But in the two years she's been a member of the Southern Illinois homebrew club, the ratio of women to men has remained steady.
Heather Angle drove two hours from Flora for Women's Homebrew Day. She and her boyfriend have been brewing at home for about three years. It was her idea to start in the first place — her boyfriend was hesitant at first to try his hand at brewing after Angle bought her first homebrew kit — but he has since taken over the operation.
When she said she wanted to brew by herself one day while her boyfriend was at work, he cautioned against her doing it on her own.
"That's why I'm here today," she says. "Because I think I can do it by myself."
"You can definitely do it by yourself," one of her fellow brewers encourages.
The one thing Angle (and her boyfriend) worried about was some of the heavy lifting — their homebrew setup involves hoisting a vat of liquid, and it's heavy. Josephson, who as the co-owner of Scratch has brewed countless batches that regularly attract beer enthusiasts from all over the region to this hidden property in Ava, told Angle breaking weights down into more manageable sizes has helped her brew batches on her own.
A few women brought their boyfriends along for the day.
Lauren Russell and Will Browning, both of Carbondale, called the brewery ahead of time to make sure it was OK for Browning to come (of course, they said sure). Russell says she felt more comfortable coming as a beginning brewer because it was billed as a women's event. There's still a stigma out there that women don't even like beer, she says.
"Even if guys are here, it's more open-seeming," she says.
Michaela Dennis, who lives in Cape Girardeau, and Joseph Dewerff, who's studying at Southern Illinois University Carbondale, are ready to get into homebrewing together. It's more Dewerff's thing, but Dennis says she likes beer and wants to be involved in the process.
The five-hour process of mashing the grains, boiling the hops and bark (the recipe — one from "The Homebrewer's Almanac," which Josephson co-wrote with Scratch co-owner Aaron Kleidon — calls for maple bark), and beginning the fermentation process, involves a lot of waiting. 
"What do you usually do while you wait?" I ask the homebrewers gathered.
On Saturday, as they brew, yes, they drink, but these brewing enthusiasts also swap stories and tips and tricks — Angle shows Kaleem and Josephson photos of her homebrew setup, and others recommend places to buy supplies locally. On the topic of batch contamination, Angle recounts that one of her friends who brews at home in her kitchen once walked in to find her son stirring one of her batches with his arm (the beer turned out fine).
The Southern Illinois Brewers meet once a month, and each meeting covers a different topic about the brewing process, from how water can change a beer's taste to sanitizing equipment properly. Brewers also share their homemade beers and give feedback. Anyone interested in joining the club can visit facebook.com/groups/southernillinoisbrewers for more information.
ALEE QUICK is digital editor of The Southern. She can be reached at alee.quick@thesouthern.com or 618-351-5807. Follow her on Twitter: @the_quickness