CARBONDALE — Dozens of bright, yellow goldenrods and daylilies sway toward Walnut Street, as if to grab the attention of people driving on that city thoroughfare.
Accentuating their brightness are two red rosebushes in front of the house in the lush green yard with a sign proclaiming: "Bright Spot Award."
This is one of the homes and businesses recently given the Bright Spot Award by Keep Carbondale Beautiful, a nonprofit created to help beautify the city. In addition to giving the beautification awards, the organization's staff also organizes community-wide cleanups and promotes recycling and litter control.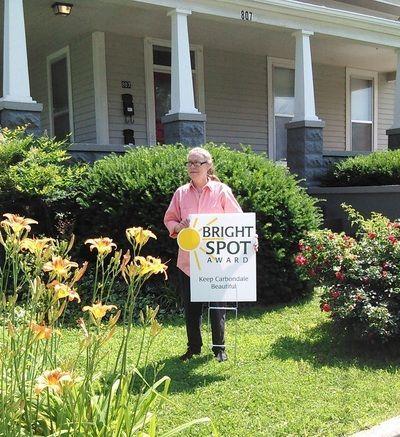 Keep Carbondale Beautiful's monthly awards acknowledge properties whose owners are taking steps that could likely increase their property value, while enhancing the overall beauty of the city.
Initiated in November 1990, the Bright Spot Award acknowledges revitalization of properties, new construction, tree planting, landscaping and other beautification, upkeep/maintenance and rehabilitation.
'Curb appeal'
Homes and businesses with that curb appeal — the attractiveness of a property, as seen from the street — increase property values, according to the president of the Realtor Association of Southwestern Illinois.
"Curb appeal is major with selling homes," Mitchell said. "That's our first impression. That's going to, basically, make or break the impression of your home, when they pull into the driveway or even drive by."
He points to a survey done by the National Association of Realtors in support of the idea.
"They found out that 71 percent of homebuyers think that 'curb appeal' is important in choosing their home and most homebuyers purchase a home with a healthy green lawn and well-maintained landscaping," Mitchell said.
Curb appeal is everything from your lawn to the flower beds to the furniture on the front porch to the paint, the curtains in the window, the garage door, light fixtures, properly sealed driveways, weeds and leaves being removed to trash cans placed in an appropriate place on the property, Mitchell said.
Helping to make that vision possible are local landscapers like Changing Seasons Landscape Center, in Marion. Owner Trent Mohlenbrock said business attracts people looking for items to beautify their own homes and those planning or thinking to enhance the attractiveness of their homes as they prepare to sell.
"Having nice landscaping at your home can increase your home's value 10 to 20 percent, is what I've heard, sometimes even more than that," Mohlenbrock said.
"Landscaping adds value to the house if it's done correctly — or it can take it away, too," he said.
Landscaping can be detracting if it is "hodge-podge," he said, seeming to have no design or forethought or too-much reflecting the owner's eclectic style, he said. People wanting to have attractive landscaping should work out his or her ideas and create a plan with the help of a landscaper, he said.
Those who are watching budgets or on limited incomes can consider container gardening, for instance, he said. More inexpensive flowers and plants, in an array of colors, can enhance a property.
"I think color is the key, making your house look better, off the bat," Mohlenbrock said.
Sarah Heyer, executive director of Keep Carbondale Beautiful, said people of all income levels can create attractive landscaping.
"I think the gardeners are just people who like to garden," Heyer said. "It doesn't take a lot of money. It just takes time and commitment to maintain (your work)."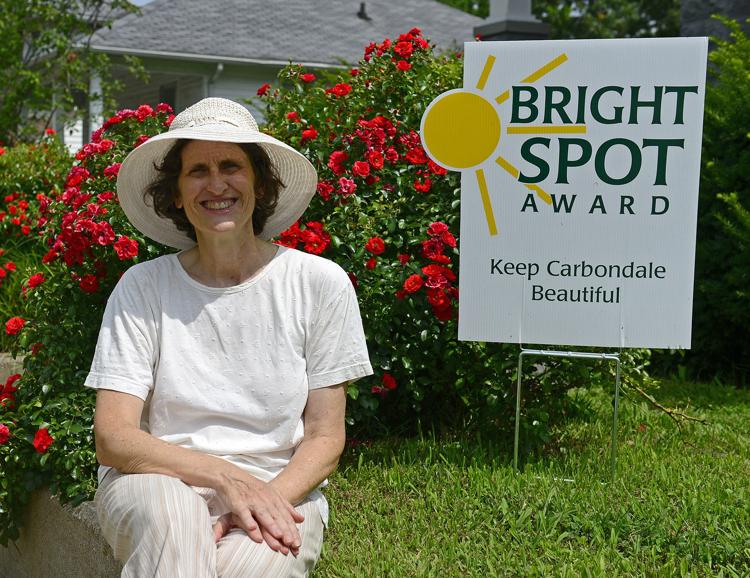 Heyer said, she has heard that planting a tree in your yard increases the home's resale value.
She noted that there are many more bright spots around Carbondale, including whole streets, such as Briarwood Drive on the city's southwest side, which have not been awarded.
"Any one of those houses is a candidate for a Bright Spot Award," she said.
Committee members mostly depend on nominations to come from people in the community.
A 'blight' award?
While Keep Carbondale Beautiful has not awarded a "Blight Award" for properties in need of work, Heyer said she has thought about it.
"I've been tempted to offer a 'Blight Spot Award,' but we try to stick with positive reinforcement," Heyer said. She noted that cities like Peoria give an orchid award for pleasing properties and an "onion award" to encourage businesses with visual blight to improve their properties.
"People who get the Bright Spot Award wind up being people who really care about the community (such as Linda Gladson, the June 2015 awardee)," Heyer said, "and understand that aesthetics are critical to property values and to the value of a community."