Sometimes, the best garden serves as a solution to one of a homeowner's worst problems.
When John and Connie Halliday faced water drainage issues around the foundation of their Carterville home, they decided a rock garden might be the answer.
"The landscaping we had was making it worse," John said. "And, I'm no fan of dirt right up against the house, anyway. Termites love that."
The pair also liked the fact that a succulent-plant rock garden would need less water and and maintenance, although Connie said she still plucks weeds to keep it looking clean.
"I have to keep up after a stray weed here and there, but it's a lot better than what you usually have to do," she said.
Once the decision was made, the Hallidays hit upon the idea of a desert garden, much like those found in Arizona and southern California, where water is scarce. But could succulent desert plants thrive in Southern Illinois? To find out, they visited local nurseries for advice.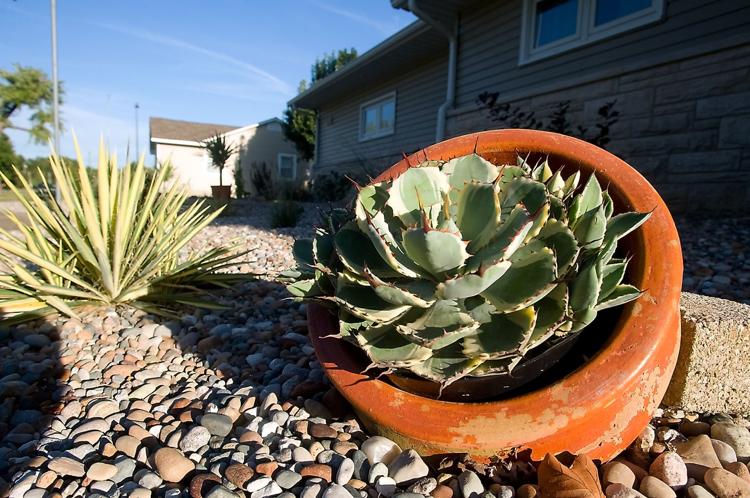 "We dealt a lot with Plantscape in Herrin," John said. "We had some plants in mind, and they would tell us if that plant or something like it could grow here in Southern Illinois. Then we honed the list again, and kept at it until we found what we liked and what was indigenous to the region but still had a desert look."
The process began in late July 2014, when John tore out the old landscape bushes and cleared the space. He doesn't know how many square feet the garden takes up, but he had another way of looking at it: "I don't know the square footage, but I know we put in 15 tons of river rock," he said.
By late August, the first plants were installed. Among the plants that did well were the agave and a beautiful, pink-and-red flowering sedum.
"We lost a couple of them over the winter, but we will add new ones as we get more knowledgeable," John said. "We aren't master gardeners, but we're learning."