For Marion's Rick Whitecotton, becoming a Master Naturalist was a logical next step. His wife, Ruie, was hesitant about tackling the course.
Master Naturalist is a program administered by the University of Illinois Extension Service. Graduates of the course volunteer their services at state parks, national wildlife refuges and other public programs.
Rick had already gained Master Gardener status in Michigan. When the couple moved back home to Marion, Rick was approached about the Master Naturalist program. It seemed like a logical fit.
Ruie, on the other hand, wondered about her ability to handle the 10-week course which covers, but is not limited to, ecology, invasive species, environmental ethics, climate, forestry, geology, birds, reptiles, insects, forestry and urban wildlife.
"People who have gone through this class have been heading in one direction: toward a recliner for the rest of their life, or a rocker on the front porch," Rick said. "Now, they are leading hikes, and they are teaching children things and teaching families. Now, they have a second breath, a new act on their life they didn't see. They repented and turned their lives around to something entirely different."
As for Ruie, she found out there was nothing intimidating about the class.
"Once I realized I can still learn, I'm still teachable, I decided to go ahead and do it," she said. "I started out thinking I wanted to learn more and more about birds, and I found out there are a lot of things that are extremely interesting, just learning about the world around us."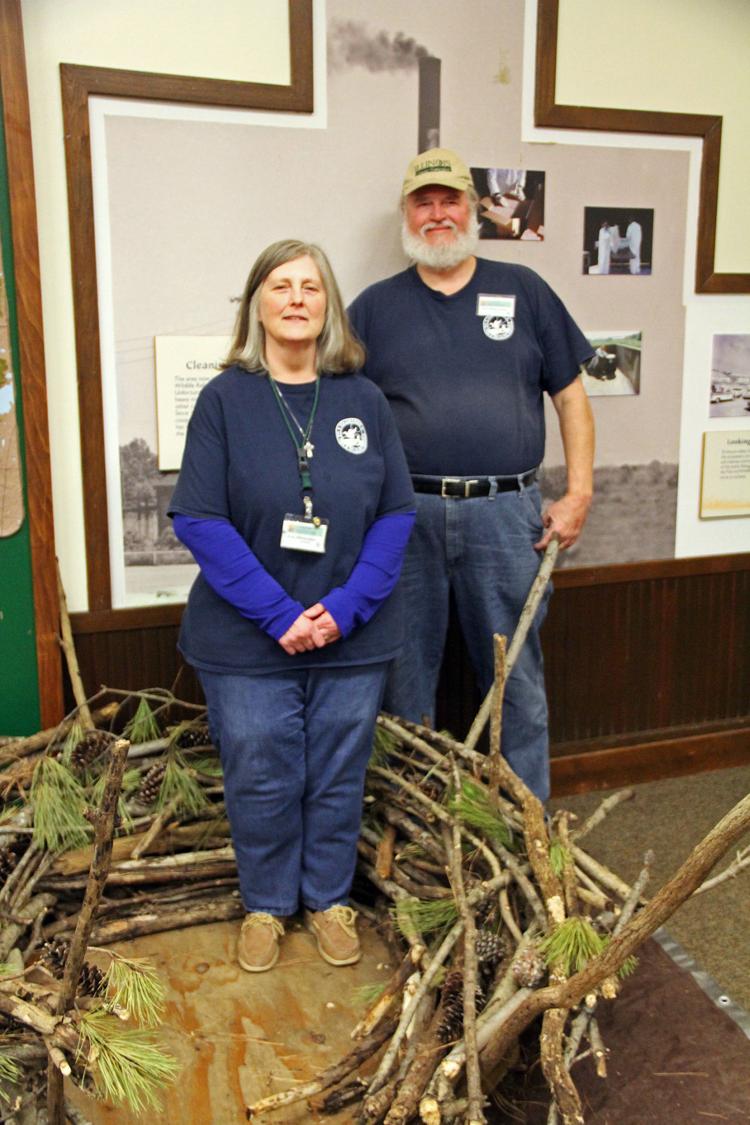 The classroom program runs for 10 Thursdays. Classes run from about 8 a.m. to 4 p.m. The day is divided into two distinct sessions. Rick and Ruie raved about the world-class instruction.
"It can be a life-changing experience," Rick said. "I find I've had a lot of professional training within the business environment, within a military environment, this is the best training I've ever received. Most of our teachers are professors at SIU, current professors, associate professors. We have the state geologist that will teach a section. You learn things here you cannot learn someplace else in this short a time. In 10 weeks you get an exposure to all the hard sciences, fact-based education."
"He came out of his class saying, 'There people are my tribe,'" Ruie said "In other words, they are like-minded people. I had had some health problems. My typical day three years ago was sitting in a chair and watching TV, walking three steps into the kitchen to get coffee. That was pretty much my day. Now, this has opened up a whole new world. I'm doing hikes. I'm up and about, volunteering, helping people."
Upon completing the class, Master Naturalists are required to volunteer 30 hours per year and take 10 hours of continuing education to maintain their status. Instructions and other Master Naturalists help find graduates a volunteer home.
Among other things, the Whitecottons man the service desk at Crab Orchard National Wildlife Refuge one day a week.
"I love working in the center here when kids come in, they're looking at the displays," Ruie said. "Some of them are really timid about, there is the one section where you put your hand in, they are really timid about that. Then, you get them interested in it. I love that."
Finally, Rick said that because of the nature of the course, the Master Naturalist experience is different for everyone.
"Because you go inside to reach outside, it's going to be different for everyone," he said. "We have roughly 100 master naturalists. If you interviewed 100, you'd find different opinions and expressions about what they learned simply because you have to do some introspection."
Fee for the course is $250. The course begins March 1.
For more information, call 618-687-1727.