It's no wonder Donna Attig's rural Murphysboro garden looks like an Irish cottage garden. She lived in Donoughmore, County Cork, on the Emerald Isle for more than 10 years as the matriarch of a missionary family, before moving to Southern Illinois 18 years ago.
In Ireland, cottage gardens were planted out of necessity and a bit of middle-class rebellion against the structured and highly maintained English estate gardens of the late 19th century.
Cottage gardens are informal and densely planted with a mix of edible plants and herbs, and flowers, a garden full of charm and usefulness, and Attig has practically perfected that ideal. No gardening "rules" for her, except, perhaps, the traditional idea that cottage gardens are also made for sharing.
"Everybody in Ireland shares cuttings, seeds and plants; everything multiplies, so you have the opportunity to give much of it away, and I do that," said Attig, whose garden is, for all intents and purposes, her front yard. "On a small piece of land, you can grow anything, and lots of it, especially with this style of gardening."
Another advantage of gardening this way, Attig said, is that it is relatively free of the bane of a gardener's existence: weeding.
"That's one of the best things about this kind of gardening," said Attig, who never uses chemicals or weed killers.
Attig's love of growing things was inherited from her mother, Vera Mueller of Murphysboro, and her grandmother, Mabel Marie Shields, who lived in Gorham. Attig was raised in Miami, but spent summers on her grandparents' Gorham farm. Those summers, when recalled, bring a wistful expression to her open and friendly face.
It's fairly evident she inherited the "green thumb" of her ancestors. Her garden offers up vegetables, herbs and flowers, all growing closely together in raised beds separated by small walking paths.
There are chives, mint, celery, basil, parsley, dill, caster beans, beets, sweet potatoes, strawberries, asparagus, rhubarb, green beans, cucumbers, tomatoes, white and purple potatoes, Brussels sprouts and cabbage.
There are sunflowers — "for the birds this fall," Attig said — roses, zinnias, Scotch broom, lamb's ear, fox glove, elephant ears and two hibiscus plants, which are quite obviously among her favorites.
"Meet Mr. Maroon," Attig said, as she cupped a huge, deeply red bloom from one of them. "The pink hibiscus was my mother's. I transplanted it after she passed away in 2013. It gets at tall as 8 feet."
Most Irish cottage gardens are enclosed, and Attig's is no exception. The white picket fence was built by one of her sons.
"That was on my bucket list," Attig said. "I just love it. It's just fantastic."
The fence provides the perfect picture frame for the creatures who visit her garden throughout the day. Hummingbirds flit from one brightly-colored blossom to another; bees stop by for a quick hit of nectar; and a few butterflies pause for a visit, too.
"Look at that one! Isn't he big and beautiful," Attig said, pointing out a butterfly whose wing span looked to be about 6 inches.
Sitting at a café table on the small, screened front porch that she and her sons built, Attig flipped through the pages of her planting calendar. Each day is filled with notes and "time to plant" reminders.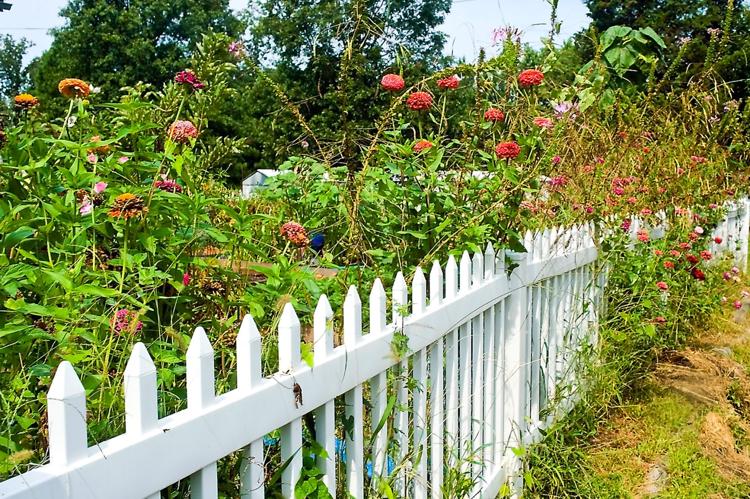 "I plant by the signs of the moon," Attig said. "See here? Everything has its time. I have always followed nature's way for the best results. But, I'm still learning. I also plant so that something is blooming. That way, the garden is always drenched in blossoms over many months."
Another hallmark of a typical Irish cottage garden is accessories.
"Gardens need statues and seating," Attig said. Hers is sprinkled with trinkets, chimes, a bench and other items given to her or repurposed by her.
And, while there is plenty to tend to in the front garden, Attig is already imagining what can be done in the backyard.
"Someday, I'll start in the back," she said. "Fruit trees, lambs and chickens. Wouldn't that be grand?"