CHICAGO — Waiting for someone from Housing and Urban Development to come down and make an appearance outside the towering Ralph H. Metcalfe Federal Building, a wide-eyed 12-year-old Latrece Brooker soaked in the big-city sights.
Though she traveled from a town of about 2,400 people to one with more than 2.7 million, Brooker said Wednesday she was not intimidated about knocking on the federal government's door and asking that it do more for her home community of Cairo located 370 miles to the south, at the bottom tip of Illinois.
Brooker said she gets the sense that federal housing officials care about her and the other children who live at Elmwood and McBride, which HUD plans to tear down after relocating 185 families. "I think they're on our side," she said. "But I think they could do a little more."
Brooker, who is in the seventh grade, said she doesn't want to have to leave her hometown and start over in a new school. Neither does her brother, 9-year-old Angelo Brooker. "I'm sad that I have to move from my friends. I want to stay in the same school because I won't know anybody in a different school," he said.
James Sampson, age 7, also said he's hoping more might be done to help his family. He said he wishes he could speak to President Donald Trump about it.
"If could talk to the president, I'd tell him, 'Don't knock down Elmwood because my whole family lives there,'" he said. Sampson also had been living there until only recently.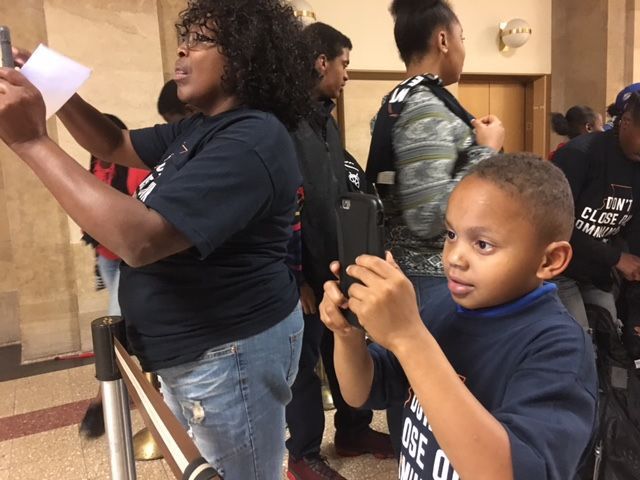 The letter Sampson wrote to the federal housing agency read, "Dear HUD, Don't close my home. My cousins live here. Sincerely, James, 2nd grade." He also drew federal housing officials a picture to go along with his letter. It was of a heart with an arrow through it. Below the heart, he wrote, "No love."
Pawar-Coleman host press conference 
Before the children and the dozen or so adults with them walked to HUD's Region V office to deliver the children's notes, Mayor Tyrone Coleman and Democratic gubernatorial hopeful Ameya Pawar hosted a joint news conference at Chicago City Hall. The trip was organized and paid for by Pawar's campaign.
It was sparsely attended by the Chicago-based media even though campaign staff delayed it by close to a half hour in hopes that journalists covering a soda tax debate by the Cook County Board would also drop in after that concluded. Most of them took a pass.
Pawar, Chicago's 47th Ward alderman, is running in a field of nine Democrats seeking the primary nod in March. He faces better financed candidates in a crowded field. Pawar said he selected Coleman as his running mate after visiting Cairo on several occasions in response to news reports about the housing crisis. He's had similar concerns about HUD policies breaking up neighborhoods in Chicago, he said.
The theme of his campaign is that a lack of equitable government investment in vulnerable communities is leaving them and their people further behind. Pawar made only brief remarks, calling it an "abomination" that some communities have to beg for resources that others more freely receive. At HUD's headquarters, Pawar hung in the background, letting the Cairo citizens take charge of their message.  
In response to the criticisms of HUD's Cairo plan raised at Wednesday's event, HUD spokesman Jereon Brown said, "We're listening and if a developer comes, we'll do what we can, but right now building in Cairo is not an option." The reason, Brown has said, is that the economy of Cairo is so depressed that it's not possible to attract a private developer and HUD no longer builds public housing with federal taxpayer dollars alone.
Brown said the federal agency is doing its best to keep as much of the public housing authority intact as possible. 
HUD announced in April, more than a year after the federal agency placed the housing authority into administrative receivership, that it was going to eventually tear down the two large family public housing complexes in Cairo because they are no longer safe.
HUD is offering residents Tenant Protection Vouchers that subsidize rent paid to a private landlord. They also are to receive assistance with moving — both in terms of finding a new place that suits their needs and with financial help to relocate their belongings. But HUD doesn't plan to rebuild in Cairo, which means families are being asked to look at housing options in other cities because there is a shortage of private rental homes within the city limits that would meet HUD's safety guidelines.
For some, leaving behind Cairo's economic challenges is a welcome change, and some families have moved or are in the process of doing so. But there are others who do not want to leave their beloved city, or uproot their children from school — especially in the middle of the academic year.
'We're still here' 
Some of the Cairo residents who traveled to Chicago held signs proclaiming, "We're still here." They wore T-shirts that read, "Don't Close Our Communities," which is the name of the campaign initiative Coleman and Pawar kicked off with the event in Chicago. Coleman plans to hold solo campaign events in several other downstate cities, including Urbana, East St. Louis, Brookport, Eldorado, Chester and Kaskaskia, in the coming days. The two plan to hold a joint rally in Cairo on Friday afternoon at one of the public housing complexes.
The message they are sending is that while the specific configuration of  the economic, housing and related issues facing Cairo may be unique, the small Midwestern city of about 2,400 also tells a common story about what's happening in disadvantaged cities and urban neighborhoods across the state.
"When Englewood (Chicago) falls, we fall. When Cairo falls, we all fall. When East St. Louis falls, we all fall," Coleman said. "We must unite. We must fight. We must be heard. We need a government that will believe in us like we believe in each other."
Coleman concluded his remarks with a plea directly to HUD Secretary Ben Carson: "To Dr. Carson, I say to you, 'Don't close our communities.'"
Lisa Childs Thomas, the principal of Cairo Junior/Senior High School, said at the news conference that it would be "very, very much appreciated" if HUD would find a way to preserve some of the structures at Elmwood and McBride, or build something new in the community to keep families in the city who want to stay.
"Think about it, mostly everyone in this country has an opportunity to decide what city they live in," Thomas said. "Why can't our residents have that same opportunity if they are choosing to want to stay in Cairo? Why can't we find options for them to stay?"
Aaliyah Johnson, 17, is just entering her junior year at Cairo High. She said she's been in school with the same small, tight-knit group of classmates since Pre-K. Some of the friendships date back even further, to the daycare days, she said. Johnson said she wants to go to college after graduation, and she expects she will leave Cairo at that time — at least, she said, while earning her post-secondary education. Johnson said she knows she'll make new friends and experiences when that time comes.
But she isn't ready to go yet. When it's time to don cap and gown next year, she wants to be standing by her best friends for that rite of passage that symbolizes the beginning of adulthood, the way they always imagined it would be. 
"I don't want to start over making friends," she said. Of HUD, she said the agency "wanting to change things and break down buildings is not fair to families, especially families like mine." Johnson lives at the McBride complex with numerous siblings and cousins, some of which only recently moved back. "We came back together as a family, and if we have to move, we are going to be torn apart."
Coleman: 'Families are suffering' 
Mayor Coleman said it's difficult to hear the heartbreak the residents speak of about the housing crisis in Cairo. "Families are suffering," he said.
"Secretary Carson, in a Senate hearing, referred to our community as a dying community," he said, during the City Hall press conference. "Yet, rather than investing in our community, the department of Housing and Urban Development is choosing, or has chosen, to relocate 185 families totaling a number of 400 individuals who are family, friends and neighbors. What Secretary Carson knows is that we are not a dying community.
"We are a strong and resilient community — history has recorded that, and we want to stay that way."
Coretta Cornelius, a resident of McBride who has been outspoken in her opposition to HUD's relocation plan, noted that Housing and Urban Development shares some of the responsibility for what has happened to the public housing in Cairo because it did not take action sooner to correct the alleged mismanagement of the past housing directors. "It's been a problem for many years. HUD knew since at least 2013," she said. 
Cornelius, who has a young daughter, said she worries about the children ending up in another community that is not as supportive as Cairo is to its children. In Cairo, everyone knows everybody and many look out for one another, she said. 
"They know where they come from, and they know where they get the love from. And they know if they go somewhere else they're not going to get it returned. So why send them into a community or into a world that they're not prepared for?
"Why send them to a place where they are going to be heartbroken? We should all be treated as one. I just feel like they need to help us," she said.
HUD director greets residents
At the HUD Region V headquarters building, Regional Deputy Director Jim Cunningham came out to greet the Cairo residents and accepted the students' letters. He spent a half hour or so speaking with them about their concerns, all of which he had heard before. Cunningham has visited Cairo on numerous occasions since HUD staff has been assigned to the day-to-day operations there in early 2016. 
Mostly he listened with patience, offering at one point, "We're doing everything we can to help you guys make a successful move." The demonstration was cordial, and though a few people spoke passionately, the mood was light and the exchange friendly. 
Segan Humble, who lives in Chicago, was one of the few people who didn't ride the bus up from Cairo to meet up in support of them. 
Humble grew up in Mound City and graduated from Meridian High School in 2006, and when she read about the event online, decided she was going to show up to stand in solidarity to their cause and concerns. Humble left her small Pulaski County town, which sits about 10 miles north of Cairo, after completing her degree at Southern Illinois University Carbondale. The decision came down to a lack of job opportunities, she said. She works as a housing specialist for the Cook County Housing Authority, and also has worked for a contractor of the Chicago Housing Authority.
"I didn't move here because I wanted to relocate to Chicago" she said. "I felt like I kind of had to relocate because there are no jobs there." Though keenly aware of the economic hardships facing Illinois' southernmost counties, Humble said it's been gut-wrenching to read about the housing situation in Cairo. "I hate to see an area with so much history and good people be abandoned and left behind like that," she said.
Of the region that raised her, Humble said, "I feel like we're overlooked a lot." Humble said if there was ever a revival of the economy, she would make a beeline south, leaving behind the city lights for the small-town hospitality and family she misses. Humble said Chicago has a lot to offer, but it's the little things she longs for – such as the way it's common for everyone to wave at each other.
After only a few hours in Chicago, the Cairo residents boarded their bus to make the six hour drive back home. Kristen Simelton, who lives at Elmwood, brought her grandchildren along for the trip. Simelton said she was glad she came and that the residents made their voices heard. It's worth a shot, she said. But reflecting on the day on the ride back, she said via text message that she was not optimistic that it was going to make a lot of difference in changing the outcome of what HUD has already set into motion.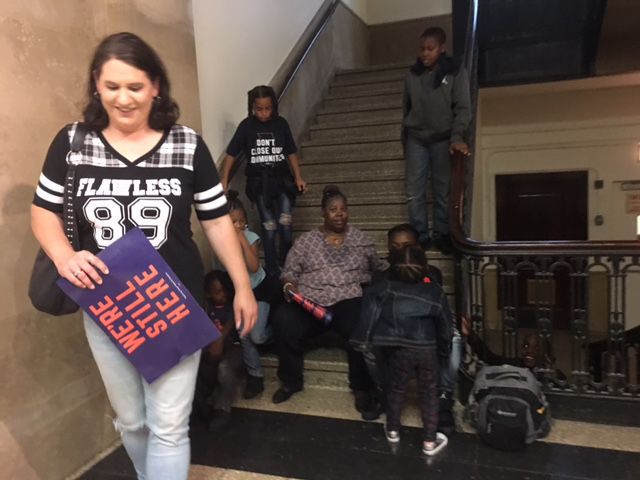 "It was a good day," she said. "But I doubt they care enough to help us."