CAIRO — Years of mismanagement by past local housing authority managers and the gross oversight failure by federal housing officials have come home to roost in Cairo — and the consequences to at-risk children are varied and widespread.
But there are immediate consequences as well for school-age children. For example, seven children have missed about two weeks of school because their parents did not enroll them on time. According to Superintendent Andrea Evers, the parents told the school they did not enroll their children because they are in the process of moving from Elmwood or McBride to a community outside of Cairo, and intended to enroll their children when they arrived in a new location.
But Evers said the concern is the moving process can take weeks, or months — and it doesn't take a student long to fall behind, especially high school students. School started Aug. 11 in Cairo.
As of Monday, six of the seven children believed by district officials to still be living in Cairo but who had not enrolled did finally show up and do so, and are in class, she said. Evers said the school's truancy officer, social worker and the HUD officials managing the Alexander County Housing Authority in administrative receivership worked closely with parents to educate them on the need to enroll their children in school regardless of whether or when they intend to move, she said.
Kids falling through the cracks 
HUD has yet to publicize a hard deadline as to when residents must be out of Elmwood and McBride, which has resulted in some confusion. Sen. Tammy Duckworth's office said the senator worked out an agreement with HUD Secretary Ben Carson to allow residents 330 days from the time a resident receives his or her Tenant Protection Voucher, which subsidizes rent paid to a private landlord.
Still, HUD spokesman Jerry Brown also recently said the agency is encouraging people to move out by winter because of concerns the housing authority may not have money to repair heating systems if the boilers and pipes fail at Elmwood and McBride. Repairs can cost into the thousands, and some boilers had to be repaired last year as well, he said.
Many residents use their gas ovens to heat their homes because of the inadequate heating system. They do this regardless of whether the boilers are performing, because the heating system should have been updated years ago and does not produce enough warmth on really cold days.
In the face of mixed messages that residents have received from various local and federal officials about the relocation effort, HUD is continuing to move forward with the plan it originally outlined, with federal housing officials characterizing it as the best of imperfect solutions. However, the early months of the transition have been marred by fits and starts.
CAIRO — It's been four months since HUD officials announced that about 400 residents would h…
This seems to have resulted in some children slipping through the cracks in terms of their ability to start the school year off on the right foot. Evers said one of the issues parents faced who are relocating is that they did not want to spend what little money they have on buying new school uniforms for their children. That's understandable if they intend to move soon, she said. Cairo is one of the few regional school districts with a uniform requirement.
Evers said that others in the community have stepped in to help provide uniforms for some of the children whose families did not feel like they could afford them. "We try to remove those barriers whenever possible," she said.
Because of the bungled start to the relocation process, and many other reasons, there's no question that many at-risk children are paying the price for the misspending of federal dollars intended to provide adequate shelter for residents in one of the country's poorest cities.
As well, they suffer the consequences of the longstanding bureaucratic inertia that resulted in Housing and Urban Development officials not taking adequate steps to correct these issues sooner, even though they knew about serious problems for years.
HUD provided the newspaper a Q&A in April as officials announced they would be moving people from Elmwood and McBride and not building new housing in Cairo. In it, the agency stated that housing specialists would prioritize working with families with children to allow them to finish up the school year in Cairo, and be settled in a new location by the start of the next school year.
But as of earlier this month, only 10 of about 185 families (that's the estimate HUD provided in April of the remaining families in the two complexes) had moved, though several others were close to moving and may have since that time.
Student enrollment down about 50 
Evers, the school superintendent, said that overall, the district's K-12 student count is down by about 53 students compared to the close of the 2016-2017 school year in May. She said early enrollment figures put the student count at about 385 — give or take a few students. "We are definitely feeling it" she said. The enrollment loss is "100 percent related to the housing move."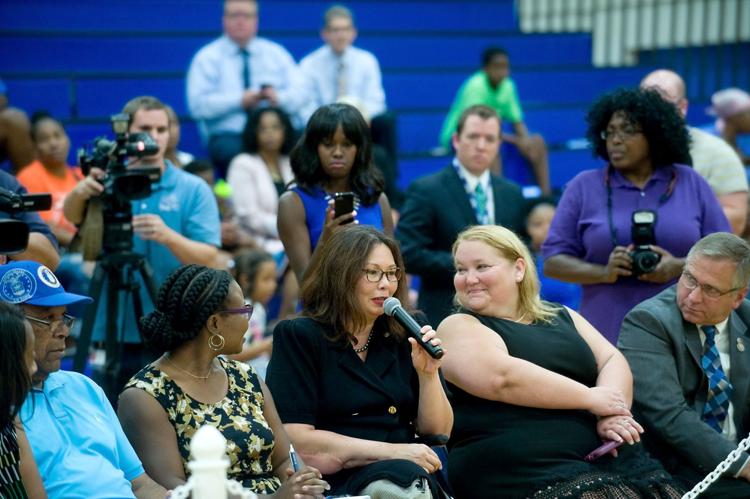 That said, the education funding reform bill months in the making that heads to the governor's desk with Tuesday's Senate vote may buy the Cairo district some time — financially speaking. It holds all districts harmless this year compared to last, meaning no school district will receive fewer dollars this year compared to last. And school districts in high poverty areas will actually receive more. Gov. Bruce Rauner said he intends to sign the bill.
After speaking initially with the newspaper this past week about her concerns over the half a dozen students who were not in school, Evers said on Tuesday she was relieved to see them enroll on Friday and Monday.
"The school's perspective is school started Aug. 11 and every child residing in Cairo boundaries needs to be enrolled," she said. To not do so, Evers said, places children at an educational disadvantage whether they continue on at Cairo Junior/Senior High or enroll in another school district after relocating from Elmwood and McBride to a city outside of Cairo.
Evers said school officials communicated to parents in the process of moving, "Whether it's three days, three weeks or three months, you don't know how quickly the process is going to go. It can be a tedious, long, laborious process." Evers said that with first quarter midterms approaching, the fact that there were children not enrolled in school was a serious and concerning issue.
A growing chronic truancy problem 
Evers said she's still working through whether the school district will be required to report the children who did not attend class for 10 days or so as truant in reporting school data to the Illinois State Board of Education. She said the children, not the data, are her primary concern at this time.  
The school district has for years struggled with chronic truancy, which is defined under Illinois law as missing 5 percent of school days — or 9 of 180 days — without a valid excuse.
In 2016, the Cairo district had a 60 percent truancy rate, according to the school's Illinois Report Card, which is the state's official source of information about schools across the state. The truancy rates were similar in 2014 and 2015, at 58 percent and 59 percent, respectively. Those numbers had spiked considerably from 2013, when they were at 22 percent.
Alexander County State's Attorney Zach Gowin said that so far this school year, he's only intervened in one truancy case, which spilled over from the previous school year. The child is on juvenile probation for an unrelated matter, and also was considered truant last year. He was supposed to be enrolled this fall, and Gowin said he intervened when he did not show up for classes at Cairo High. The issue has been resolved, he said. 
Gowin said the child was a resident of one of the public housing projects slated for demolition and has since moved with his parents — and has enrolled in the receiving school district.
Gowin said that the school district goes to great lengths to address issues outside the court of law whenever possible. But he said that he and district officials have a great working relationship, and try to approach the issue of school truancy with compassion, and with the students' best interests in mind. Gowin has been the state's attorney since January 2015. 
Parents in Illinois who fail to enroll their children or provide alternative schooling, such as home schooling, can face misdemeanor charges for educational neglect. Illinois law also allows a county prosecutor to open a case of a minor requiring authoritative intervention in juvenile court, which is more appropriate in cases where an older child is refusing to follow the orders of his or her parents or guardians, he said. This is a civil and not a criminal matter, and Gowin said this is the only avenue he's ever pursued to address chronic truancy cases.
Gowin said that in most cases, this is more effective because it allows court intervention to address the root cause of the truancy. There may be something going on with the child behaviorally, or going on in the home that needs to be addressed in a coordinated manner by multiple agencies, he said.
"As you know, some people want me to just lock up the parents or fine the parents," Gowin said. "But I think the truancy is sometimes symptomatic of a greater problem, and if we just forced the kids to school without addressing the underlying problems they will be in school but it won't provide them any benefit, anyway."