WASHINGTON – Housing and Urban Development Secretary Ben Carson, a one-time GOP presidential contender and retired pediatric neurosurgeon, has provoked the ire of a number of housing advocates and Democratic politicians in his first year in the position. But Carson is drawing support from an unexpected skeptic in Illinois, at least based on early performance. 
Senate Minority Whip Dick Durbin, D-Ill., the upper chamber's second-ranking Democrat, said Thursday that he's been "impressed with Secretary Carson" since his confirmation in March to head the multibillion-dollar agency with tentacles that reach into nearly every community of America and provides support to millions of low-income families. 
Durbin opposed Carson's nomination this spring, but said he's warmed to him in the nine months he's been on the job. The two have had private conversations in Washington in recent months concerning housing-related issues in Illinois, Durbin said.
"I've talked to Secretary Carson. I've been impressed with Secretary Carson," Durbin said from Washington in a phone interview with The Southern Illinoisan. "I didn't know what I was going to run in to, but he's come by my office twice, he's met with me personally, he's been attentive and responsive.
"Even though I was very skeptical about whether he could do this job, I've been impressed with the way he's approached it."
Asked if his positive assessment would cause him to change his vote if he could hypothetically go back in time for a do-over, Durbin said he would "be more inclined to vote for him today than I was the first time."
"It didn't make much sense the first time because he made some public statements that management wasn't his strength, and here he was managing a big federal agency," Durbin said. "But I have to tell you, he's been responsive with me and he's been honest with me and I know he's visited Cairo and I know he's visited East St. Louis. That's a good thing to say for his first year in office."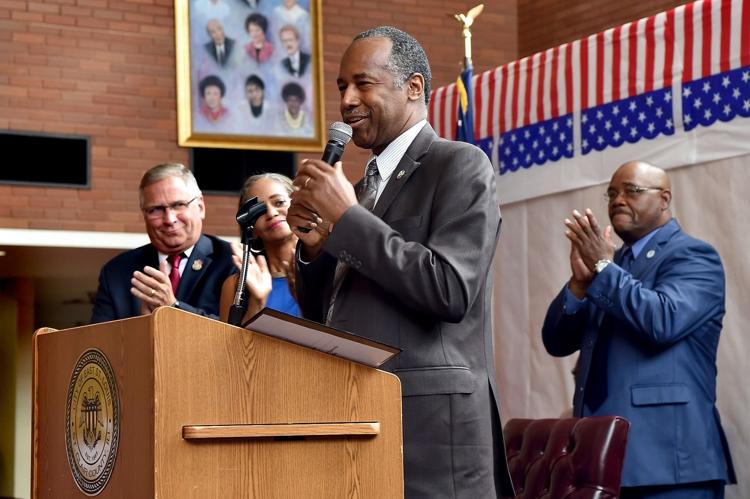 In early August, Carson visited Cairo, where federal housing officials are relocating about 400 people from two failing public housing complexes. In late September, he visited East St. Louis to return the city's housing authority back to local control more than three decades after HUD took it over citing corruption and deplorable living conditions for residents.
As Republicans in Washington push for increased defense spending, Durbin said Democrats are seeking, in return, additional dollars for domestic programs that support, for instance, affordable housing and community development. 
Durbin made the comments about Carson while speaking to the newspaper about his time growing up in East St. Louis and his hopes for the city's return to a better day. The interview was for a story scheduled to publish in December about what it would take to position East St. Louis for a comeback. 
"The problem we have, at least for the moment -- I hope it changes in a matter of weeks -- is that there's pretty limited funding available for HUD and its programs," said Durbin, a member of the Senate Appropriations Committee, specifically discussing issues concerning public housing. "We are fighting to change that. The Republicans in Washington want to dramatically increase defense spending and we've said we believe we need increases, but we also want increases in non-defense spending, that's the Democrats' position.
"And some of those resources will go to the benefit of HUD and give them a chance in communities like East St. Louis to do a bigger and better job," he said.
President Donald Trump's administration, in May, proposed reducing HUD's $48.7 billion budget by more than $6 billion, or about 13 percent. At the time, an agency spokesperson was quoted in various publications as saying that all early budget blueprints represent a starting point – not a final deal.
The agency was attempting to allay fears of ruinous cuts to cash-started programs that support housing for people with low-incomes as capital needs for government-supported housing rapidly balloon across the country and safety issues in many of these aging and failing complexes are coming into the spotlight with greater frequency. 
Durbin was not specific as to what amount Democrats were seeking for HUD's FY 2018 budget. Talks are underway in Washington toward a longer-term budget deal, while lawmakers are also considering the possibility of a two-week stopgap funding measure to avoid a government shutdown on Dec. 8 when the government's spending authority expires.