CARBONDALE — During times of financial uncertainty at state and local levels of government in Illinois, one organization is seeking as much support as possible to continue caring for the next generation.
Tina Carpenter, executive director of the Boys and Girls Club of Carbondale, said on Thursday, February 1, that it takes $298,000 a year to operate the main site, 250 N. Springer St., for one year. The club receives about $83,000 annually from the city of Carbondale, Carbondale Township and other grants.
After government support, the club still needs to raise $215,000 just to hit its minimum levels of full service. Carpenter said it takes $342.71 to support one club member for a year, $171.36 to support a member for half a year, and $6.59 to support a member for a day.
"We know the residents of Carbondale care about their community; however, we don't think that everybody realizes how much we need their support to keep the club operating," Carpenter said.
The organization had 1,230 members enrolled in 2017. Already in 2018, there are 737 members. The daily average attendance at the club is 325 children, which is a 30 percent increase from this past year. The cost for membership for the year is $20 for children in kindergarten through eighth grade and $10 for high-school students. 
Tiana Myers, the club's 2018 Youth of the Year, said when she first started to attend the club, she was so shy she wouldn't raise her hand in class to speak, even if she knew the answers to questions. Now, after years attending the club, she is confident enough to speak to a room full of people.
"I am a completely different person because of the support of staff at the Boys and Girls Club of Carbondale," she said.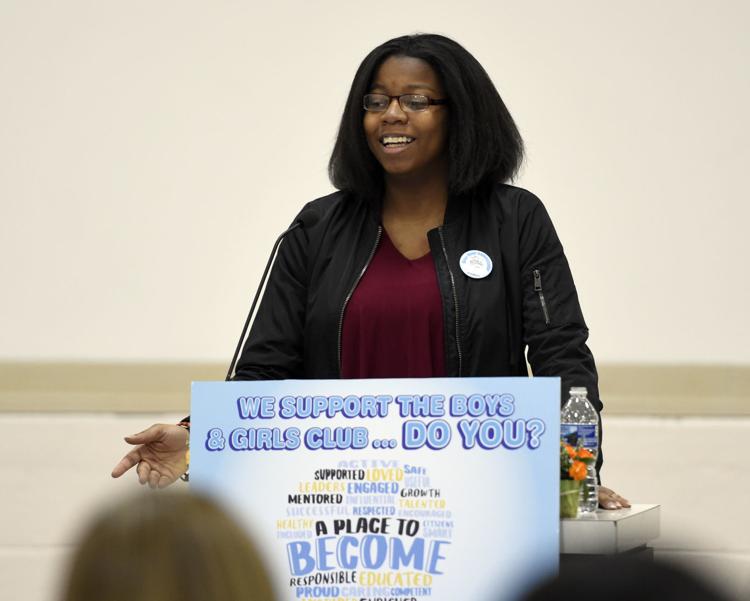 She said the club is something people should take advantage of because it offers several experiences such as leadership camps, road trips, and opportunities to meet people from other counties.
"Without those experiences, I wouldn't be the person I am today," Myers said.
Magnolia Hood had two daughters and a nephew grow up through the club, which she said enhanced all of their lives.
"My oldest daughter loved the Boys and Girls Club because it was a place where she could continue her communication skills and continue to have fun," she said. "Those social outlets allowed her to come out of her shell and feel more confident about herself."
She said the club also helped her youngest daughter understand her love for dance. She said when the club put on a performance with ArtStarts at the Marion Cultural and Civic Center, her daughter fell in love with the process.
"Now I can't get her to stop dancing," Hood said. "I am really grateful for the Boys and Girls Club because they help to nurture other character traits in (her daughter)."
Carbondale Mayor Mike Henry said there is nothing more important than lifting up children and ensuring their success.
"This gives us good citizens for the future and hopefully gets them to stay here and contribute to the community," he said. "We will be funding them again this year like we do the other social service agencies, hoping to maintain last year's level."