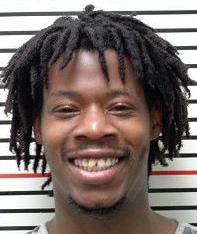 A Carbondale man was sentenced Wednesday on a robbery charge.
Ricky D. Brazil, 26, was sentenced to five years in prison after pleading guilty on Oct. 30 to robbery, a Class 2 felony.
On July 21, officers with the Carbondale Police Department responded to South Rawlings Street for a report of robbery. The victim reported two men stole her purse and contents by force. She said she was an acquaintance of the two men.
She indicated that Brazil was already in the home when the incident occurred. She said Brazil allowed the second man in her home and that man held her down on the couch as Brazil picked up her purse and left.
Officers located Brazil and he was arrested. Officers recovered the victim's property. The other suspect has not been identified and Brazil claimed to not know the identity of the other suspect.