The historic Varsity Center hasn't regularly screened films since operator Kerasotes shuttered the Art Moderne-style movie house in 2003; since then, it has functioned chiefly as an event center and performance art venue.
"People like to tell us what was the last movie they saw in The Varsity before it closed," said Peter Gregory, president of The Varsity's board of directors. "And so we started experimenting."
The theater screened "Spaceballs" during the weekend of the total solar eclipse in August and hosted a preview screening of Ken Burns' "The Vietnam War" in September. The response was overwhelmingly positive, Gregory said.
"What we found was, there was a demand for movies," he said.
The Varsity doesn't own the necessary equipment to screen films; at present, outside vendors or groups are required to bring in their own projectors.
Nathan Colombo, a board member and volunteer in charge of the fundraising effort, hopes to change that.
"What we're hoping to do is actually purchase our own equipment, control our opportunities moving forward, whether it's bringing in private events, providing showings to the public or anything else that would involve a movie screening," Colombo said.
The board hopes to raise a total of $5,000 and is offering various incentives through the crowdfunding website Generosity.com, including movie passes and T-shirts. Factoring in checks dropped off at the theater, the effort has already raised over $1,000 since it was launched a week ago.
"I did a $250 match, and somebody called me on my bluff in about 15 minutes," Gregory said.
"Nostalgia plays a significant role for a lot of folks in our community who grew up with the theater as part of their lives, so when we get feedback, it's not just folks excited about the future, it's also folks excited about being able to relive some of their past memories as well," Colombo said.
Gregory suggested that the venue could offer art house and "highbrow" films that aren't available at Carbondale's two AMC theaters.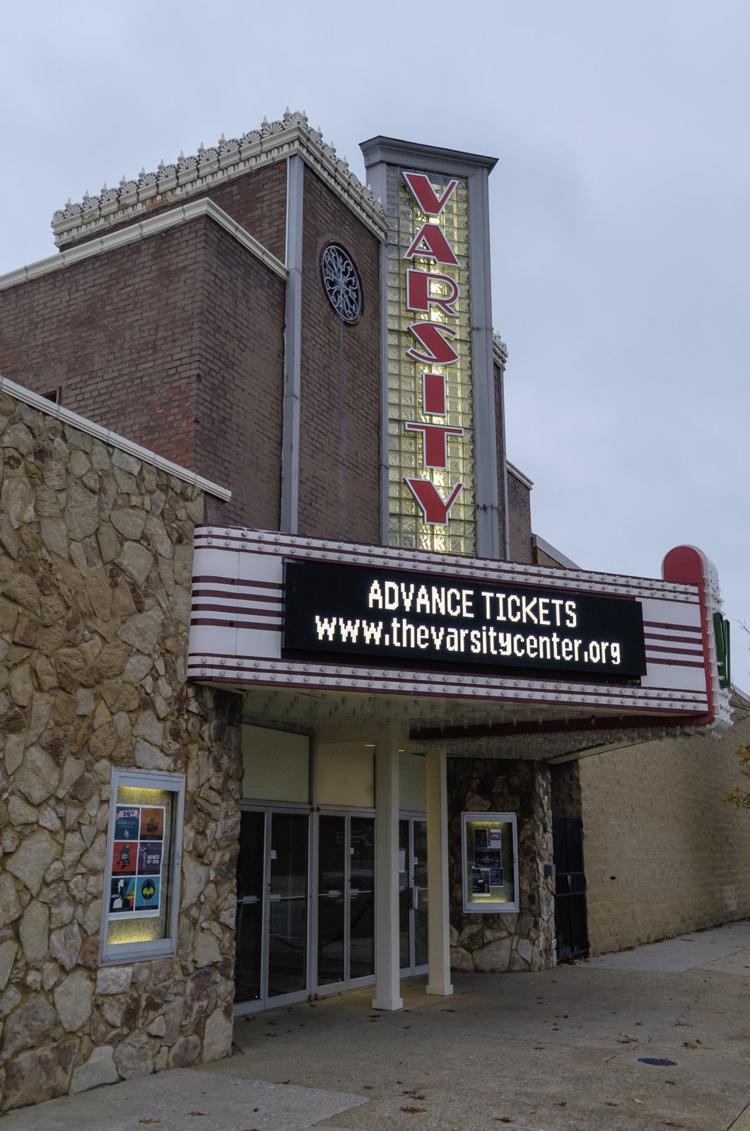 "I think that there are a lot of smaller movies for smaller audiences that probably don't show well at the big theaters," Gregory said.
"On a cultural level, the hope would be that we operate as a space for any number of folks to come in and screen documentaries, screen locally produced films, screen independent films — but also screen classics that people want to relive or share with the next generation of their family," Colombo said.
The goal is to equip two theaters with the ability to screen movies: the East Theater and the Balcony Theater. The Varsity's main auditorium, which seats 400, will require more extensive work, including a new HVAC system and lighting system.
"What we're calling 'the big room' is a project that's just a little bit down the road. We're not quite there with renovations in that space," Colombo said.
In addition to raising money, the crowdfunding strategy serves a second purpose: It functions as a community buy-in to get people invested in The Varsity's future.
"If we're able to get folks in the community to buy in to the project as it's progressing, we're going to see better success when we're in the actual functional stages of the project, which is showing films and welcoming people into the Varsity for this type of entertainment," Colombo said.
Gregory, who became president of the board last fall, spearheaded the Balcony Theater's transformation into a viable performance space.
"I think that we are a little startup company, we're a little startup nonprofit, and we're looking for our audience. We're looking for what people want to see in our theater. … The question is, what's the entertainment that people want? So we're trying things," Gregory said.
He hopes to have the new equipment up and running by December, when the theater will screen three holiday-themed films: "National Lampoon's Christmas Vacation" on Dec. 15, "White Christmas" on Dec. 17 and "It's a Wonderful Life" on Dec. 23.