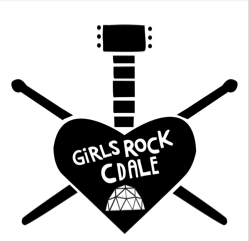 CARBONDALE — Girls Rock Carbondale is asking adults to rock 'n' roll as part of a fundraiser to support the summer camp in which girls and gender nonconforming youth form rock bands and perform at a local music venue.
Organizers are calling it Rock Roulette. It works like this: For six weeks beginning Sunday, Jan. 7, women, transgender and gender nonconforming people 19 and older, of all musical abilities, form a band. Bands practice weekly, write up to three songs, and perform live during the annual Girls Rock fundraiser on Feb. 17 at Hangar 9 in downtown Carbondale. 
Girls Rock helps bands coordinate a practice space, provides gear, offers songwriting resources and a band coach. Bands also raise funds for Girls Rock Carbondale on an online fundraising platform.
It is free to participate. Bands must fundraise online to support Girls Rock Carbondale during the six-week program in what organizers say is a friendly competition among bands.
Musical experience is not required. Anyone who wishes to participate must be able to attend the kickoff party on Jan. 7 and the showcase on Feb. 17. Organizers say participants should be prepared to commit three to six hours a week to practicing, with a band and alone. 
The deadline to sign up is Jan. 7, at the kickoff party, which is from 6 to 9 p.m. at the Flyover Social Center. Organizers will give details about the program, including resources and expectations, and help participants form groups based on music style preference, levels of experience and comfort playing music. Organizers will also help bands set up fundraising sites on Razoo, an online fundraising platform.