CARBONDALE — About three dozen people are sitting in the blue chairs inside the church sanctuary, listening as Pastor Doug Cherry stands at the front, talking about God's power to heal.
As he finishes and heads to a room in the back, a video from a Christian concert is turned on, on a screen in a front corner of the room.
In the opposite corner of the sanctuary, two women sit behind a desk, one occasionally calling out a number, and someone presumably holding that number getting up to approach the desk. Others wait, and sometimes someone walking through the room notices someone waiting, greeting them with a quick hug, hello and short conversation.
Meanwhile, across the room, those two women at the desk meet individually with single people or couples, talking to and praying with them over whatever their concerns are.
This was the scene this past Wednesday at the Victory Dream Center, which operates one of the area's largest food pantries, supplying free food three times a week to hundreds of people in Southern Illinois.
Victory Dream Center staff are hosting an open house from 10 a.m. to 1:30 p.m. Wednesday, April 26, to show people what they do and what happens inside the food pantry; a free lunch will be provided.
While some people know about the facility's outreach, particularly to those in crisis, not everyone does, noted Nathan Cherry, an associate pastor at the church his parents founded more than a decade ago.
"We've kind of become known as the food pantry that prays for you," Nathan Cherry said.
'Food pantry that prays'
The "food pantry that prays" is located in a building off College Street that witnessed life as the former Carbondale City Hall, District 95 school offices and Southern Illinois University offices. The food pantry is located on the back side of the church.
Doug and Lisa Cherry, Nathan's parents, opened the church in 2002 and implemented the food pantry in 2010. Estimates are that it is has distributed more than 3.2 million pounds of food since then — about 10,000 pounds of food each week — about 600,000 pounds in 2016 alone.
Each month, the St. Louis Area Food Bank makes two deposits to the food pantry, and once a month, food pantry staff drive to St. Louis — in a truck the St. Louis food pantry donated to them — to pick up more food.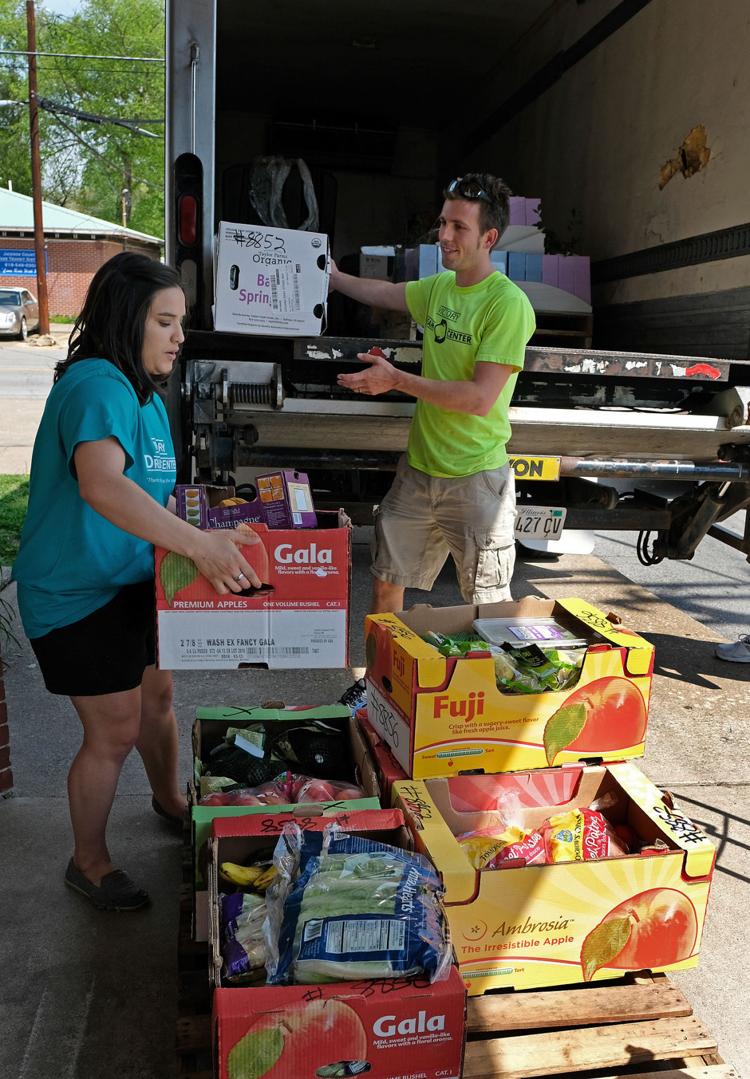 There are no income requirements, and people seeking food need only to apply for it to receive it, available to pick up twice a month from the Food Pantry. While many people who visit the food pantry also receive SNAP (Supplemental Nutrition Assistance Program), not everyone does, and that is OK, Nathan Cherry said.
Cherry said the amount of food distributed in a month would be equal to what one could find on all the shelves in a store the size of an Aldi or Save-A-Lot. People who pick up the free food walk away with about $150 worth of groceries at a time, he said.
A typical Wednesday would look like the scene described earlier, with people receiving a card that indicates the number of times they have left in a month to pick up food, Cherry said.
They walk through the sanctuary to the back and into a large dining room area where volunteers sit behind table, as people pick up the items and products they are allotted for that visit: chips/snacks, bread, eggs, various spices and seasonings, olive-green bottles of Suave shampoo and other items.
One of those people waiting for food this day is Alisha White, who says this is her second time at the food pantry since moving back to this area. The food pantry not only helps her with much-needed food, but she says the staff has helped people to find a place to stay.
"It helps lots of people," White said.
Sourced from 'waste'
In addition to the dining area that doubles as the food pantry, there is a kitchen area, from which church members serve breakfast on Sunday morning for members and guests. Downstairs is another passion of the church ministry's, its youth area, where weekly services attract 60 to 80 area youth.
Also in this area are several more freezers, some small, like freezer No. 14, which stands outside the kitchen, and others large, silver stand-up ones like those in the dining area. The freezers are necessary to handle the fresh meat and produce the church now gets from stores including Wal-Mart.
The freezers get constant use, leading to their burnout, Cherry said. He said he has running ads looking for donated freezers, for which donors can take a tax write-off.
Cherry said he is thankful that the food pantry is able to give away as much food as it can, but he notes that it is able to do so because of a surplus elsewhere.
"There is so much waste in this country," he said.