CARBONDALE — Green Earth Director Stephanie Eichholz was in high spirits Wednesday morning as work began to re-establish the prairie near the Maurice Webb Trail in the Chautauqua Bottoms Nature Preserve.
Long Forestry, a local forestry consultation group, had a chance to play with its new toy — a forestry mulcher. It's a land clearing method that uses a single machine to cut, grind, and clear vegetation. It uses a rotary drum equipped with steel chipper tools to shred vegetation.
Bracing themselves from the frigid temperatures in the low teens, consultants Chris and Mike Long warmed up the machine and went to work. Soon after, large and small trees throughout the prairie began to splinter into wood chips.
Green Earth will come in behind the work and do some cleanup, but Mike Long said the vegetation left from the mulch gives the ground cover and is, overall, beneficial for the prairie.
Eichholz said a little more than two and a half acres need to be mulched, admitting that's more of an eye test than an official measurement. Long said most of the work — if not all of it — could be done Wednesday.
Over time, Eichholz said, there has been a natural succession that has filled in the prairie with trees. She said if constant maintenance is performed on the land, the seeds from existing trees are spread across the land, causing additional growth.
CARBONDALE — There could be a bit more noise coming from the Chautauqua Bottoms Nature Preserve in the next week as local land conservation gr…
In 2008, Eichholz said Green Earth switched from mowing the prairie to burning, which she says is a more natural maintenance system. She said the organization knew it would have to burn every two years, but it doesn't have the resources to conduct its own burn. Green Earth had been relying on the Saluki Fire Dawgs, an SIU student group specializing in ecological research and maintenance, to donate its time as it did in 2008 and 2011, but it hasn't been able to since.
Now, Eichholz said Green Earth has missed its "burn date," meaning it is now too wet to conduct a proper burn.
"It has really started to fill in," she said. "There are trees that are too large to be affected by fire. And hand clearing would be too labor-intensive."
Chris Long said he has used Green Earth trails several times and called it a wonderful asset for Carbondale. The consultant group did the work at no charge. He said it's something he took pleasure in doing.
"I love it out here," he said.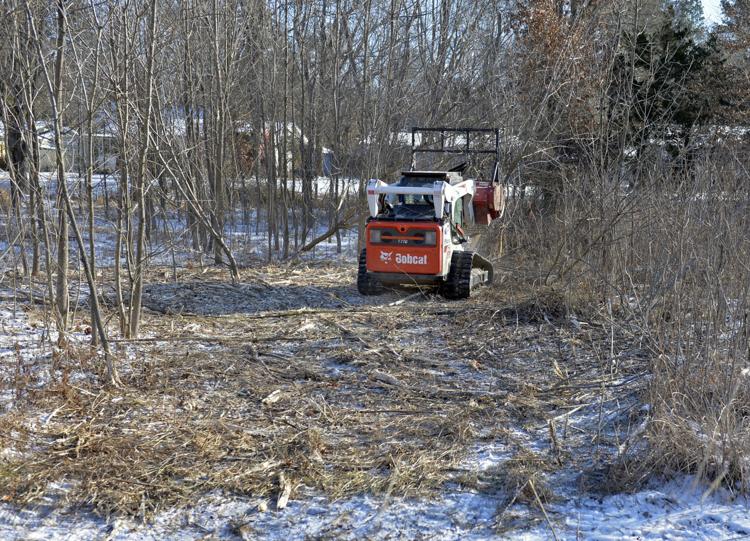 Other projects 
In addition, the funds will allow the nonprofit to make improvements to trail surfaces, install a new pedestrian bridge and expand the parking lot, which is located on Chautauqua Street on the west side of Carbondale.
The David Kenney Trail, located on the west side of Little Crab Orchard Creek, will be upgraded to meet the U.S. Forest Service guidelines for ADA-friendly standards. The trail will be widened to 5 feet to accommodate wheelchairs, and it will have a hard-packed, smooth surface with ramped elevation changes.
"Carbondale is known as a very ADA-friendly town … so we decided it would be wonderful to become a part of that and really allow access to people to come out and enjoy nature," Eichholz said in September.
The project will also connect the westernmost David Kenney Trail to the Maurice Webb Trail and Woodland Spur Trail with a pedestrian bridge over Little Crab Orchard Creek. The nature preserve's sole parking lot is located by the Maurice Webb Trail, and the trailhead for the David Kenney Trail can only be accessed by walking along Chautauqua Street, where cars go by at high speeds.
Green Earth also plans to improve trail surfaces, as the area frequently becomes waterlogged. The IDNR grant will fund 80 percent of the Chautauqua Bottoms project. Green Earth had to raise the remaining 20 percent, or $25,500.
Eichholz said she is hopeful work can begin on the trails sometime in the spring or summer.