CRAINVILLE — The tiny house or small house movement is an architectural and social movement that advocates living simply in small homes.
Generally speaking, tiny homes are between 100 and 400 square feet, and small homes are between 400 and 1,000 square feet.
A new local business has joined the movement and is offering tiny houses for sale. Smoot Sales LLC, 508 E. Plaza Drive in Crainville, is selling the homes, and using one for its office.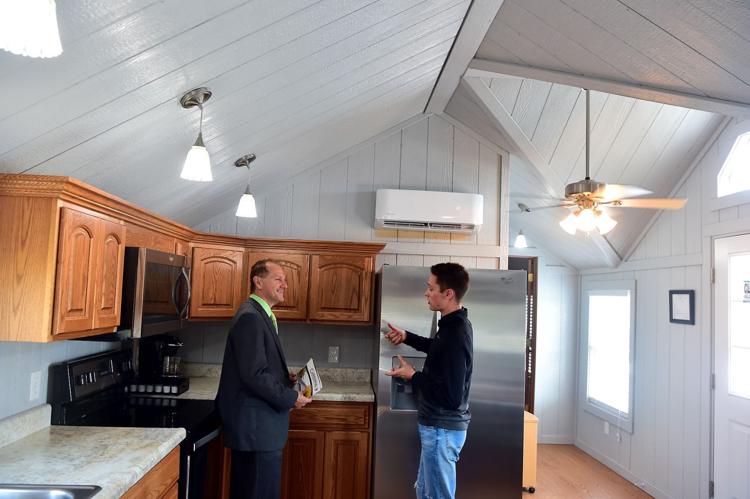 Nick Smoot, sales manager of Smoot Sales, said the tiny homes they are selling are Cardinal buildings that have been modified slightly and finished. The kitchens have cabinets built by the Amish community in Ava, butcher block counter tops, stainless steel Whirlpool appliances, hardwood floors, solid wood interior doors and woodwork, and an on-demand water heater.
The office building at Smoot Sales doubles as a small house display. Smoot said it is 14 feet by 40 feet or 560 square feet. The largest "small home" is 16 by 48 feet or 768 square feet.
Nick Smoot said the business gets about 10 people stopping by per day to inquire about the small houses.
"Even if they aren't buying today, they're curious," Smoot said. "Even when they are not buying for five or 10 years, this is what I think people are going to be interested in buying."
Smoot said the homes have customizable floor plans, and the purchaser picks paint and stain colors, lights, door knobs, faucets and more. Windows can be added, as many as the owner would like. The studs are on 16-inch centers and rafters are located every two feet, much like a regular stick built home. 
They are insulated with urethane spray insulation and come with a Mr. Cools air conditioning and heating unit that can heat and cool up to 850 square feet. They also come with a stackable washer and dryer.
"We have sold three that were completely finished and 40 or 50 that were unfinished or partly finished," Smoot said.
In addition to the houses, Smoot Sales also carries portable storage sheds and pre-owned vehicles. The portable sheds can be bought unfinished, partially finished or completely finished. Several financing options are available.
"We can even go out and try to find it, if you are looking for a certain vehicle," Smoot said.
Smoot Sales opened the end of May in Crainville. It is owned by Mitch and Jennifer Smoot.