It's that time of the year again. The annual Du Quoin State Fair kicks off today with its Twilight Parade and runs for the next 11 days, closing on Monday, Sept. 4 — which is also Labor Day.
This year's theme is "Generations of Fun."
1. The cost
This is the second year that the fair has charged an admission, $2 for adults (anyone 13 and older) and free for children ages 12 and younger. Fair organizers note that the fair is "the cheapest state fair in the Midwest."
Parking is $12 inside the grounds and $7 outside the grounds; a portion of the parking funds will help Illinois veterans.
$25 buys you an armband that entitles you to a full day of unlimited rides. Individual tickets are $1 each, and rides cost about three to four tickets; a sheet of tickets, 22, is $20. Tickets are available from the Du Quoin State Fair Grandstand Box Office.
2. Enjoy the weather
An extended forecast has high temperatures mainly hovering in the low 80s all weekend, and then a change of storms Monday, according to National Weather Service predictions for Du Quoin. Grab a sun visor, slather on your sun block and pull on your comfortable walking shoes and enjoy the day at the Du Quoin State Fair.
3. Feed your cravings
The state fair signals a chance to get delectable gyros, fried Oreos, walking tacos, fried pickles, funnel cakes, elephant ears, lemon shakeups and so many other favorites — from good food to the downright outrageous. Look for longtime favorites such as Malone's Taffy and Gyro King. Fair foodies can find out if their favorite food vendor is at the fair, and quickly determine where they're located, by visiting this page on the fair's website: http://tinyurl.com/DQSFfoodvendors17.
4. Hypnosis and other fun
Hooper the Hypnotist promises to hypnotize your friend while you watch … just one of the many fair attractions. Look for other attractions, such as the Cirque Extreme, a new show for the fair, and Remote-Controlled Micro-Racing, which allows 64 racers to compete at one time.
5. A stellar cook? Show off your skills
The Du Quoin State Fair is also running five cooking contests, all of which will be held at Expo Hall.
• Best Breakfast Casserole (10 entries), at 4 p.m. Saturday, Aug. 26;
• Cupcake Challenge (eight entries), at 2 p.m. Sunday, Aug. 27;
• Mystery Sack Cooking Contest (nine entries), 6 p.m. Tuesday, Aug. 29;
• Best Pie Contest (10 entries), 6 p.m. Thursday, Aug. 31; and
• Best Appetizer (12 entries), 1 p.m. Saturday, Sept. 2.
Organizers are accepting entries until the day of the event.
6. Competitions galore
There are more opportunities to compete in Du Quoin. Monday and Tuesday offer truck and tractor pulls. There are also dozens of other contests, including the Pig Tail/Pony Tail contest and a Back Seat Driving Contest (with a blindfolded driver); and the Demolition Derby on Saturday, Sept. 2, in the SI Center. The complete schedule is in the Homeshow Book.
Also, the Car, Truck and Motorcycle Show is on Sunday, Sept. 3.
7. Harness Racing
The Du Quoin State Fair will offer Harness Racing on Tuesday and Wednesday, Aug. 29 and 30.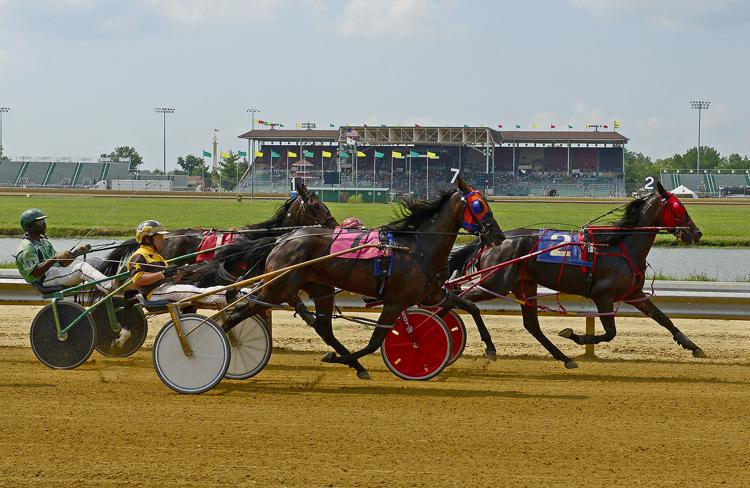 8. A whole lot of rubber duckies
Count 'em: Organizers are hoping to set 5,000-plus rubber ducks afloat as part of a third annual fundraiser for Special Olympics Illinois.
The Southern Illinois Ducky Derby parade and race is on Sunday, Sept. 3. The parade starts at noon and the race at 3 p.m. This derby race will be in the lake behind the Exhibition Hall on the fairgrounds.
While here, meet Abbigail Williams, the 10-year-old ambassador for the 2017 Ducky Derby Dash. A duck can be 'adopted' for $5.
9. Made in Illinois expo
Don't miss the agricultural items grown right here in the state. On Saturday and Sunday, Sept. 2 and 3, the Du Quoin State Fair will host a Made In Illinois Products Expo.
The Made in Illinois Products Expo will offer a "Taste of Illinois agriculture," allowing fair-goers "to taste, sample and purchase all of what Illinois has to offer," according to a fair representative. The expo will feature Illinois food companies, wineries and agricultural associations.
10. Greats at the grandstand
Rapper Nelly (Saturday, Aug. 26) and country music performers Chris Janson (Sunday, Aug. 27) and Granger Smith (Tuesday, Aug. 29) bring their special sounds to the Du Quoin Grandstand this year.
They join the following bands to round out this years music lineup:
• Chicago 6, a group of former grid-iron-stars-turned-musicians, Friday, Aug. 25 (free concert).
• Gin Blossoms, Monday, Aug. 28;
• Dueling Pianos International, Wednesday, Aug. 30 (free concert);
• Roots and Boots Tour, Thursday, Aug. 31;
• Switchfoot (with Lifehouse), Friday, Sept. 1;
• The Cadillac Three, on Saturday, Sept. 2.
Editor's note: This story has been updated to correct the dates Harness Racing is taking place. An earlier version listed incorrect dates.