MARION— Ernest Rinella's right hand patted the gently sloping top of the granite stone, the third monument in the memorial garden at the VFW 1301 in Marion.
Minutes before, he'd had the honor of removing the black plastic bag that was taped over the monument — a tribute to the sacrifices of men and women who served in WWII — one a long time coming in the estimation of many connected with Saturday's event at a veterans memorial in Marion.
Rinella said the monument was nice, a fitting tribute to the memorial, a few feet behind monuments honoring veterans from the Korean War and the Vietnam War.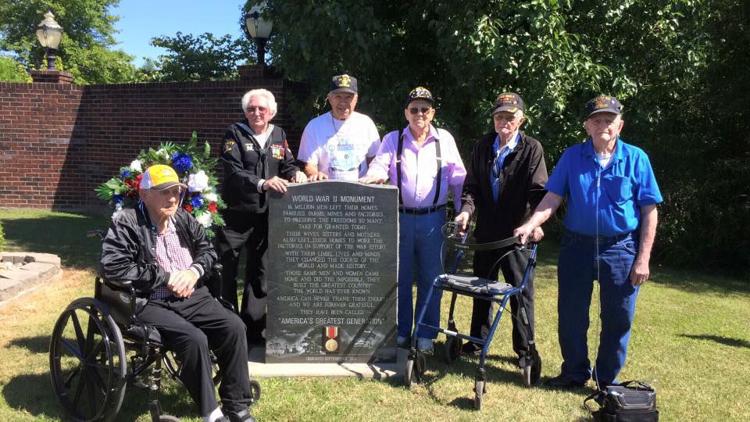 Saturday's unveiling of the long-awaited WWII monument came 72 years after the end of WWII, a conflict that plunged many of the world's great powers into a bloody battle.
Rinella and six other WWII veterans — all in their 90s — were honored at the ceremony, with speaker Mike Gunter saying it was no wonder they were called this country's "greatest generation."
Some 16 million men went off to fight the war, Gunter noted; the whereabouts of 75,000 of them are not known.
Those who survived came back to their farms, mine and office jobs, schools and businesses, and built this country and helped rebuild others damaged in the war, he said.
"They were generous," said Gunter, a Vietnam War vet who was once commander of the post.
Gunter apologized to those veterans present for not completing the monument before many of them had passed; he noted that at a celebration in 2008, the VFW post officials awarded medals to 94 WWII veterans.
Six WWII veterans attended Saturday afternoon's WWII monument unveiling and celebration at the VFW 1301 in Marion: U.S. Army veterans Herbert Ervin, 92, Sam Chamness and Robert Kelley, 96 and one-half; U.S. Navy veterans Lee Wallace, 90, and Ernest Rinella, 92; and Ervin Williams, 90.
"Those same men and women came home and did the impossible," reads the inscription on the monument. "They came home and they built the greatest country the world has ever known. America can never thank them enough and we are forever grateful."
The event attracted about 200 people, many family members and friends of the WWII veterans or of other veterans in the group.  Among those coming to celebrate the unveiling were five members of the Marine Vets Motorcycle Club in Royalton: Jerry Triplett; David Stucker; Greg Hipp; Duane Hopp; and Tyler Grigsby.
Herbert Ervin said he was pleased by the celebration.
Friends from his church — Marion First Apostolic Church — heard about the event and brought him: Pastor Joel Gray and Scott Patterson, owner of American Monument, which designed the stone, and Patterson's son and daughter-in-law, Kyle and Kassey Patterson.
Ervin told about how he spent 28 months in WWII, 14 months of it in combat. He said for several weeks, the soldiers kept their shoes on, just in case they were unexpectedly caught up in battle and had to immediately go to war.
"Men were shooting at you, and you were shooting at them," Ervin said.  "You just do what you got to do,. You just follow whatever is going on."
He told about how the men would dig three-by-three foot holes to stay warm, two men in a hole at a time; oftentimes, there would be three men in a hole for added warmth, he said.
At his pastor's urging, he shared an apparent favorite post-war story of his, the day in 1943, when he had returned from the war, when he met his wife, Audrey Frances. He said he saw her, Audrey Frances, and another woman riding horses down the street. He told his cousin that he was going to take her home from a party that was being thrown another night, to which his cousin refuted, telling him no, because she already had a boyfriend.
When the time for the party came and ended Ervin said he did in fact take Audrey Frances home, driving her and her boyfriend in his car. He said he drove around, eventually and intentionally arriving at the boyfriend's house, first.
He and Audrey Frances eventually did start dating and within seven or eight months, Ervin said, were married.
Patterson added that Ervin, though, has no regrets about his decision to serve.
"I would do it again," Ervin said.