MURPHYSBORO — Several rows of students are studying the sheets of music in front of them, following instruction from the band director as they play their instruments just a little bit louder, matching the tempo set by the cymbal player.
Most of the band's 53 students appear oblivious to the volume of the room-shaking and reverberating thumps of the tom drum.
This is the Murphysboro High School band's first day working on one of the songs for next month's holiday concert. Band director Michael Moreland tells them — or more accurately, promises them — that they'll have it perfected by Thursday.
No doubt they will have mastered the song, "I See Three Ships," which already sounds accomplished to an untrained ear.
Under Moreland's leadership, the band — also known as the Crimson Express — won first place in every competition it entered this fall.
The new trophies line a desk to the right of Moreland, who stands in the band room filled with trophies and other awards. Trophies line a row high above the band room, overflowing a shelf behind Moreland, almost spilling off a file cabinet near that.
This fall, the band won five first-place awards in competitions it entered, snaring accolades for Best Drum, Best Music, Best Visual, Best Color Guard and Best Drum Major.
This is the fifth time in the past eight years that the band has won in every show in its class, Moreland said.
"We're pretty consistent," he said. "We have a good staff, and we have a good system that we have set up and we work extremely hard."
That "extremely hard" work includes a rehearsal schedule that has been fine-tuned over the years, including rehearsals in the spring and during the summer, and an end-of-summer camp in which students practice once or twice each week.
An extra edge and exposure to other talented youth comes during the seven to eight competitions they enter each year. Moreland said the band performs many more times each year; in fact, the song they were working on Monday morning — "I Saw Three Ships" — is for the Dec. 17 holiday concert at the high school.
"We know what we want to do in the rehearsals," he said. After the competitions, band leaders will get written feedback on what they need to do to improve their programs.
"We really don't look at those too much, because we know what we want to do," Moreland said.
In addition to the scheduling and exposure, the band and music program enjoy great support from the Crimson Express Boosters Club and the school administration and Board of Education, Moreland said.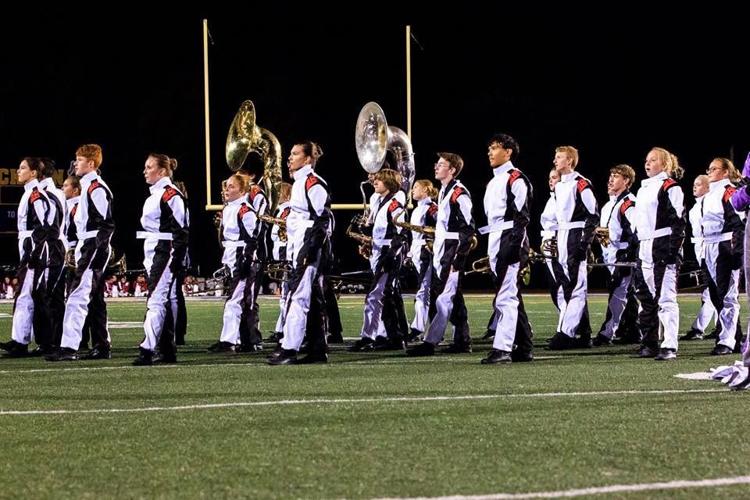 Crimson Express alumni now teach in New Orleans, Las Vegas and in Texas and Kentucky, he said.
The Boosters Club has long-supported the district's music program.
"I believe our staff are extremely talented and have high expectations of our students," Boosters Club president Nancy Caskey said. "The students know this is an award-winning program and they want to continue that tradition. They expect to be successful. They practice long hours to perfect every note and every step of every performance to ensure that success."
Students in the band program say they're involved because they like playing music and have plans to use it to make money in college, or enjoy participating in an activity with their friends.
Students like Melissa Brady and Matt Caskey, both 17-year-old seniors, have been in the district's music program for the past six years.
Brady says she grew up around music, the child of parents who studied music at SIU and whose older sister is a Crimson Express alumni works with the band staff.
"The biggest lesson that Crimson has taught me is how to be an effective and fair leader, and that is something I️ believe is unique to Crimson," she shared.  "Opie (Mr. Moreland) trusted me running whole sections on my own, and I️ had the same authority as a staff member did in that rehearsal space, and that was such an outstanding learning opportunity for me."
Caskey, who plays the tom drum, said while it may take a while to learn musical skills and perfect them, in the end, his band experience has taught him that the student-musician and the band benefit.
"It's fun," he said.  "It pays off in a very, very long time."
Moreland has been with the district for 25 years, the past 11 as director of the band and music program. He came to the district from Southern Illinois University, where he earned a degree in music education; he was recruited to the district by a then-staff member who was an alumni of the Black Knights Drum and Bugle Corps, to which Moreland belonged.
Other high school band staff members include instructional staff members, who teach percussion, Carl Alexander and David Brooks; Kari Ice and Alex Imhoff, who teach flags; and Rachel Brady, a Crimson Express alum and SIU music major who assists with the teaching and band marching instructions.