WEST FRANKFORT — Sheryl Peebels, owner of Pup's 212 Bar and Grill in West Frankfort, saw people in need this weekend and decided to help.
As the rains came down and the waters started to rise, some West Frankfort residents had to leave their homes. In response, Peebels extended an offer of one free meal to anyone affected by the flooding.
"We want to offer a free Sunday meal to anyone and their family that has been flooded out of their home in West Frankfort," the restaurant's Facebook page read Sunday.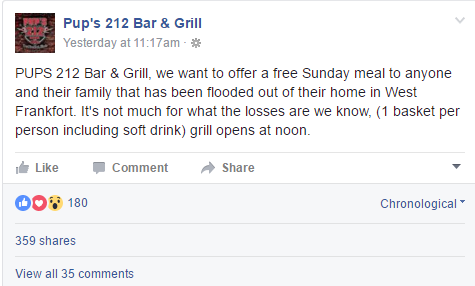 Peebels said there weren't many takers, perhaps 12 to 14 people came for the offer. Still, she said she was glad to help in any way she could. She said Pup's is always looking for ways to lend a hand.
"We try to help out the community as much as we can," Peebels said.
Public response was positive, with about 35 supportive comments cummulating on the Sunday Facebook post. Peebels said she had well-wishers talk to her at the bar, too.
"Several folks said they were glad that we did something like that," she said.