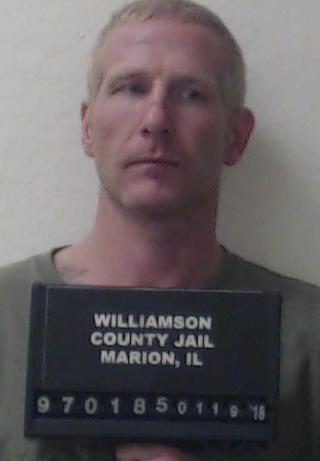 A Carbondale man is facing several felony charges in Williamson County after he was arrested Friday night after fleeing from police in a recreational vehicle through Marion, Johnston City and Herrin, and ramming the RV into a police vehicle several times during the pursuit.
According to a news release from Capt. Scott McCabe of the Williamson County Sheriff's Office, Kevin W. Page, 38, had fled from Marion Police in the RV — which was apparently stolen — and the sheriff's office joined the pursuit just after 6 p.m. Page refused to stop for sheriff's deputies, and they deployed stop sticks, which damaged two of the RV's tires. But Page continued through Johnston City and later into Herrin, with deputies and officers from several other police departments in pursuit.
Page rammed the RV into the back of a Herrin Police vehicle while it was driving in front of him with its flashing emergency lights on. Page then stopped the RV, and he was arrested.
Page is charged with aggravated fleeing and eluding, aggravated assault on a police officer, theft of a motor vehicle and possession of a stolen vehicle. He was also cited with several traffic violations. He was incarcerated in Williamson County Jail.
Officers from the Williamson County Sheriff's Office were assisted by officers from Herrin, Marion, Carterville, Energy, Johnston City, Hurst and Creal Springs police departments.
The sheriff's office did not identify the police officer who was driving the vehicle Page hit with the RV, and did not say whether the officer was injured in the incident.