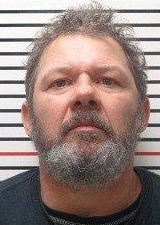 MURPHYSBORO — A De Soto man pleaded not guilty to first-degree murder charges on Tuesday in Jackson County Circuit Court.
James Michael Deese, 52, was charged with the murder of Frank Stonemark, 76, of De Soto in a three-count indictment on March 26. Along with first-degree murder, Deese was charged with concealment of a homicidal death, a Class 3 felony, and concealment of death by moving a body, a Class 4 felony.
On Tuesday, Judge William Schwartz arraigned Deese with a formal reading of the charges of the potential penalties.
Schwartz said a grand jury returned a true bill saying Deese allegedly murdered Stonemark by strangling or choking him on or about Oct. 29. A second count alleges that Deese attempted to conceal Stonemark's death by moving the body with knowledge that he had died from homicidal means. The third count alleges Deese moved the body from the original place of death with intent to conceal information regarding the place and manner of the death.
According to a news release by the Jackson County State's Attorney's Office, if Deese is convicted of first-degree murder, the sentence carries a possibility of 20 to 60 years in prison.
Concealment of a homicidal death carries a potential sentence of two to five years. Concealment of death carries a sentence of one to three years. Those two counts are probationable. 
Deese is currently in custody at the Jackson County Jail on $1 million bond. A jury trial date has been tentatively scheduled for June 18. His next court appearance will be May 15 for a pretrial hearing to determine if the attorneys are set for trial.
Deese is represented by a Jackson County Public Defender, while Assistant State's Attorney Casey Bloodworth is handling the prosecution.