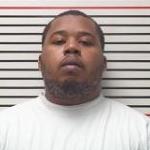 MURPHYSBORO — An Olmsted man who in May of 2017 fired a gun in the air and in the direction of a group of people following an argument in Carbondale has been sentenced in Jackson County Court.
According to a news release from Jackson County State's Attorney Michael Carr, Devante Ramah Taylor, 25, of Olmsted, was sentenced to eight years in the Illinois Department of Corrections after pleading guilty to the charge of aggravated discharge of a firearm, a Class 1 felony.
On May 21, officers were dispatched to the 300 block of South Crestview Lane in Carbondale for a complaint of shots fired, according to the release. Witnesses said a neighborhood resident asked a man to move his car and an argument then ensued.
"The suspect drove his car down the street, stopped the vehicle and raised the hood, retrieved a firearm and then he began shooting into the air, before shooting in the direction of a group of people," the release says.
Police have arrested a man in connection with a shooting that took place outside a Carbondale residence early Sunday morning.
Officers arrived on the scene and found six .40-caliber bullet casings and were given a description of the suspect.
Taylor was later pulled over in Williamson County and identified by a witness who was transported to the scene by police.
"A search of Taylor's vehicle revealed a Glock .40-caliber pistol in the hood of the vehicle," the release says.
Taylor will serve eight years in IDOC, followed by a two-year period of mandatory supervised release.