The jackpot for tonight's Queen of Hearts drawing at the Steeleveille American Legion is up to $1,077,700. 😮
Here's our story from Feb. 3, when then-six-figure jackpots were drawing hundreds of people to the Legion every Thursday.
---
STEELEVILLE — It takes Bruce Fiene almost five hours to count the money on Friday mornings — he has to double-check the count before taking that week's Queen of Hearts ticket sales to the bank.
Queen of Hearts, a weekly raffle that in recent months has swept from town to town in VFW and American Legion halls throughout Southern Illinois, has been a lifeline for many such organization that in recent years have experienced falling membership numbers.
The raffle is fairly simple. Each week, tickets are sold, and one is drawn. The purchaser then picks a number — in the beginning, it's 1 to 54. If the playing card underneath the chosen number is the queen of hearts, the lucky person wins that week's pot. If not, then the jackpot grows and another ticket is drawn the next week.
The system sets up an opportunity for a big payoff — both for ticket holders and the organizations hosting the events. Some jackpots in the region have exceeded $1 million, and thousands show up to play.
In Steeleville, Fiene said the last Queen of Hearts series came all the way down to the last card. The pot was around $300,000, but because of a technicality in the rules, only half the money was won — if the ticket-holder is not there in person, he or she can only take home half — and because ticket sales that night were so good, when the raffle started over the pot was right back up to $300,000. It has since grown to more than $700,000.
The event is quite the spectacle. Shoulder to shoulder, the main bar has a line just to get a drink. In the main hall, patrons gather early to get a good seat and a meal — many show up hours before the 8 p.m. drawing time. Some spread out puzzles, others read books, while many find time to catch up with neighbors.
Nancy Burrows, of Sparta, sat Thursday preparing her pile of tickets for that night's drawing.
"Normally I don't buy this many, but I was feeling lucky," she said, adding that she obviously doesn't have the winning formula, nor does she have the winning number.
"If I did, I'd of won it a long time ago," she said, adding that she hadn't decided on what number she would choose if her ticket were to be drawn. "I never pick a number until it's time to go, but so far no one has picked a number I would have picked."
Burrows said she has played several of the area raffles and has had a lightning strike of luck here and there, but to little effect. She said in Sparta her ticket was drawn the first time she played there, but she was not a big winner that night.
Ellen Mueller sits with her friend Mark Barnett at a table near the bar, their pile of tickets close by. Both come from New Memphis and Mueller said they enjoy coming to these raffles — they were excited enough by the Steeleville pot to make the one-hour drive down.
Mueller said she wouldn't likely be coming to a Legion Hall were it not for the Queen of Hearts. She has a strategy, though. She said she buys $20 worth of tickets no matter how big the pot is.
With such a big potential payout, Steeleville's Legion sees between 800 and 1,000 people every Thursday, Fiene said — it's been a jolt for a Legion that was in a bad way about a year ago.
"We went from having to borrow money to pay our bills to having money in a bank account," Fiene said, adding that with the jump in revenue from bar and food sales, the Legion's bank account grew "100-fold."
Fiene said theirs wasn't the only group that has benefited from the trend.
"There's a bunch of them that wouldn't have been able to make it," he said, were it not for the popularity of the game.
Alan Voice, Du Quoin American Legion's finance officer, said he taught Steeleville's Legion leadership about the game a year or two back. He said he's happy to see them take the idea and run with it, especially if it means they keep their doors open.
In Du Quoin, he said the situation wasn't as dire as in other places, but the infusion of cash has helped their charitable giving as well as their ability to make some needed improvements to their facilities — he mentioned buying new chairs for the hall as an example.
Both Fiene and Voice said it's been a struggle to keep member rolls up.
"The old veterans are passing away and there's just not much participation in the clubs anymore," Voice said.
Fiene said with the recent buzz over the Queen of Hearts events, they have actually been able to sign a few new people up as members.
It hasn't been all smooth sailing with the raffles, though. As reported in the Belleville News Democrat, some towns were not prepared with proper ordinances to handle such big jackpots. Steeleville's ordinance had a maximum limit of around $25,000, however, the city recently bumped it up to $1.5 million, Fiene said, and set a cap on the game of 52 weeks.
Fiene said there's little competition for the game — he said only not-for-profits can host them.
Fiene and Voice said this new raffle seems to be a way to reach out to a younger demographic.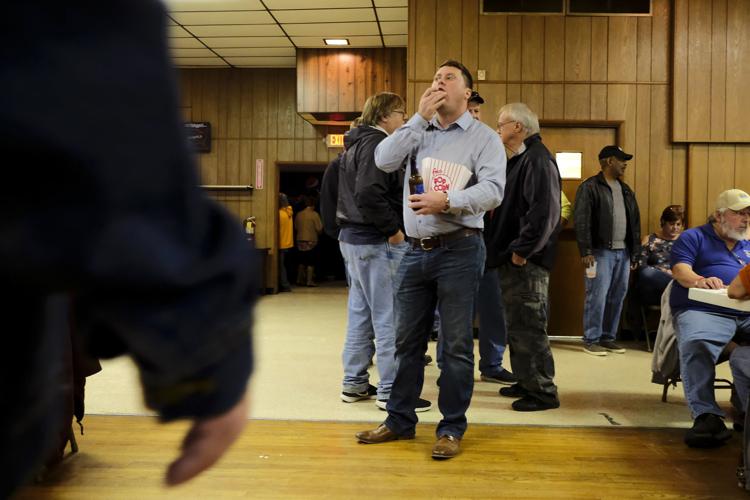 "The older people are passing away that loved bingo and the younger kids aren't playing," Voice said.
The success of the game isn't without its share of added work and cost. Fiene said he has a team of 30 people who help each week and he still spends more than 10 hours working each Thursday.
"I don't really have time to eat anything," Fiene said.
He said while some part of the 15 percent of ticket sales he keeps go to the general fund, a lot of it goes to overhead. He said a bundle of tickets costs $25 on its own and they go through 35 rolls each week. Fiene said he bought $1,600 worth just recently.
Still, it's all worth it just to see the hall full and to know his organization has a brighter future. He said because of the profits from Queen of Hearts, the Legion has been able to make some upgrades to the building and they have more of these plans coming in the future.
Voice and Fiene said they don't plan on stopping the raffles until folks stop showing up.
Until then, Fiene said he tells people it doesn't take much to win — it only takes a $1 ticket and a good guess to be big winner.
"I tell everybody, every ticket's a winner until eight o'clock," Fiene said.
Photos: Steeleville Legion's weekly Queen of Hearts raffle reached more than $700K this week
As the pot for the Steeleville American Legion's weekly Queen of Hearts raffle grows — it now tops more than $700,000 — so do the crowds. The boost of about 800 people each Thursday has been a shot in the arm for the post.
Here's a sneak peek at photos for tomorrow's story about Queen of Hearts raffles around the region.