HARRISBURG — Over 80 competitors from nine different regional mining companies braved the heat Tuesday and Wednesday to test their abilities at the sixth annual Mine Safety and Rescue Skills Competition at Southeastern Illinois College in partnership with Illinois Eastern Community Colleges.
Sen. Dale Fowler was on hand to help kick off the competition and to see the new Simulated Mine Training Facility in action. Fowler, who is a member of the Coal Development Board, praised the competitors and the facilitators of the two day event.
"Mining is part of the heritage of Southern Illinois, and we appreciate what you do to keep the mines safe," Fowler said.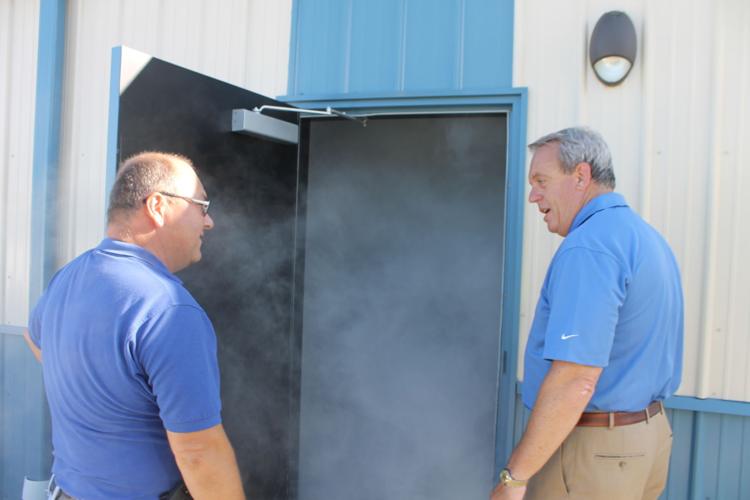 Mine Safety and Health Administration regulations require all underground mines to have fully trained and equipped professional mine rescue teams available in the event of an emergency.
As a way to keep their mines in compliance and at the ready, mining companies have turned to mine rescue competitions as a way to measure their teams' preparedness to meet an emergency.
SIC's competition had six rounds of exercises that included smoke training and mapping, lance installation (firefighting), hose skills (firefighting), first aid, bench test, gas detection and air measurement, and a written test.
Mine safety teams competing this year included Foresight Energy (three teams) from MaRyan Mining LLC in Dorchester and Viking Mine in Macedonia; Gateway North Mine (Peabody Energy) in Coulterville; Hamilton County Coal LLC in Dahlgren; Knight Hawk Coal in Cutler; Prairie State Generating Company in Marissa; Wildcat Hills Mine in Equality; and Sunrise Coal Mine Rescue Team from Oaktown, Indiana.
Events in each competition require team members to solve a hypothetical problem within a time frame, and team members were observed by judges and scored according to complex rules. Each team has between seven and 10 members.
Competitors at the two-day event work in full rescue gear for many of the exercises, despite temperatures this week topping out over 90 degrees.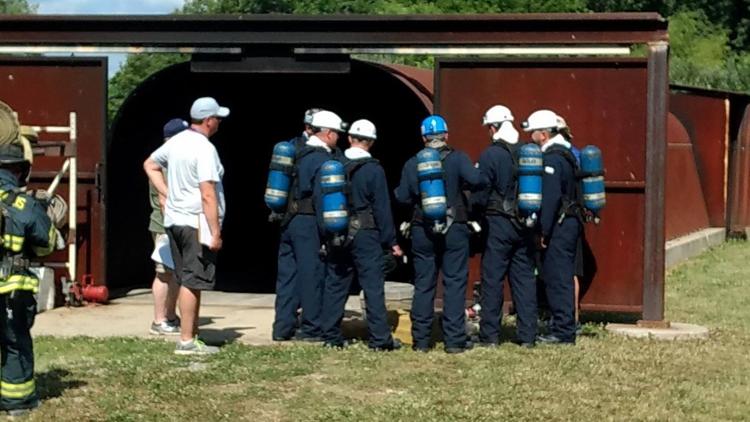 According to MSHA, a typical mine rescue ensemble weighs approximately 50 pounds, and the gear the miners carry adds another probable 60 pounds of equipment needed to perform their tasks. 
Bill Patterson, inspector-at-large for the Illinois Department of Natural Resources, Office of Mines and Minerals, said all the men and women on the rescue teams volunteer for the positions.
"These are the people that will put their lives in danger if the situation ever arises," Patterson said. "They are willing to put themselves in harm's way to correct a problem and to help other people."
According to Patterson, members of mine rescue teams start off in regular capacities in the mines but rise up through the ranks to become rescue team members. This might take years to happen, or it might happen quickly.
For Dustin Patterson, representing Gateway North, it took just a year before he knew he was suited to the pressure of working on a mine rescue team. "I've been in the mines for 13 years and on the team for 12 of those years," he said.
He said his team has not yet been called to an emergency, but if it were, he would see the same people there as he saw at the competition this week — no matter which mine it may be.
"In many ways we are like the volunteer fire department, or the National Guard. We are on the front lines of any emergency situation," Patterson said. "So it's good to be out here challenging each other, because if one of the mines in Southern Illinois went, all the guys you see here would be there."
Patterson said that during the course of any given year, his team practices at least one or two days a month, and in the summer they come together with all the other mines to compete. His team just returned from Indiana State where they placed third, and are slated to compete in six more contests this summer.
Eldorado native Mark Lloyd, representing Foresight's Mach Mine in Marion, has been on a mining rescue team for about 10 years, he said.
"Initially, I was working for Patriot Coal in Kentucky and began working in mine rescue with them," Lloyd said. "When I came over to Foresight, I continued that work with them."
Lloyd said he was drawn to the team because he saw it as a career builder.
"I got into it because I felt it showed interest in my job and my career. If you are committed enough to go into a mine and fight a fire then you are probably committed enough to do other things," he said.
He said he believed working on a rescue team shows someone has a genuine interest in the people they work with and a genuine interest in the company they work for.
Bill Patterson echoed that statement.
"I went from working in the mines, to working and being on a rescue team, then moved on to a boss, to mine manager, to mine manager superintendent, then I went to general manager over several operations before I got out," he said.
Bill Patterson said being a successful team member takes lots and lots of training.
"The events today, like the burn tunnel exercise, or the smoke and ventilation challenge, those matter, but the thing to recognize about these people is that they are not only brave, but they are smart," he said.
According to Bill Patterson, the written test part of the competition is a major challenge. "There are hundreds of statements of fact that have to be memorized word for word. You cannot miss a word and you cannot change a word, not even like an 'and' or an 'or.' So these people have to put in hours of study."
In the years that he competed, Patterson said he made a cassette tape recording of those statements, and played it in the car wherever he drove. He also listened to it on a Walkman at night. "If you have to compete and you are looking at maybe winning one of these competitions, you can't afford to miss any of these questions or you are out of it."
Patterson said that the rules that govern mine safety are lengthy, but are there for good reason. "In the past there have been teams that have rushed into a situation and that resulted in fatalities. These rules govern the step-by-step procedures that keep that from happening."
He said the rules are designed to protect the rescue team and the people who might be trapped in the mine that they are searching for. There are situations where gases are so poisonous that just one breath of them would result in the death of that person.
In the SIC competition, competitors took the written test as part of the day's events, and for many, after they competed in several physically grueling events. Imagine jogging five miles with a backpack, and then having to recite the constitution without making a mistake.
"These are the best-thinking people we have," Patterson said. "They can function under great physical and psychological pressure. They are the best trained people in the industry. In my day, the mine management would look to these folks as the next generation of leaders. I hope that is still the case."
Awards were given on each day of the competition, and a grand champion was chosen for their work throughout the two-day event.
On the first day of competition, the Gateway Mine team, trained by Tom Patterson, took first place, followed by the Foresight Energy-White team, trained by Wes Campbell, in second.
Day two of competition saw the Foresight Energy-Blue team of MaRyan Mining, LLC, trained by Wes Campbell, in first place, and the Foresight Energy-South team of Viking Mining, trained by Girolamo Intravaia, in second place.
The grand championship trophy for the two-day event went to the Foresight Energy-Blue team. This award honors the late Tim Kirkpatrick, a 41-year veteran of the coal industry, member of the Illinois State Mining Board and longtime advocate of mine safety.