Chris Atkinson, the father of Sabrina Dawn Atkinson, presented the president of Shawnee Community College with a donation to a scholarship named in her honor.
Shawnee Community College President Peggy F. Bradford recently met with Atkinson to receive a donation totaling more than $3,500 for the Sabrina Dawn Atkinson Scholarship. The Sabrina Dawn Scholarship fund was created in remembrance of Sabrina Dawn Atkinson, who died Sept. 11, 2004.
The scholarship was created as a means of continuing Sabrina's legacy of giving to others.
The Massac County teen was 15 years old in 2004, when she was involved in an accident on Sept. 10, and died the next day.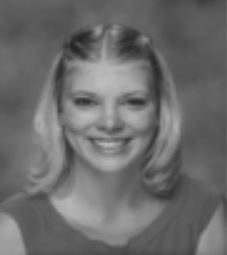 The scholarship is funded through community donations made annually at a community chili supper and silent auction. 
The scholarship funds are then distributed through a scholarship fund set up at Shawnee Community College. The scholarship helps high school students who enroll in college-level courses while they're earning their diplomas. To date, 13 students have received a Sabrina Dawn Scholarship from the college.
For more information about the Sabrina Dawn Scholarship or for questions regarding applying for scholarships at Shawnee Community College, call 618-634-3200 or visit www.shawneecc.edu.