HERRIN — Edith Ahrendt swore she would never marry again.
Two marriages and two children and not yet 40, she just wasn't interested in settling down for a third time.
That changed one night when she was at a "parents without partners" event, and she met Donald.
"You remember," she asks Donald. "I was going there with a girlfriend and you popped in there."
He asked her for a dance and this was the start of their courtship. He was 43 years old. She was 40.
"Although I was dating somebody else at the same time," she said, adding that he didn't know. Still, she always took his dates as the priority.
"He was my favorite," Edith said.
These dates sparked a new love that has lasted more than 40 years. Edith describes Donald as her "most wonderful husband."
Throughout their life together they have lived and traveled all over the country — they stayed 12 years in Arizona caring for four members of Donald's family before coming to Carbondale 20 years ago to care for Edith's daughter, who had been diagnosed with breast cancer. The couple, — Edith, 87 years old, and Donald, 90 — now lives in Herrin as residents of the The Villas of Holly Brook assisted living facility.
In the last five years, Edith said Donald has begun showing signs of dementia — his long-term memory is great, she said, but he struggles to remember other things.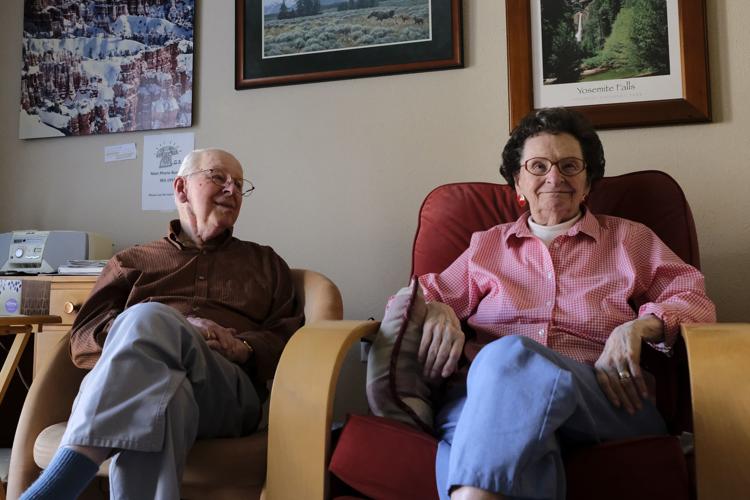 She holds back emotions as she talks about seeing the love of her life change so drastically. The man she believes whole-heartedly is the best she has ever met struggles at times to hold on to their reality together.
The example she gave comes from their dining hall — she said he often wants to pay for their meals. She's told him over and over that the food is included with their rent, but he insists.
Edith said she has given him a $20 bill to keep in his wallet.
"He tries to give it to the girls and most of the time the girls will give it back to me," she said. "Those kind of things are tough."
Other times he forgets key events in his own family members' lives.
"He misses his parents and he will want to know if we can go see his parents," Edith said.
"Then I have to explain to him that they passed away and I'd love to go see my parents, too," she said. Not without a sense of humor, she also makes sure he remembers they aren't spring chickens, either.
"We are next on the list because you're 90 and I'm 87," Edith will tell Donald.
She gets frustrated with him sometimes.
"I lose patience with him and I pray every night to give me patience," Edith said, disappointed that she doesn't always keep her composure.
She said when Donald is "in his mode where he can't remember anything. he asks me the same questions over and over." That's when she struggles.
"If I'm tired, and even if I'm not tired … I lose patience and sometimes I yell," she said, adding that sometimes he does, too.
"We get along pretty good," Donald breaks in.
In her bedroom, Edith points to photographs on the wall. All of their children are there and even some photos of their own parents — family vacations and happy times frozen from decades ago.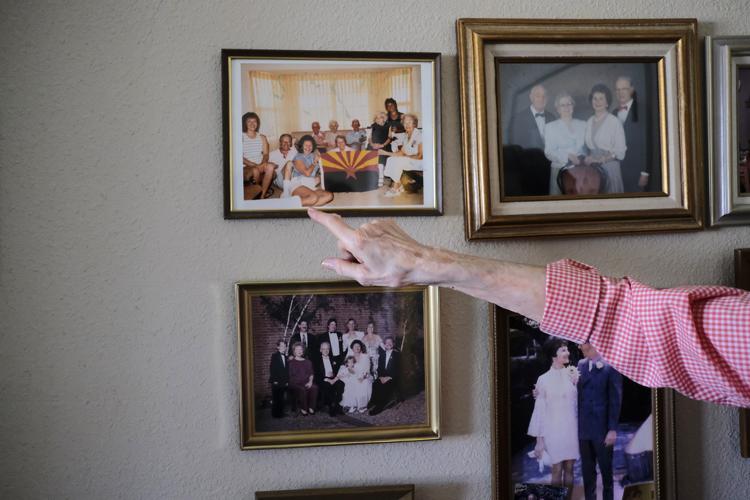 "That's us right there in the middle," she said, pointing to their only photograph of their wedding — Donald in a wide-lapelled double-breasted suit looking to his bride in a white, knee-length gown.
"That's what I check him with, with his mind once in a while. I'll say 'Don, where is our wedding picture,' and it takes him a while to look around," Edith said.
Their wedding wasn't the most formal of affairs — with three previous marriages between them, they kept it simple that go around.
"Now we've been married almost 48 years," Edith said.
"How long," Donald asks her.
"48 almost, honey. In June it would be 48 years," she reminds him. June 6, to be exact.
This photograph reminded her of that day and meeting her in-laws.
"I actually met his parents on our wedding day," Edith said.
"Do you remember? They drove up from Florida?" she asks Donald.
She asks him that a lot — "Do you remember?"
Edith said it's hardest not being able to talk to Donald about the small things in their life. A trip to see her son the next day is something she said he just wouldn't remember.
Still, she tries to keep him as active and stimulated as she can — they walk their own trash out of the apartment, do some of their own laundry and she has chores for him each day. She makes sure he makes their beds each morning.
"I tell him if he doesn't make it perfect I'll have to call his (drill instructor) and his (drill instructor) won't like that," Edith said — Donald served in Europe during World War II as a member of the Army.
Edith said nurses tell her these types of activities are good for Donald.
Though she found him later than she might have thought, Edith still feels blessed to be with Donald, even despite the hardships in recent years. Donald's memory may have gotten fuzzy, but her's hasn't.
"This man is the most wonderful man that I could ever imagine," she said. "I think he's the most honest, reliable person I have ever met."