After 45 years of marriage and almost the same number of years landscaping together, it's no wonder that Ralph and Phyllis Walker of Marion were able to create this month's Best on the Block winning yard.
The couple, who live on East Willow Drive, planted perennial flower gardens surrounded by a wrought-iron fence, which attract birds and butterflies, and the yard is full of flea-market finds and repurposed garden accessories.
The Walkers have always shared a love of antiques, and Ralph has a big interest in repurposing items that might otherwise end up in the landfill.
"He does a lot of that kind of work," Phyllis said. "He created the sidewalk paths with repurposed bricks that came from the old sanctuary at First Baptist Church. He also created a water feature from old grinding stones and another using an old pump."
Phyllis inherited her love of flowers from her mother.
"I have always loved flowers because my mother did; Ralph likes the architecture aspects of a garden," Phyllis said. "And we both love antiques, so those are incorporated, too."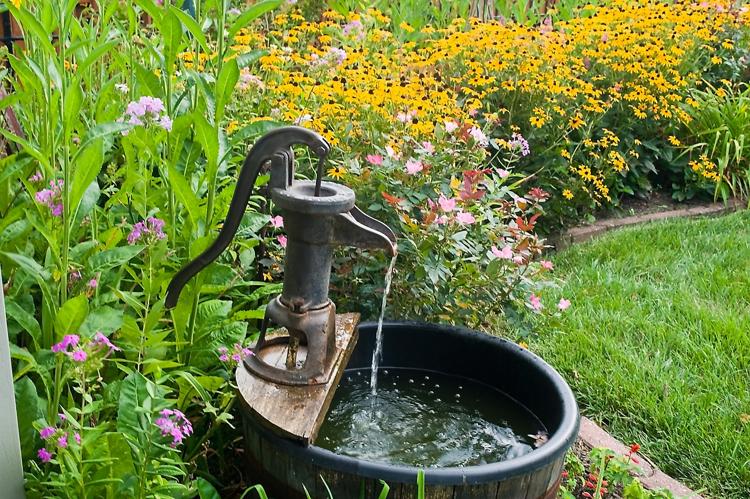 The Walkers, who are retired, moved to Marion 13 years ago from Harrisburg, where Phyllis taught second grade for 32 years at West Side School. Ralph was a counselor at Marion High School.
When they moved to the new home, it was "barren dirt." After six or seven years and lots of hard work, members of the Marion Garden Club were so impressed with the results that they approached the couple about being on the club's annual home tour. The Walkers accepted and became members of the club. After even more additions and changes, they were asked again to be on the tour.
Not only does their landscaping work attract the attention of garden clubs, neighbors and contest judges, it pays off in other ways.
"When we put our Harrisburg home on the market, it sold quickly," Phyllis said. "The landscaping is what sold that house."