CARBONDALE — The incoming director of the Southern Illinois University Paul Simon Public Policy Institute says he hopes to magnify the institute's visibility across the country while finding ways to foster statesmanship in the political sphere.
Appearing before reporters Monday morning inside the institute on the SIUC campus, journalist and author John T. Shaw outlined his priorities as leader of the non-partisan public service center.
SIUC Chancellor Carlo Montemagno welcomed Shaw and commended him for undergoing a "grueling" national search, which was chaired by visiting professor John Jackson.
"It's strong testimony to his quality, his knowledge and his ability that he was selected for this incredible position," Montemagno said.
Originally from Peoria, Shaw earned his bachelor's degree in political science from Knox College in Galesburg and his master's in history from the University of New South Wales in Sydney, Australia. He began his career as an executive fellow for Illinois Gov. James R. Thompson in Springfield.
Throughout his childhood in Peoria, Shaw said, Paul Simon was a "large and compelling figure, who combined civility and substance, big-picture interests and laser-focused intrigue with local and state government."
Like all his predecessors at the institute, Shaw is an esteemed journalist: He covered congressional politics for the global news service Market News International for 26 years and served as a contributing writer for the monthly magazine The Washington Diplomat for the past 20 years.
"I think the one thing that a journalist brings is just a curiosity, an ability to ask questions to try to understand how things work, and as I look at the first couple weeks, I especially want to spend time talking to people who built this institute and trying to understand why programs were created, and what their initial mission was and how maybe they've evolved over time and how they can be strengthened and sharpened," Shaw said.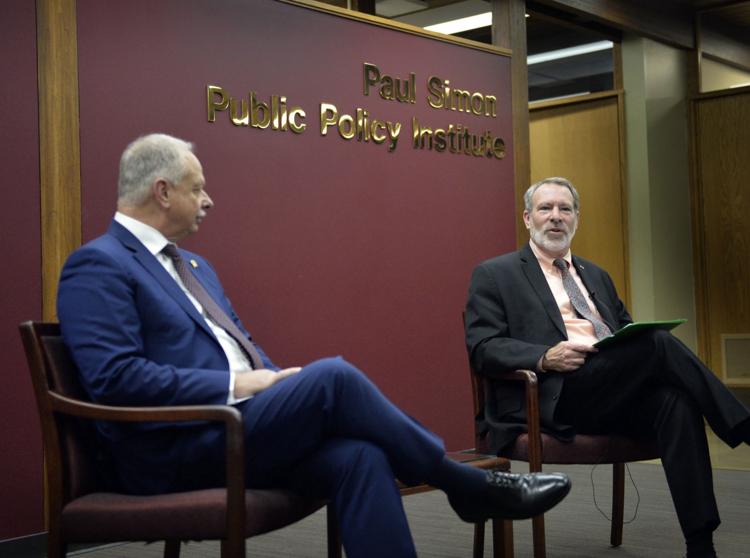 Shaw has authored five books, including "Richard G. Lugar: Statesman of the Senate" and "JFK in the Senate: Pathway to the Presidency."
As for his agenda, Shaw said he hopes to honor the institute's roots in Southern Illinois but also expand its work on the national level. He highlighted the possibility of establishing a statesmanship initiative.
"The essence would be to educate and to honor and to focus on statesmanship, on leadership that is both strong and visionary. I want to find ways to explore successful statesmen, both at the state level … as well as on a Washington level," Shaw said.
Shaw said he intends to draw international leaders to SIUC to give public remarks, offering them a view of American life beyond the Beltway. He also hopes to develop partnerships with other congressional research institutes to give the public service center more of a national profile, and he plans to teach a course on political journalism.
Asked how he has seen technology and social media shape journalism over the course of his career, Shaw said there is an increased emphasis on conflict.
"I do think that one of the problems of modern journalism is that there is such a battle for listeners, viewers, clicks, et cetera, that there is this focus on conflict that I think is distorting," Shaw said. "I think it wears down the citizens, it makes everyone just sort of say, 'What difference does it make?' So that's why I think an institute like this can focus on constructive solutions, perhaps bring people together from different parties to work on problems, look at issues and … also send the public a message that it's not all trench warfare 24/7."
Shaw replaces David Yepsen, who retired in 2016. Jak Tichenor has been serving as interim director since that time.
Shaw's appointment was approved Dec. 14 by the SIU Board of Trustees. He will begin his duties Jan. 16.