CARBONDALE — The president of one of the most famous fake universities in the country wants it to be known for more than the Final Four tickets it swindled from the NCAA.
Art Duffy, a 1982 graduate of Southern Illinois University and the president of Maguire University, was the top bidder for the Salukis Black Out Cancer game against No. 20 Northern Iowa. With his bid of $1,917, he was able to put "MaguireU" on the back of quarterback Sam Straub's jersey when SIU takes on the Panthers at 6 p.m. Saturday night. Even though he put up the money for the jersey, as he has ever since the event began in 2011, Duffy, 57, wanted to celebrate his group's "alumni."
"We decided to make it a little more philanthropic, and as I've started to do some things with my own money, some others have started to do some good things with their own money," Duffy said.
Maguire University was born in 1963 by a couple of drinking buddies at Maguire's Pub in Forest Park.
Len Tyrrell, then a football coach at nearby Fenwick High School, suggested the group fill out an application to join the NCAA, which every college did not belong to back then, in order to receive the Final Four tickets the association distributed to its members. Maguire University had an enrollment of 1,600, school colors of green and white, and was known as the Jollymen. The NCAA bought it, and allotted them 100 tickets to the Final Four in 1973 and a block of hotel rooms. The school was included in the association's blue book, its annual directory, and Maguire's Pub received several phone calls inquiring about scheduling a football or basketball game.
The school got away with it again in 1974, until a story in the Chicago Tribune exposed the hoax. Now a group of more than 1,000 head to the NCAA Final Four every year, with or without tickets, to socialize and keep the tradition alive. To join, fans simply have to pony up the money to go to Scottsdale, Arizona, for the Final Four next year, which is between $925 per person for a double bed for four nights and $1,600 per person for a single bedroom at the group's designated hotel for five nights. The money gets each participant a shot at tickets through a lottery, but many people go simply for the party.
This year's "freshman" class will be a part of the 55th group to attend the Final Four. After four trips, you, too, can graduate from Maguire University, and receive the same diploma North Carolina's Roy Williams received earlier this year. Many of the past presidents of the New York Athletic Club are also members of Maguire, and invite them to attend the annual Winged Foot Award, which goes to the coach of the winning team of the men's and women's NCAA tournament.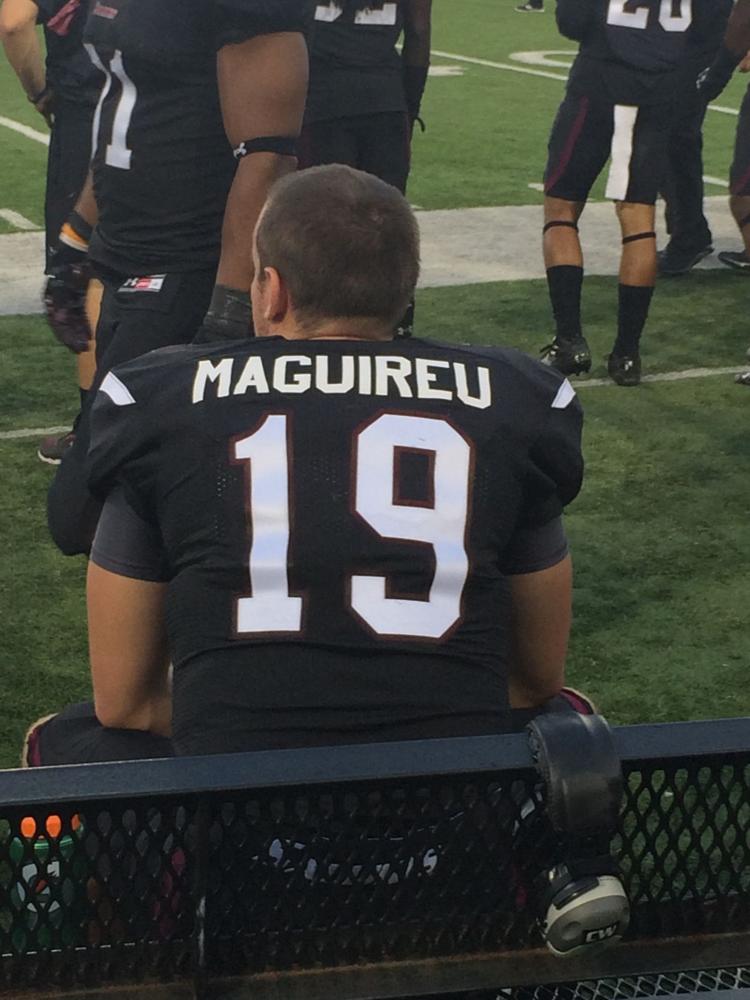 "The Maguire thing is 55 years old, and you've got to keep it alive as best you can, so that's what I do," Duffy said.
Duffy will not be at Saturday's game — he expects to be back in Florida cleaning up his house that was damaged by Hurricane Irma — but hopes to return to campus for Homecoming the weekend of Oct. 14. A member of the Tau Kappa Epsilon fraternity, he worked as a night manager at the old Holiday Inn while attending SIU and finished with a degree in finance and accounting. Today he owns his own business, ADCo Technology Solutions, which buys, sells and leases technological equipment in Chicago and South Florida.
"I've never heard Art Duffy say a bad word about anyone. I've never heard him say a curse word," said Chet Savage, a former assistant athletic director at SIU, who is a member of Maguire University. "A lot of his life is the social aspect, grabbing a beer after work and just hanging out. He's just somebody that I believe is a great guy to hang out with. It is not about Art. Anything he does, it's about his friends, it's about his family, and about the things he cares about."
Duffy's father, Arthur Duffy Sr., died two years ago of lung cancer. An acquaintance has survived brain cancer, lung cancer and breast cancer, he said, and several members of Maguire have passed away because of the disease.
"A lot of our members, we're now on generation three or four that's gone through with this, so, a lot of our old members have died of cancer," Duffy said. "So, cancer, when it comes to the American Cancer Society, or stopping cancer in any way, it's kind of a big thing with us."
Folks from Maguire University have supported members competing in charitable marathons and triathlons, as well as causes like Operation Support Our Troops. A team of competitive barbecuers, called the Maguire University Culinary Institute, recently returned from a trip to Texas to cook for the homeless and recovery volunteers.
Bids for the special Under Armour jerseys the Salukis will wear Saturday night raised $28,036 for the SIH Cancer Institute in Carterville. The event has raised nearly $350,000 to fight cancer in Southern Illinois. More than $227,000 of it has gone to the cancer institute.