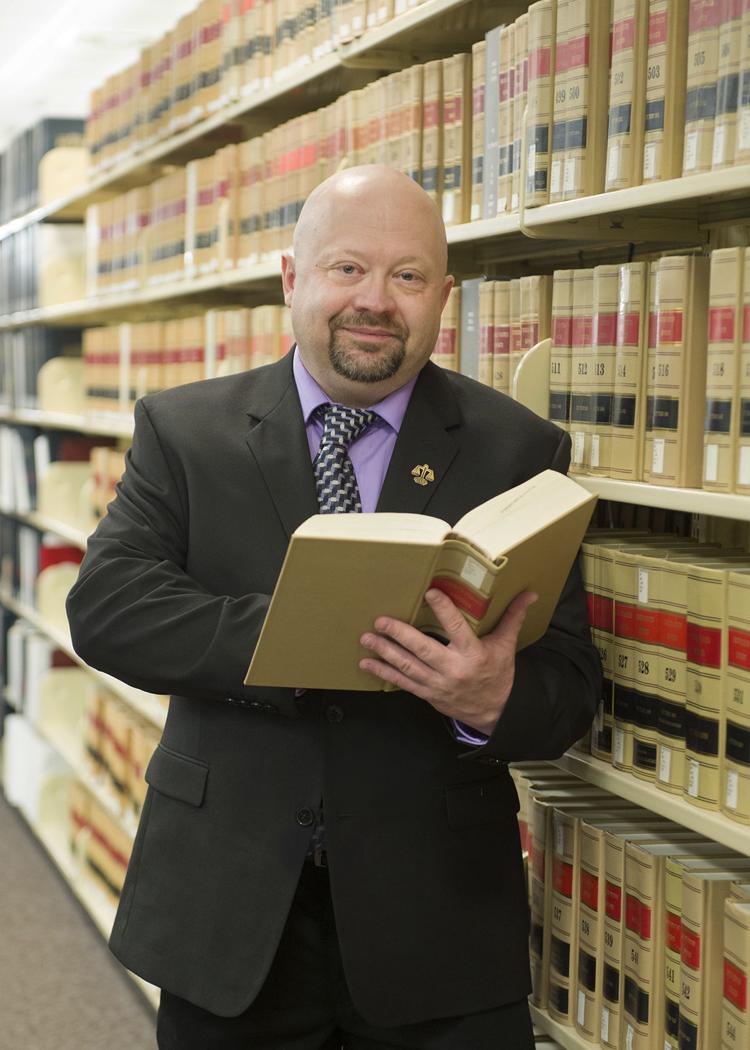 CARBONDALE — In a span of 72 hours in August 2015, Donald Cobb went from Stuttgart, Germany, where the U.S. Army medic had just retired from the military to being an incoming first-year student at the SIU School of Law.
Cobb arrived with no books and no car, while his family was still in Germany. He just had his clothes and a rescue dog named "Boon" the family picked up while they were stationed for six years in Guam.
What followed was three years of hard work and perseverance — and a law degree. Cobb, who lives in Scott City, Missouri, and 97 other members of the law school's Class of 2018, will graduate at 3 p.m., Friday, in SIU Carbondale's Shryock Auditorium.
Cobb will serve as class speaker during the ceremony.
Recalling his arrival on campus, Cobb, 47, admits that he did not know what to expect. What he found, however, were faculty, staff and classmates who were willing to help and give Cobb "every opportunity to succeed."
Before his car was shipped from Germany and his family arrived a few months later, Cobb borrowed a friend's car for the 90-minute drive between Chaffee, Missouri, and Carbondale to attend class.
"It was the worst possible scenario," said Cobb, recounting his arrival from Germany. "I don't know how I made it. But the school worked with me. They were wonderful. Nobody is ever going to come to SIU law and say 'I didn't make it because nobody would help me.' That's just factually incorrect."
Cobb's 22-year military career included active duty, National Guard and reserve commitments. His career included tours in Germany, Montenegro, Guam, two tours in Iraq, Kosovo and many stateside assignments where he earned numerous military awards.
CARBONDALE — Coleman Fitch wants to make a difference beginning Day One in his teaching career. Thanks to the Teach for America program, he wi…
Between military activations, Cobb was a civilian police officer, working in both Chaffee and Scott City, where he was police chief from 2002 to 2008.
Cobb made the decision to get a law degree when he learned a soldier he had served with in Iraq was having problems receiving help for serious wounds the soldier received in the second battle of An Najaf in 2004.
"At the time, we were having a lot of young soldiers who were coming back from Iraq. He was my soldier and I just didn't feel he was getting the benefits that he needed," Cobb said. "We have since that time gotten him to a better place."
Cobb said he's since learned that a key to addressing veterans' benefits and other issues is "knowing where to interact" with Veterans Affairs. He wants to carve out a part of his practice to help junior enlisted military personnel and veterans who are experiencing similar issues.
"I appreciate it so much because I have so little in common with many of my classmates. "I am literally the same age as some of my classmates' parents," Cobb said. "But it never mattered. To them, I was just 'Donny.' In study groups or whatever cohort, it just never mattered."
Cobb will take his Missouri Bar Exam in July and has accepted a position with Moss & Cooper attorneys in Cape Girardeau, where he will work with his mentor, attorney and City Judge Allen Moss.
Christopher Behan, law school acting dean, said Cobb has "distinguished himself as a leader among his classmates." Cobb has a "special gift for lifting up his fellow students and helping them see and achieve their potential."
While in law school, Cobb actively helped other veterans make that transition to law school, and worked with campus and community organizations to help his classmates find resources and navigate the academic and social environment of the law school, Behan said. The 294-student law school has 30 veterans among its students.