CARBONDALE — Graduate students at Southern Illinois University Carbondale joined a nationwide walkout Wednesday to protest the House Republican tax reform bill, which includes a measure that would classify their tuition waivers as taxable income.
"We all know graduate students who are selling blood at the blood bank, selling their plasma," said Sam Smucker, a teaching assistant in mass communications who helped organize the event. "That's where we're at. We don't need more taxes. We are the poor of the poor."
At a rally in front of Morris Library Wednesday afternoon, students said the tax hike would make graduate school unaffordable for most people. Graduate students at SIU make a modest stipend for their work as teaching and research assistants — typically about $14,000 per year.
The bill, which was passed by the U.S. House of Representatives earlier this month and is currently under consideration by the U.S. Senate, would tax in-state students as if they made $25,000 a year, the organizers said. International and out-of-state students would be taxed as if they made about $40,000.
"This destroys the idea of a graduate employee income that could potentially support graduate students through their education, and it destroys the idea that working people can go and get a graduate-level education and can participate in innovative and scientific communities," Smucker said.
The House bill also imposes new burdens on students by eliminating deductions for federal and private student loan interest.
"If you have $80,000 in (student loan) debt, and you're paying $1,000 to $2,000 a year in your interest on the student loan, you're going to lose that tax deduction," Smucker said.
"I came to SIU because it is a wonderful school," said Alex Lockwood, an out-of-state student obtaining his Ph.D. in communication studies. "It has one of the most thriving, involved communities of students that I've encountered at a university. And this is just one more instance of trying to make school inaccessible for poor people," Lockwood said.
Anna Wilcoxen, a Ph.D. student in communication studies, said graduate students are already struggling.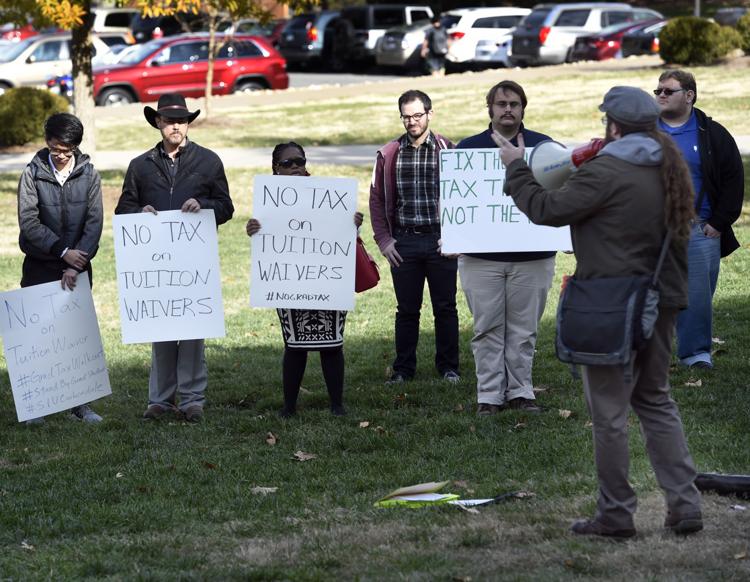 "It's really hard for us to pay our bills, to put food on the table, to keep roofs over our heads, already as it is. Make no mistake: this is an attack on education. This is an attack on free speech, and this is an attack on working-class and poor people who want to get an education," Wilcoxen said.
"The quality of our research will suffer for this," said Ryan Crawford, a Ph.D. student in the rhetoric and composition program. "But also, I teach English 102. These beginning English classes cannot be taught by anyone else but graduate students. The quality of those programs will also decrease, and that is a huge problem."
Jyotsna Kapur, a professor of cinema and media studies, said graduate student stipends haven't increased since she herself was a graduate student in the late '90s.
"The tuition waiver is what you're paid — and not all that well, either — for the work that you do. So when we're talking about this war and the working class and the middle class … now it is that we actually have to pay them to work," Kapur said.
Andy Harper, a Ph.D. candidate in English, said that after taxes and $3,000 in student fees, he takes home just $10,000 each year. He said that his income barely provides enough his basic needs and doesn't cover expenses like academic conference travel, or clothes for teaching. The tuition waiver tax would reduce his pay to $5,000 a year.
"Frankly, I want to say the graduate tuition waiver is not income. This is not a salary. I don't see that money. … Nobody else, anywhere, pays $25,000 just to park at their job," Harper said.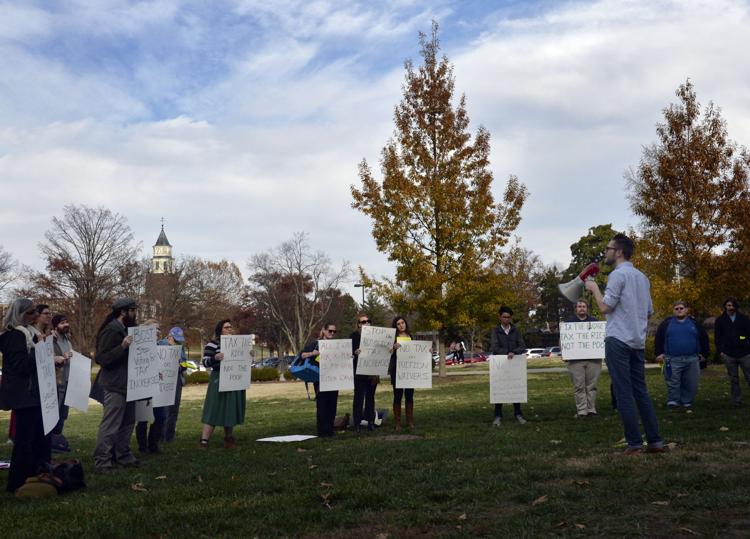 He said the tax could drive away the 65 graduate assistants who cover the English department's core composition classes.
"If we're not offering those classes, then we are not offering degrees as a university; we cannot function. And guess what? Our prolific, highly published, kickass, academically influential faculty are not going to hang around to teach 101 or 102, nor should they, because the world progresses and our nation progresses when they are doing the work in their fields, not covering basic composition," Harper said.
Lauran Schaefer, a Ph.D. student in communication studies, said the tuition waiver is not income, but "more comparable to a coupon."
"Every single university relies on the free labor of their graduate students to get things done. For myself, I'm working on a Title IX committee to make sure that you all get better training in terms of sexual assault. If you're not paying us, we have to take other jobs, like waiting tables and things like that, which means that the university ceases to function and also becomes a significantly less ethical place," Schaefer said.
Sana Haque, an international student from Pakistan who helped organize the event, started her Ph.D. in 2014. She works with SIU's off-campus degree program in workforce education.
"I'm troubled by a lot of the implications of the tax bill in general, like a lot of us who care about lower-income people (being able) to survive," Haque said after the rally. "But this is where it sort of hits you on the personal front. … I'm barely able to make it on the income that I have."
The bill would increase her taxable income by $26,000.
"It's going to push me and other international students to the point where we'll evaluate and say, 'It's not worth it anymore.' The U.S. is an expensive place to live in and study for a lot of people. If your stipend you receive to come here and be a scholar here doesn't cover the cost of living here — we're not allowed to work off campus. There's no other way, unless you're independently really wealthy, to do it," she said.