MATTOON — A student opened fire in the Mattoon High School cafeteria and wounded a fellow student before being subdued by a teacher Wednesday.
School Superintendent Larry Lilly and Mattoon Police Chief Jeff Branson shared information about the incident at a news conference Wednesday evening at the district office, during which officials emphasized that they believe the shooter acted alone.
Lilly said a male student fired multiple shots in the high school cafeteria at about 11:30 a.m. and wounded a fellow student. He said a teacher was nearby when the shooting occurred and she subdued the shooter, who was then disarmed by the police department's on-site school resource officer.
The superintendent said he has visited with the wounded student at the local hospital and can say, with the permission of his father, that he is in stable condition and in good spirits. He added that the victim's father wants to pass along his prayers to the family of the shooter.
The superintendent said emergency responders were quick in taking the wounded student to the hospital, taking the suspect into custody, and securing the school. He said high school students were bused to Riddle Elementary School for pickup by their families, adding that the district accounted for all of the students soon after the shooting.
"We are saddened that this incident has happened and we will provide counseling to our students in need," Lilly said. He added that, "I would ask that you would keep everyone involved in this tragic situation in your thoughts and prayers."
Mattoon High School is scheduled to dismiss early at 12:09 p.m. Thursday. All of the district's other schools will maintain regular hours. Lilly said parents who wish to keep their students home Thursday will receive an excused absence for their children. He said counselors, clergy and police officers will be available to meet with students and staff. Police officers are scheduled to have a stepped-up presence at Mattoon schools.
Branson thanked the more than 100 officers from various local and state agencies that were dispatched to the school and helped secure the scene. He commended the high school's staff for evacuating students from the school and for barricading them in place as needed, and he commended the teacher for her lifesaving role in subduing the shooter.
"If the teacher had not responded as quickly as she had, I think the situation would have been a lot different," Branson said.
The police chief said the investigation is ongoing, but investigators are confident that only one suspect was involved in the shooting.
Coles County State's Attorney Brian Bower said during the news conference that charges against the suspect will be pursued in juvenile court. He declined to release the name of the suspect due to juvenile court and school district privacy requirements. Officials also have declined to release the name of the wounded student and the teacher who subdued the shooter.
An audience member at the news conference claimed during this event that the school district had been warned at 8:45 a.m. Wednesday about a threat being made at the high school. This man declined to give his name. Officials there did not comment because of the ongoing investigation.
The shooting sent many students streaming out of the high school on Wednesday and those students at the school with cellphones quickly called their parents. One of these parents was Skye Arthur, who said her 16-year-old son, Braeton Davis, had his knuckles busted open during this incident, but he is physically fine otherwise.
"I think he is traumatized by everything that happened. (Braeton) saw him shooting the gun, but he said he doesn't know who he is," Arthur said. "Overall (Braeton) is OK; he's probably like everybody else at school, in shock and scared."
Braeton and some of his friends ran out of the cafeteria and out of the school into a neighbor's yard. Then, he called his mother to tell her what happened, Arthur said.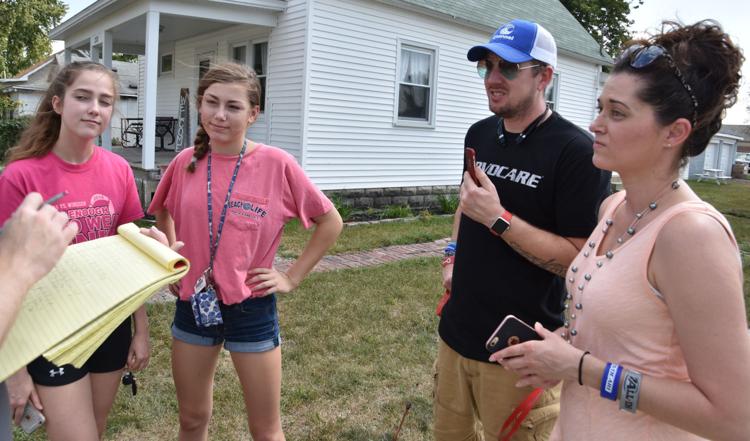 "He got trampled while running out of the school and lost his shoes," Arthur said.
Arthur said she noticed dozens of student walking in front of her house, which is near the high school, and she asked a teacher what they were doing. She said the teacher said all students were reporting to nearby Riddle Elementary School to be accounted for and picked up by their families.
So, Arthur called Braeton back and told him and his friends they needed to go to the elementary school so they could be counted and people would know they were safe. Arthur said she is still in shock: "I've been a mess all day."
"I never would have thought anything like this would have happened here," Arthur added. "I thought he would be safe at school; they have security doors and everything."
Arthur said Braeton is scared and upset. She said her son wanted to lay down and relax, and was not ready to talk about what happened yet.
"I can't imagine how he is doing, I can't imagine how any of those kids are doing right now and you see it on TV and don't think it is going to happen to your own kid," Arthur said. "(Braeton) walked to school and walked home and never thought any of this would happen."
Police officers were on scene at the high school throughout the afternoon as investigators pursued their work at this site. Earlier in the day during the response to the shooting, a Coles County Sheriff's Office vehicle was involved in an accident on Marshall Avenue north of the high school.