HONOLULU — Central Illinois residents on vacation in Hawaii reacted with varying degrees of alarm to a mistakenly sent push alert Saturday that warned of a ballistic missile heading straight for the state.
"Hawaii doesn't really have fallout shelters. It's like, OK, what are we going to do?" said Timi Kaufman, owner of Timi's Tours in Moweaqua, Illinois. "So we just stayed away from the glass and gathered in the lobby of the hotel."
Her group of 25 people was among more than 100 central Illinois residents who were on vacation in various parts of the state when the emergency alert was sent to cellphones just before 8:10 a.m. It said: "BALLISTIC MISSILE THREAT INBOUND TO HAWAII. SEEK IMMEDIATE SHELTER. THIS IS NOT A DRILL."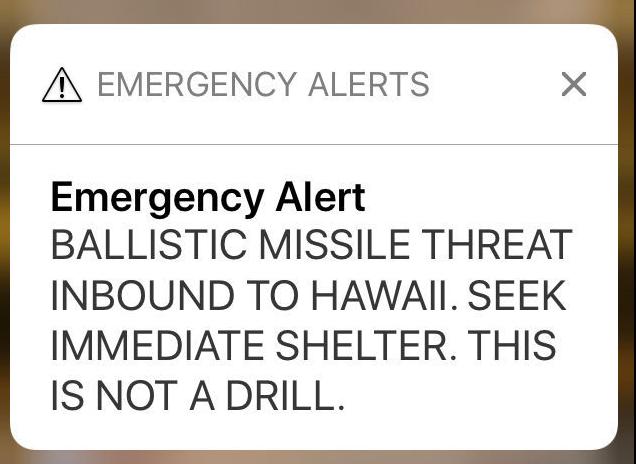 For nearly 40 minutes, it seemed like the world was about to end in Hawaii, an island paradise already jittery over the threat of nuclear-tipped missiles from North Korea.
In a conciliatory news conference later in the day, Hawaii officials apologized for the mistake and vowed to ensure it will never happen again.
Hawaii Emergency Management Agency Administrator Vern Miyagi said the error happened when someone hit the wrong button.
"We made a mistake," said Miyagi.
The Hawaii Emergency Management Agency tweeted there was no threat about 10 minutes after the initial alert, but that didn't reach people who aren't on the social media platform. A revised alert informing of the "false alarm" didn't reach cellphones until 38 minutes later, according to the time stamp on images people shared on social media.
'Nothing you can do'
Brian Byers, vice president of development at central Illinois-based Neuhoff Media, described the experience as "surreal." He and a group of 70 tourists are also in Honolulu for a seven-day cruise to Maui, which was scheduled to depart Saturday evening.
Byers said he was in the middle of an early morning hike at Diamond Head when the emergency alert first popped up on his phone.
"We're from the Midwest, so we're thinking 'Is this something that happens here often?'" he said. "We get tornado warnings and things like that, but we've never seen anything like this before ever."
Kaufman's group was in Maui on last day of their Hawaii trip when they got the alert at 8:07 a.m., she said. She immediately rounded up her customers, some of whom were staying on different floors, and gathered them together in the lobby of The Westin Maui Resort and Spa.
For the most part, the scene in the lobby was calm, Kaufman said. She saw one woman and children crying, but members of her group and hotel staff members weren't panicking.
"You've got to have faith in your military. I had faith in God, too," she said. "(I thought), 'If this is going to happen, it's going to happen.'"
The group arrived in Honolulu on Jan. 6 for the start of their trip and visited the Pearl Harbor memorial the next day. Although people were generally not acting fearful of a missile attack on Saturday, Kaufman said the 1941 bombing that caused the United States to enter World War II did linger in her mind.
"You go to Pearl Harbor and you watch the film and that's the same thing they said — 'this is a drill, this isn't real' — when Pearl Harbor was hit," she said.
Randy Wiley of Mount Zion, Illinois, said he was in his hotel room at Hilton Waikoloa Village on the Kona Coast of Hawaii when he and his significant other received the text alert.
"I was concerned for about five seconds," he said. "And then you think about it and realistically, if there's a ballistic missile coming at you, there is absolutely nothing you can do."
Besides that, he said, "assuming it was coming from North Korea, I have zero confidence they could hit the broad side of a barn."
So, he said, "I just laid back down on the bed and figured if this was really happening, it'd be a good place to bite the dust."
Though he was calm, Wiley said he later heard that the hotel's restaurant erupted in "mass pandemonium" after the alert because no one knew what to do. Residents in a nearby town later told him that they were primarily upset because it took so long — about 45 minutes — to be notified of the mistake.
Elsewhere on the island of Hawaii, Don and Carole Lovett of Forsyth, Illinois, were having breakfast at the Lava Java Restaurant when their waitress told them the place was closing. Neither had received the text alert.
"She said, 'In two minutes, we're going to get hit,'" Carole Lovett said. "The little waitresses are crying and everything, and that was the first we knew of it."
Someone told the couple that it had been a false alarm as they were making their way to their car, she said.
The Lovetts have been spending winters in Hawaii for years, and on two occasions have experienced tsunami warnings, but this was a first. "We're fine," she said. "It was just a little scare, and everything was OK."
Ellen Woods of Bloomington, Illinois, is in Waikiki with her husband, brother-in-law and sister-in-law, and said they got the alert while they were in the lobby of the Surfjack Hotel. They asked the front desk staff what they should do, she said, and they said they didn't know.
Deciding the small hotel wasn't safe, Woods and her family walked over to a nearby Courtyard Marriott, where they ran into another family and stayed with them in a parking garage stairwell.
"In the meantime, we were going on Facebook and reading tweets," she said. "The sirens weren't going off, and there were no planes in the air."
"We were near Pearl Harbor, so we figured if something had happened, jets would have scrambled or the (intercontinental ballistic missile) defense system would have started. Nothing was happening."
Jennifer and Dr. John Migas of Bloomington are vacationing at Ko Olina Beach, 20 minutes outside of Honolulu. She said they were slightly dumbfounded when they first received the alert.
"We put on our shoes, grabbed our phones and went into the bathroom. We sent messages to our kids saying that we loved them but provided no details as we didn't want to worry them," she said. "The hotel announced that everyone should stay inside and take cover."
In the meantime, they checked Twitter and saw that U.S. Rep. Tulsi Gabbard, D-Hawaii, announced that it had been a false alarm. They received the second text 15 minutes later, confirming the mistake.
"We now know that it takes 15-20 minutes for an (intercontinental ballistic missile) to arrive from North Korea, which must be devastating for the families that live here," she said.
False alert
Once the all clear was given, Kaufman said, "we just went to Starbucks and did our thing. We didn't miss a beat today." She spoke by phone while headed on a bus to the town of Makawao with the group, whose members range in age from 60 to 82.
When he reunited with his tour group in the lobby of their hotel, Byers said he didn't see anyone panicking and didn't hear any air raid sirens outside. The general consensus among his group was that the alert must have been some sort of technical error, he said.
Moments later, they learned their suspicions were true. "Everyone was just sort of relieved when we found out it was a mistake," he said.
Woods said she couldn't believe that it took so long for the alert to be declared a false alarm and was shocked that none of the hotel staff members that they encountered knew what to do during the situation.
"Nobody was prepared," she said. "People here in Hawaii had no disaster plan. Nobody knew nothing. They knew what we knew."
The incident prompted defense agencies including the Pentagon and the U.S. Pacific Command to issue the same statement, that they had "detected no ballistic missile threat to Hawaii."
The White House said President Donald Trump, at his private club in Florida, was briefed on the false alert. White House spokeswoman Lindsay Walters said it "was purely a state exercise."
House Speaker Scott Saiki said the system Hawaii residents have been told to rely on failed miserably. He also took emergency management officials to task for taking 30 minutes to issue a correction, prolonging panic.
"Clearly, government agencies are not prepared and lack the capacity to deal with emergency situations," he said in a statement.
Hawaii Gov. David Ige apologized for the "pain and confusion" caused by the alert.
Widespread alarm
The alert caused a tizzy on the islands and across social media.
At the PGA Tour's Sony Open on Oahu, Waialae Country Club was largely empty and players were still a few hours from arriving when the alert showed up. Workers streamed into the clubhouse trying to seek cover in the locker room, which was filled with the players' golf bags, but instead went into the kitchen.
Several players took to Twitter. Justin Thomas, the PGA Tour player of the year, tweeted, "To all that just received the warning along with me this morning ... apparently it was a 'mistake'?? hell of a mistake!! Haha glad to know we'll all be safe."
In Honolulu, hair salon owner Jaime Malapit texted his clients that he was cancelling their appointments and was closing his shop for the day.
"I woke up and saw a missile warning and thought 'no way.' I thought 'No, this is not happening today,'" Malapit said.
Brian Naeole, who was visiting Honolulu from Molokai, said he wasn't worried since he didn't hear sirens and neither TV nor radio stations issued alerts.
"I thought it was either a hoax or a false alarm," he said.
Ing, the Honolulu lawyer, tried to find some humor in the situation.
"I thought to myself, it must be someone's last day at work or someone got extremely upset at a superior and basically did this as a practical joke,' he said. "But I think it's a very serious problem if it wasn't that, or even it was, it shows that we have problems in the system that can cause major disruption and panic and anxiety among people in Hawaii."
Others were outraged. Hawaii U.S. Sen. Brian Schatz tweeted the false alarm was "totally inexcusable" and was caused by human error.
"There needs to be tough and quick accountability and a fixed process," he wrote.
Federal Communications Commission Chairman Ajit Pai said on social media the panel would launch an investigation.
With the threat of missiles from North Korea in people's minds, the state reintroduced the Cold War-era warning siren tests last month that drew international attention. But there were problems there, too.
Even though the state says nearly 93 percent of the state's 386 sirens worked properly, 12 mistakenly played an ambulance siren. At the tourist mecca of Waikiki, the sirens were barely audible, prompting officials to add more sirens there and to reposition ones already in place.
— Allison Petty and Jane Pickering of The Southern News Services contributed to this story.